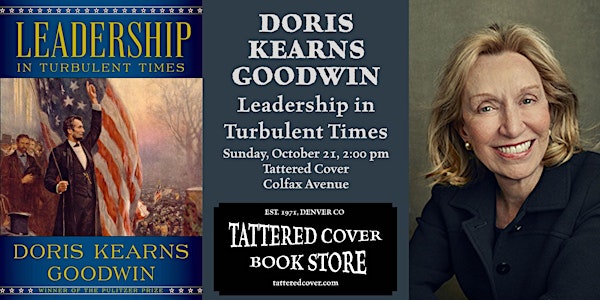 An Afternoon with Doris Kearns Goodwin, Book Talk, Presentation, & Signing
Location
Tattered Cover Book Store
2526 E Colfax Ave
Denver, CO 80206
Refund policy
Refunds up to 7 days before event
Description
Join Tattered Cover for a special afternoon with Doris Kearns Goodwin in honor of the release of Leadership: In Turbulent Times ($30.00 Simon & Schuster).
In this culmination of five decades of acclaimed studies in presidential history, Goodwin offers an illuminating exploration into the early development, growth, and exercise of leadership.
Goodwin draws upon four of the presidents she has studied most closely--Abraham Lincoln, Theodore Roosevelt, Franklin D. Roosevelt, and Lyndon B. Johnson (in civil rights)--to show how they first recognized leadership qualities within themselves, and were recognized by others as leaders. This seminal work provides an accessible and essential road map for aspiring and established leaders in every field. In today's polarized world, these stories of authentic leadership in times of apprehension and fracture take on a singular urgency.
A limited number of tickets are available now through Eventbrite.
**Important Event and Ticket Information**
-- Tickets are $30.00 (plus tax and convenience fee), include a copy of Leadership: In Turbulent Times and a guaranteed place in the signing line.
-- Presentation begins at 2:00 pm, signing to follow.
-- Check in begins at 12:00 pm.
-- Books can be picked up at check in or at the Tattered Cover Colfax reserve desk starting Tuesday, September 18, 2018.
-- Ticket guarantees you a spot in the signing line, but seating is limited and available on a first-come, first-served basis.
-- The end time of this event is an estimate.
-- Event tickets are available online ONLY, through Eventbrite. Tickets will not be sold in-store.
-- Ticketed customers will be called up to the signing line after the presentation, sequentially by row.
--There are no assigned seats at this event.
--If you are unable to attend the event, your book will be held for one month after the date of the event. There is no guarantee the book will be signed if you are unable to attend.
** DISCLAIMER: Event details, signing rules and restrictions are subject to changes beyond our control, and often change up to, and during the event. Thank you for your understanding.
When you purchase a ticket, or register for an event, you will automatically be added to the Tattered Cover's email subscriber list. We will always protect your privacy. Our email list is used only to promote Tattered Cover events and news, and your information will never be shared or sold. You may unsubscribe or update your subscription at any time.