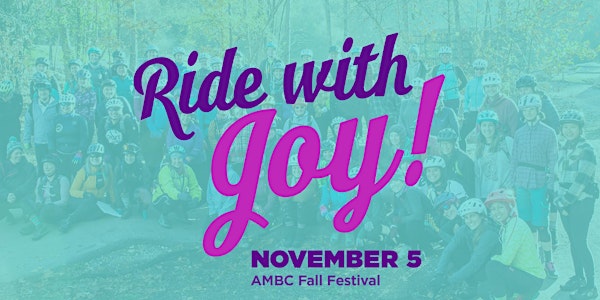 AMBC Fall Fest JOY RIDE
It's the biggest Joy Ride event of the year. Join us at the AMBC Fall Fest!! Ride with Joy!
When and where
Location
Baker Creek Preserve - Parking Lot 3700 Lancaster Drive Knoxville, TN 37920
About this event
Saturday, November 5th 9:00 AM - 12:00 PM
Join us at Baker Creek Preserve in the heart of Knoxville's Urban Wilderness for the 13th Annual Fall Festival!!! Hosted by AMBC and presented by Harper Volkswagen Knoxville.
Grab a friend or make some new ones at this free event for female riders of all abilities.
This event is free, but please register by November 1st. This helps us ensure we have enough volunteers and supplies.
Harper's Bike Shop will be on hand to do quick bike checks before the ride. If you need them to look at your bike, please get there early.
We are here to help ladies feel comfortable in the woods. No one gets left behind, and everyone leaves with a big smile. We make sure every rider is comfortable with the group's pace and that no section of trail is beyond the ability level of the group. E-bikes are welcome.
Please bring your helmet, shoes, ride snacks, water, and a way to carry it on your ride! Bring a spare tube if you have one. PLEASE arrive before 9:30 AM for sign-in! Thank you!
Joy Ride Full Event Schedule
9:00 – 9:30
Sign in
Mix and mingle with the other attendees
9:30 - 9:45
Announcements
Meet your group leaders
9:45 - 11:30
11:30 - 12:00
Thank your ride leaders, sweeps, and fellow riders for such a fun morning!
Go have fun at other Fall Fest Activities
Read more about Fall Fest Activities here: https://fallfest.ambcknox.org/
Ride leaders needed!
We are looking for ride leaders and sweeps to lead our ride groups in a fun and safe manner. If you are a confident rider with a genuine interest in sharing your love of the sport and knowledge of the trails, please select "volunteer" in the ticket option below and be on the lookout for an email from caroline.mccarley@gmail.com. You don't have to be an advanced rider to volunteer; just be confident at the level you choose in the follow-up form.
Riding Levels
New Rider: I'm entirely new to mountain biking, or I've attempted a couple of rides but would love to receive a little coaching. You will get on the dirt, get comfortable with your bike, gear, and learn some basic mountain biking skills.
Distance: Under 5 miles
Beginner: I'm relatively new to mtb. I like it and want to learn about how to be comfortable on varied terrain with more technical features.
Distance: 5- 7 miles
Beginner Plus: I'm comfortable on green and most blue trails. I'm venturing out onto harder trails, but still have to walk some of the more technical features.
Distance: Under 10 miles
Intermediate: I am a confident rider and can ride my bike on technical terrain. I'm fine with roots and rocks, comfortable on blue trails and ready for new challenge.
Distance: 10 - 15 miles
Intermediate Advanced: Let's go on an adventure! We'll do a little more distance, a few more features, and try new things.
Advanced: Let us know what you're into! Want to hit the jump trails or get your miles in? We've got you covered.
Volunteer: I'm a confident rider. I know the trails well, and I'd love to help out as a ride leader or sweep! There will be a separate form for you to list your volunteer preferences. You don't have to be an advanced rider to volunteer; just be confident at the level you choose in the volunteer form.
*Rides are subject to change based on weather and group consensus. Stay tuned for more info & updates.