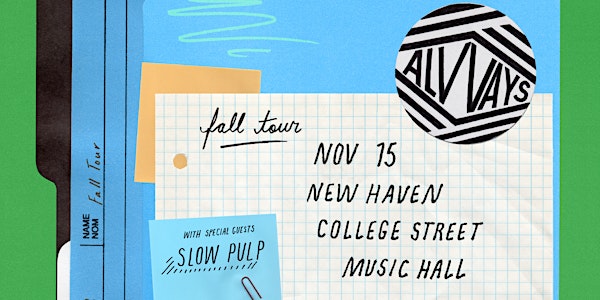 Alvvays
Premier Concerts and Manic Presents:
Location
College Street Music Hall
238 College Street
New Haven, CT 06510
About this event
This event is General Admission Standing Room on the Floor.
Masks are strongly encouraged.
By purchasing tickets to this event, you agree to abide by the State of CT, City of New Haven, Artist, and College Street Music Hall's Health and Safety measures in effect at the time of the event. Check back for updates to your event on our website as guidelines and entry requirements are subject to change.
ALVVAYS
Toronto-based five-piece Alvvays combine their fuzzy, jangly indie pop with infectious, sugary melodies that recall the likes of Scottish outfit Teenage Fanclub and nod to the U.K. post-punk act the Dolly Mixture. Lead vocalist Molly Rankin -- the daughter of John Morris Rankin from the popular Canadian folk family group the Rankin Family -- was joined by childhood neighbor Kerri MacLellan on keyboards, and met guitarist Alec O'Hanley at a show as a teenager before they proceeded to write music together. Rankin self-released a solo EP in 2010 with the help of O'Hanley before bringing the rest of Alvvays together, with Brian Murphy (bass) and Phil MacIsaac (drums) joining the fold. They then toured heavily, supporting the likes of Pains of Being Pure at Heart and Peter Bjorn and John, while busily working on new songs. The band enlisted fellow countryman and musician Chad VanGaalen to record sessions for their debut album at his Calgary studio in 2013, and also worked with Holy Fuck's Graham Walsh and producer John Agnello (Kurt Vile, the Hold Steady). Standout performances at 2014's SXSW and the Internet hype surrounding their demo of "Adult Diversion" alerted their talents to Polyvinyl Records, who subsequently signed Alvvays and released their self-titled album in 2014. The album became something of a sensation, thanks in part to the popularity of "Archie, Marry Me," and the band began a whirlwind of touring. As they gained popularity, the concerts became larger and they nabbed slots at Glastonbury in 2015 and Coachella in 2016. Along the way, they began sprinkling new songs into their set, but Rankin finished up writing the album while taking day trips to Toronto Islands to work in isolation in an abandoned schoolroom. When the songs were done, Rankin, MacLellan, and Murphy recorded in Los Angeles, then Rankin and O'Hanley moved the sessions to their basement in Toronto, where they invited a few guests to contribute, including Teenage Fanclub's Norman Blake. The resulting album, Antisocialites, was released by Polyvinyl in September of 2017.
Links: Official Website | Facebook | Instagram | Twitter | Spotify