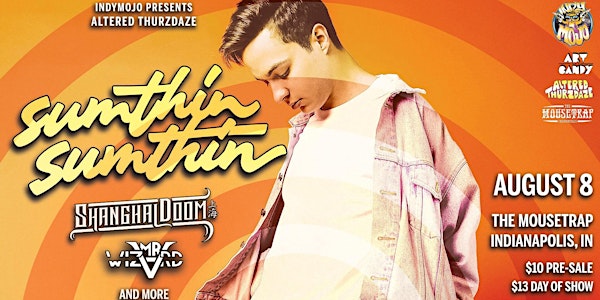 Altered Thurzdaze w/ Sumthin Sumthin & Shanghai Doom
Join us in celebrating 9 years of Altered Thurzdaze!
When and where
Location
The Mousetrap 5565 N. Keystone Ave Indianapolis, IN 46220
Performers
Headliners
More Performers
About this event
IndyMojo is proud to bring you your weekly dose of bass fueled mischief for 9 years and counting.......
~ ALTERED THURZDAZE ~
with special guests....
* SUMTHIN SUMTHIN
Los, Angeles, CA
https://soundcloud.com/sumthinsumthin
Conrad Woodul, better known by his fans as 'Sumthin Sumthin' has been moving crowds with his music since he started playing the piano at the age of 8. Already influenced by a plethora of genres, Conrad at the age of 10, along with his punk rock loving father, attended a musically diverse festival in downtown Los Angeles. Accidentally stumbling across the electronic stage, Conrad's appreciation for this experimental sound started to develop along with the general interest of being a part of the electronic dance community some day. For a while he contemplated scoring music for films, composing piano pieces on top of learning to produce. As he grew older into his teenage years, musical exploration and production expanded even further, influencing a track he produced called, 'Windex.' This track pushed the boundaries of what he thought he was capable of, sparking an undeniable curiosity within electronic production.
From there, the Icon Collective recruit started pushing out consistent experimental releases while establishing his own unique sound and imprint on the electronic community. Sumthin Sumthin has been supported by the likes of Bassnectar, RL Grime, Zeds Dead, Troyboi, Louis the Child, Ekali, & more. After tours with UZ, Bleep Bloop and a string of international shows, 2019 looks to be the brightest yet for a talent that has only begun scratching the surface.
* SHANGHAI DOOM
Somewhere Central, NJ
https://soundcloud.com/shanghaidoom
Shanghai doom is the legendary producer duo hailing from the humid urban streets of Central Jersey. These "lizard men," as fans refer to them, combine ripping mechanized audio files with mind-blowingly exquisite sub frequencies. Their signature sound can only be described as Picasso level originality mixed with Mozart level composition. On one occasion, after playing a game of 4D chess for 24 hours straight, the duo operated on a fan's medulla oblongata after he had a seizure during a live performance. In 2018, Shanghai Doom sent a flash drive with their SoundCloud spotlight tracks to a distant planet suspected to have extraterrestrial life forms inhabiting it. Mike and Andrew patiently wait for their overlords to return the message, however some conspiracy theorists state that they are actually the overlords themselves, sent through a vortex time warp to share the exotic sounds of an alien race that can only be deciphered in certain dimensions.
Support from:
* MR. WIZVRD
Terra Haute, IN
https://soundcloud.com/mrwizvrd
More TBA!
_________________
Thurzday, August 8th
The Mousetrap
5565 N. Keystone Ave
Indianapolis, IN
$10 pre-sale
$13 day of show
21+
________________________
Produced by:
www.indymojo.com
Hosted by:
The Mousetrap
www.themousetrapbar.com
Sponsored by:
No Bad Ideas
www.nobadideas.com