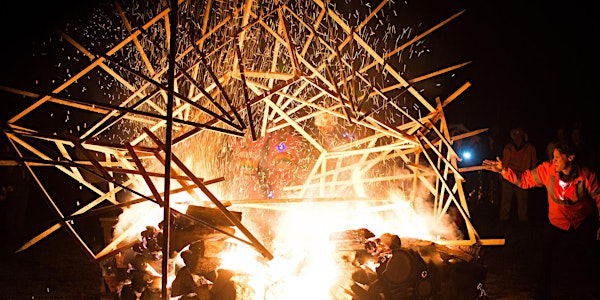 ALPHA 2022
ALPHA is an event for creators, a place to experiment and try new things, and a place to launch new projects
When and where
Location
Camp Ramblewood 2564 Silver Road Darlington, MD 21034
Refund Policy
Refunds up to 7 days before event
About this event
FOR MORE INFO, VISIT THE ALPHA PAGE ON THE FIGMENT WEBSITE
ALPHA is an event for creators, a place to experiment and try new things, and a place to launch new projects, to improve and refine existing projects, to dive in and create something new and unexpected, to reinvent yourself completely as an artist and creator.
The intention of ALPHA is to provide support for creators who are working on interactive or participatory projects in any medium or discipline. This support may be in the form of skills development, help and advice from other creators, collaboration and team-building, or even limited financial support.
With ALPHA, we intend to bring a large group of creators together, provide a basic structure for them to interact and collaborate, and watch as amazing things happen.
Creators of all kinds are welcome at ALPHA... sculptors, social scientists, playwrights, performers, filmmakers, musicians, philosophers, designers, architects, photographers, light artists, dancers, DJ's, fire artists, physicists, improvisationalists, theatre artists, environmental designers, producers, psychics, communicators, collaborators, facilitators, healers, volunteers... The only requirement is that you are working on a project that is interactive or participatory in some way, and that you're willing to step out of your comfort zone, try something new, and collaborate with others.
Artists are welcome who are creating work for FIGMENT events or for any other arts events or individual installations or performances.
ALPHA is an experiment. ALPHA began in 2013, and ALPHA 2022 is our ninth ALPHA event, our first since COVID-19 shut us down in 2020 and 2021. All attendees of ALPHA 2022 at Ramblewood will be required to be vaccinated from COVID-19, and to sign a waiver.
Everyone who participates in ALPHA is expected to contribute to the content of the event by bring art projects in development with them, or by hosting a workshop or meet-up for participants with a specific interest. We encourage as much experimentation as possible! You can register as many projects or events as you would like. You can register your workshop, meet-up, performance, demonstration, or installation by following the link in the email you will receive after your purchase your tickets. To appear on our map and event schedule, your project or event must be submitted by April 1, 2022. We can't wait to see what you're bringing!
For more information, check out the full ALPHA website at http://www.figmentproject.org/alpha.