Event Information
Location
Saturn
200 41st Street S
Birmingham, AL 35222
About this Event
"Blood," is singer-songwriter Allison Moorer's first memoir, which was released on October 29, 2019.
"Beautiful, heart-wrenching… Moorer's masterful, comforting storytelling may serve as solace for those who've faced abuse, a signal for those in it to get out, and an eye-opener for others." —Publisher's Weekly
Join her and Paul Janeway for a conversation about the book, followed by a special solo acoustic performance of a selection of songs from the accompanying album, also titled "Blood," which features her first original songs since 2015. The performance will be followed by a meet and greet and book signing for audience members.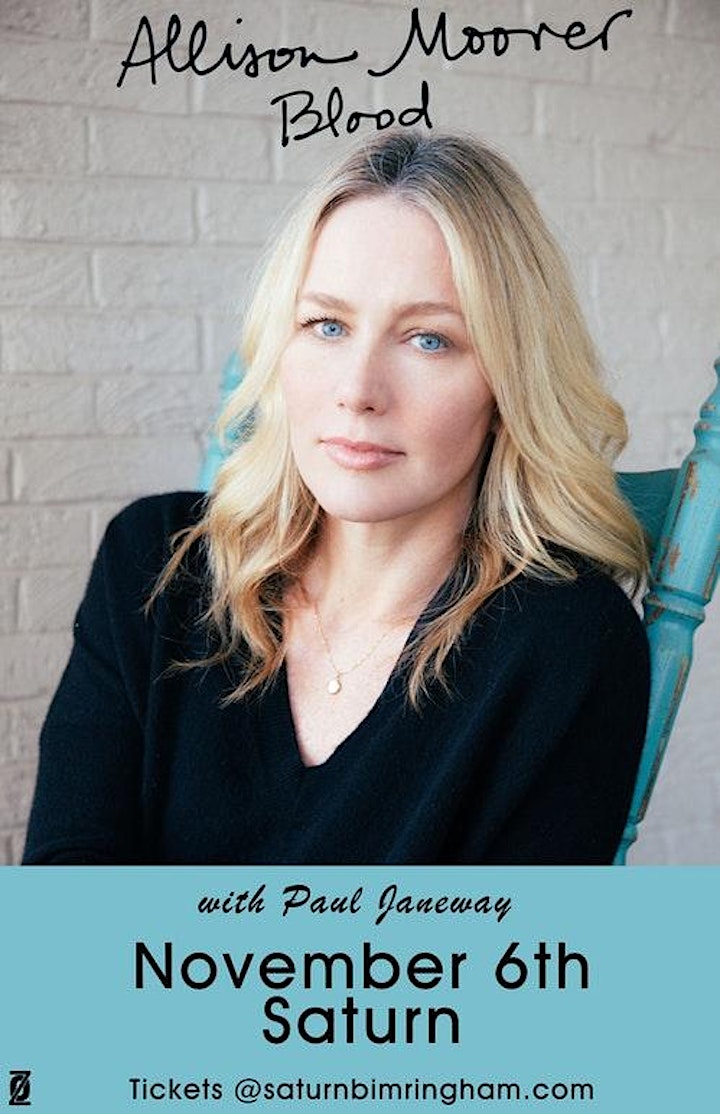 When Allison Moorer wrote Blood, she never intended to make a companion record. Having received a Masters of Fine Arts in Writing from NYC's New School in 2017, the Alabama-born songwriter who'd spent ten albums plumbing the complexities of human interactions and emotions realized with her new tools, there might be songs.
What emerged was more than songs. Blood may well be the best record of the Oscar-, Grammyand Americana Music Awards nominee's career. Stark, haunted, emerging, often just guitar and voice, Moorer and producer Kenny Greenberg crafted a meditation on the meaning of family, trauma, love, bonds and finding one's way to the surface.
"I've been playing the see me/don't see me game for 20 years," she says in a voice like soft combed cotton. "And it's always been an uneasy relationship. It's been a difficult thing for me as an artist, and I'm not completely sure why. I thought when I wrote 'Cold, Cold Earth,' I was answering all the questions; but I'm not John Prine, I couldn't do that in three verses."
"Cold, Cold Earth," the second track on Blood, first appeared as a hidden track on Moorer's sophomore The Hardest Part. Even then, the copper blond was playing hide-and-seek with the inevitable. Sighing, she says, "Every publicist asked every writer not to ask. They all did anyway. So, I was giving journalists what I thought they wanted... The Hardest Part was loosely based on my parents' relationship.
"In 1999, I'd scribbled down in my notebook three verses and a coda, summing up the details.
My then husband found it riffling through my things, because he was that kind of guy, and said I should include it. He was ultimately right, but I was 25, and I didn't have the skills to do it properly. All I'd done was document the details." Now a twice-divorcee, mother to John Henry, essayist/blogger, off-Broadway veteran with "Rebel Voices," the stage adaptation of Howard Zinn's acclaimed Voices of a People's History of The United States and wife to Americana mainstay Hayes Carll, Moorer has more life and "learnin'," as she calls it, to master her craft. The more she turned over the stories of what happened, the more dynamics the recently returned to Nashville songstress recognized. Upon revisiting "Cold, Cold Earth," she understood the depths of what happened in a more grown up way.
Performers
Date and Time
Location
Saturn
200 41st Street S
Birmingham, AL 35222
Refund Policy