Description

Your old beliefs & stories are no longer serving you and the time to be unapologetic about who you are is now.
Align & Rise is the ultimate life, business & relationship breakthrough weekend.
We created this one of a kind event to help you write a new chapter about your gifts, money beliefs and business success.
We are here to help you get unstuck and live a life in alignment.
On Your Own Terms.
Our promise? You will leave with a a newfound sense of confidence, an uplifting tribe & feeling empowered to make your big leap.
Love,
Melissa & Sandy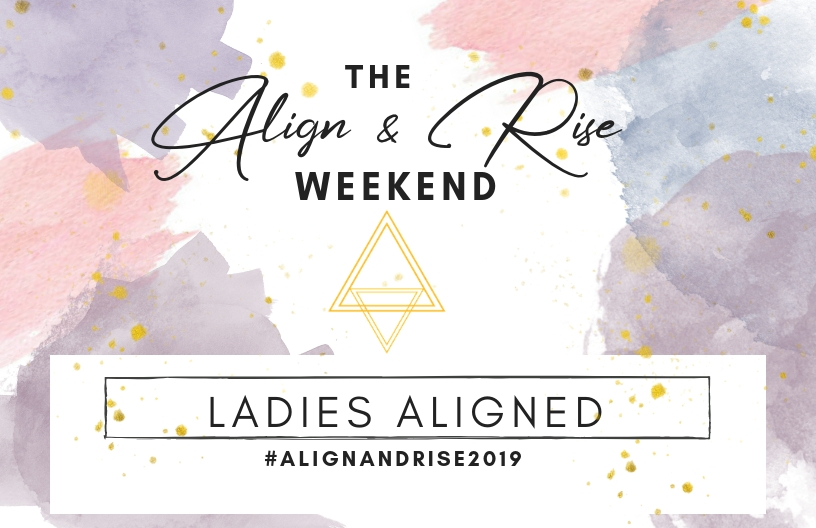 This is your ticket into the ultimate Align & Rise VIP night!
SOLD OUT


As our VIP guest you will be treated to an instant mindset upgrade with the special Alignment Training by Sandy + Melissa provided exclusively for you, our VIP guest.
You will have the special opportunity connect and learn from our keynote speaker Harriette Hale. Harriette is the UK's Leading Certified Soul, Money and Mindset coach and will be showing you how to have it ALL.
You will have an exclusive shopping experience with Love Thirteen by Heather Wells. Love Thirteen is glamorous spiritual crystal jewelry designed to heal the Body, Mind & Soul.
You'll have an opportunity to mingle & connect with other supportive women in a cozy, intimate environment.
Cocktails and delicious hors d'oeuvres will be provided along with a special VIP swag bag filled with all kinds of fun goodies & a few surprises ;)
**All VIP tickets include general admission to the Align & Rise general sessions on Saturday**



Get ready because it's time to get unstuck, dive deep into uncovering your gifts, break through money mindset blocks and transform your life!
OVER 75% SOLD OUT!
Our 2-day general session weekend will be filled with empowerment, movement, breakthroughs and connection.
Each day will begin with movement and grounding exercises to get you in touch with your body & breath.
Our general sessions will be designed to help you tap into your inner voice through the tools of self care & meditation. This is where your gifts are housed and can rise to the surface.
We will break through money mindset blocks and teach you how to re-write your relationship with abundance.
You will receive a roadmap to success to turn your gifts into a thriving business and begin sharing your voice with the world. We will dive into topics such as how to share your story powerfully, mastering social media and how to create undeniable content.
There will be special guest speakes, entertainment, an intimate shopping experience with our Ladies Aligned boutique, and no ALIGN & RISE event would be complete without some dancing!!
All of our guests will receive an amazing swag bag filled with surprises as well.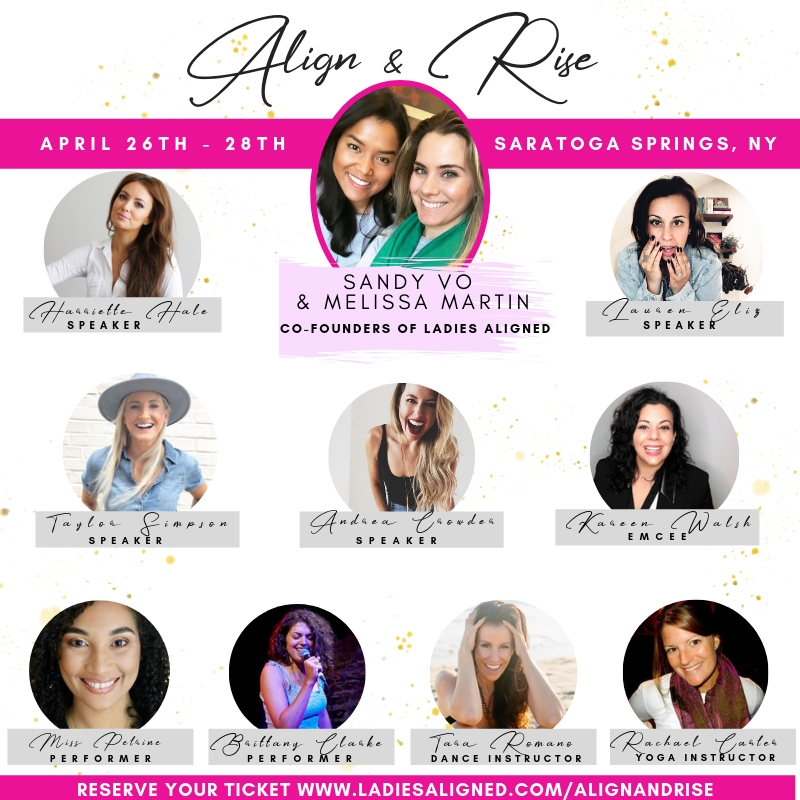 Organizer of Align & Rise
Meditation Teacher & Self Care Expert Sandy Vo along with Wealth & Business Expert Melissa Martin bring you Ladies Aligned, a platform for women to breathe, earn and grow by living in alignment with their gifts.  
Let's get social!
IG: @isandyvo @melissa_m_martin
email: ladiesaligned@gmail.com
www.ladiesaligned.com