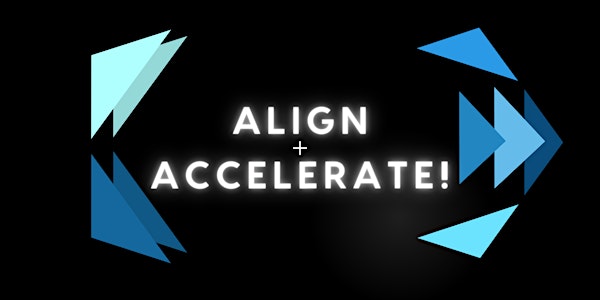 ALIGN + ACCELERATE: So Cal
ALIGN + ACCELERATE! Is a one, two, or three day intensive workshop for small group point people.
When and where
Date and time
July 11 · 8:30am - July 13 · 4:30pm PDT
Location
Saddleback Church Rancho Capistrano 29251 Camino Capistrano San Juan Capistrano, CA 92630
About this event
2 days 8 hours

Mobile eTicket
ALIGN + ACCELERATE! Is a one, two, or three day intensive workshop for small group point people.
Day 1 is ALIGN. ALIGN will help you learn the Small Group Ministry essentials. This training is designed to set the Small Group Point Person (SGPP) of your church up for success. Small Groups are not a program of your church, they ARE your church! Too often the church misses the purpose it was designed for - to change lives. At this training you will learn how to align your small group ministry to your church's Vision and Mission. The SGPP will learn the basics of "why small groups matter," "what systems are needed," "how to design a strategy," "what is needed in your small group ministry structure" and "what their next steps for success will be."
Days 2 and 3 are ACCELERATE! Develop your plan, learn to execute your leadership, and be prepared for growth and success with the ACCELERATE! Workshop. Grow as a leader, strengthen your team & accelerate the health & growth of your small group ministry by attending "Accelerate!" The "Accelerate!" small group workshop will help you & your leadership team build a 12 to 18 month strategic plan for your Small Group Ministry by going through the 20 key questions every small group point person needs to know. You will finish the workshop with a strategic plan in your hand, as we provide time for you to build the plan. With that said, coming with a team will be the most beneficial. This is a very robust jam packed two days and you will leave exhausted but feeling great to have a finished product in hand.
Choose one or both events to get the full experience and network with other small group point people on Saddleback Church's Rancho Capistrano retreat center in San Juan Capistrano.
Benefits include:
• Meals are included with the price of the ticket
• Lodging is also included. You only pay for the cost of travel to the event
• You'll receive a copy of "Small Groups with Purpose" by Steve Gladen
• You'll also receive both a digital and physical workbook for each of the events
Here is the pricing info:
PRICING
Regular: Now through June 20, 2023
Align Only: $259.00
Accelerate! Only: $299.00
Combined: $475.00
Late: June 21, 2023 – July 10, 2023
Align Only: $299.00
Accelerate Only: $359.00
Combined: $575.00
*Registration ends on July 10, 2023. Walk-in registrations are not available.
INCLUDES
Price includes registration, lodging, a boxed lunch each day, a workbook and two essential books on small group ministry.
DOES NOT INCLUDE
Registrants cover their personal travel expenses to and from the workshop, & any other meals not outlined above.
CANCELLATION POLICY
Refunds will be honored up until 4pm PST 30 days prior to the event's start date. Due to costs incurred, each cancelled registration will be charged a processing fee of $50 per person. No refunds will be granted after this date and time.
SCHEDULE
Day 1:
7:30am — 8:30am Registration
8:30am — 5:00pm Workshop
Day 2:
7:30am — 8:30am Registration
8:30am — 5:00pm Workshop
Day 3:
8:30am — 4:30pm Workshop
PREPARE BY
• Register a free membership account at smallgroupnetwork.com. You will be strategically seated in groups based on your church size. To find your table, just look for your church name on the table toppers as you enter. These groups are called Communities of Purpose. These are peer-to-peer learning groups that you will engage with after this event for accountability in executing the strategy you will craft here at Accelerate! Therefore, please create your free membership account.
• Please bring your church's mission & vision statements with you as you & your team will build your small group strategy off of these.
LOCAL INFORMATION
AIRPORT
John Wayne Airport
18601 Airport Way, Santa Ana, CA 92707
https://www.ocair.com