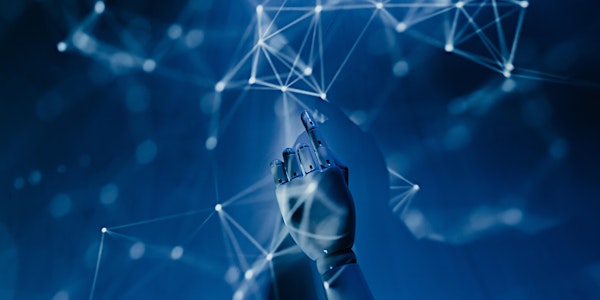 AI in 2023: Exciting Developments and Heightened Risks
Join the Austin Forum Tuesday, April 4, at 6:15 p.m. for a presentation and networking event about the future of AI.
By The Austin Forum on Technology & Society
Date and time
Tuesday, April 4 · 4:15 - 5:45pm PDT
About this event
1 hour 30 minutes

Mobile eTicket
In this talk, Steve will give an introduction to AI for non-practitioners and then highlight current use cases in generative AI, computer vision, natural language processing, time series forecasting, anomaly detection, reinforcement learning, and recommender systems where AI-based systems are already performing well or offer significant promise to do so in the near future. Some key examples include creative writing and video generation, drug discovery, robotics, language understanding, climate change mitigation, and supply chain optimization. A major focus will be on recent generative AI models like Stable Diffusion and ChatGPT that have attracted broad attention across the world.
He will also discuss the significant risks of AI systems related to incorrectness, bias, fairness, privacy, fraud, cybersecurity, and misinformation/disinformation and then the current efforts in algorithmic accountability and AI ethics to minimize negative impacts or harms.
There will be plenty of accessible content for those newer to AI as well as pointers to technical details for those with strong AI backgrounds who want to learn about key recent research developments.
Event Details
Agenda
Catering provided for in-person attendees from 5:15-6:15pm
5:15-6:15pm - Networking (In-person only)
6:15-7:30pm - Presentation (In-person and virtual)
7:30-7:45pm - Q&A (In-person and virtual)
8:00-10:00pm - Networking at Trifecta (In-person only)
Location
This is a hybrid event that will take place in-person and virtually via Zoom.
In-person Location: Austin Central Library, 710 W. César Chávez St.
Registration and Attendance Instructions
All participants must register for this event via Eventbrite.
In-person
Join us at the Austin Central Library, 710 W. César Chávez St. Parking information can be found here. Per City of Austin orders, the Austin Public Library requires masks when indoors except when eating, drinking, or speaking/performing onstage.
In-person attendees will also receive all the Zoom information in case for any reason you decide to attend virtually instead. Virtual attendance details can be found below.
In-person attendees, please join us from 5:15 to 6:15 for networking and food. We look forward to chatting with you face-to-face!
Online via Zoom
Once you register via Eventbrite, you will receive the direct Zoom link on the confirmation page, and in your confirmation email. You will also receive the Zoom link in an email from Eventbrite two days before the event and at the event start time.
By registering you will also gain access to the Eventbrite Online Event Page, which will be accessible on this page at any time for anyone who is registered. Once registered, you will see an "Access link" button in the Location area to the right. You must be logged in to Eventbrite to access this link.
Speaker
Dr. Steve Kramer, Chief Scientist, KUNGFU.AI
Dr. Steve Kramer, Chief Scientist of KUNGFU.AI, is a computational physicist and data science entrepreneur with 30 years of post-Ph.D. experience in AI, data science, research, software, and business management. He earned a Ph.D. in physics in the Center for Nonlinear Dynamics at The University of Texas at Austin. Steve has extensive research experience spanning data mining, machine learning, anomaly detection, bot/cyborg detection, clustering, network graph analysis, deep learning, spatiotemporal forecasting, predictive analytics, social media analytics, and pattern discovery/recognition. In 2014, he patented a robust method for dynamic anomaly detection based on chaos theory. Steve spoke at Data Day Texas in 2014 and 2018 and at Data Day Seattle in 2016. Since 2011, he has served as a program committee member and reviewer for the ACM KDD and IEEE Security and Intelligence Informatics conferences. He recently acted as the Principal Investigator on multiple subcontracts for DARPA's Information Innovation Office and on four different prototype contracts for the Defense Innovation Unit (DIU). He is proud to serve on the Board of the Austin Forum on Technology and Society and as a member of Board of Technical Advisors for data.world.
About the organizer
The Austin Forum on Technology & Society brings people together to learn about emerging and pervasive technologies and their importance, influence, and impact on society. Every month, hundreds  of technology leaders, innovators, creatives and other interested persons come to share information and stimulate collaborations to promote technology applications that advance society. 
Through our monthly events, the Austin Forum Upload podcast, and the Austin Forum Update blog, the Austin Forum on Technology & Society explores a wide variety of topics and stimulates discussions, collaborations, and partnerships on new technology opportunities. The Austin Forum explores technology applications, opportunities, and policies in all aspects of society: health/medicine, business/industry, science/research, education, government, entertainment, and social good.
The Austin Forum monthly events are free and open to the public.