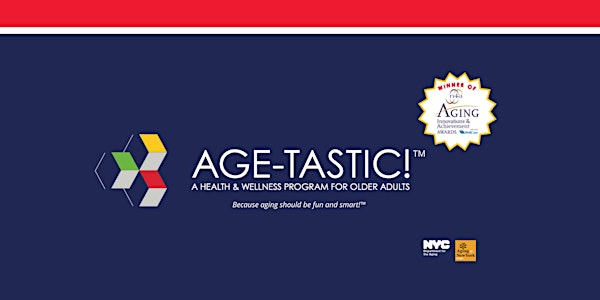 Age-Tastic!® Information Session
Join us for our weekly, Wednesday information sessions on our health and wellness intervention program for older adults, Age-Tastic!®.
About this event
Thank you for your interest in the Age-Tastic!® program!
Age-Tastic!® is an evidence-based, 8-week Health & Wellness program proven to be effective in acquiring knowledge and changing behavior on a range of essential older adult/senior issues. It was developed at the NYC Department for the Aging (DFTA) and as of March 2021, the Aging in New York Fund (ANYF), the charitable arm of the agency, has been responsible for all distribution, marketing, and sales of the program.
About the Information Session:
During this session, you will learn more about Age-Tastic!®'s effective and engaging health and wellness aspects, as well as how it can translate to your organization/entity.
As an evidence-based program, it is important that its executors are trained. That's why our newest version of Age-Tastic!® has both a Certified Facilitator training component in a self-paced, e-Learning option (which we will preview) or a live Zoom-based option with the creators of the program. We will also give an overview of the Age-Tastic!® One Day Workshop and Professional Development offerings as well. Finally, the last segment will be reserved to answer any questions you have from placing orders to getting Age-Tastic!® in your centers and facilities.
We hope to see you there!
If you have any questions at all, please do not hesitate to reach out: kblake@agingfundnyc.org