If 'progress' is in ruins, are there other ways of making life worth living, and death worth living for?
About this event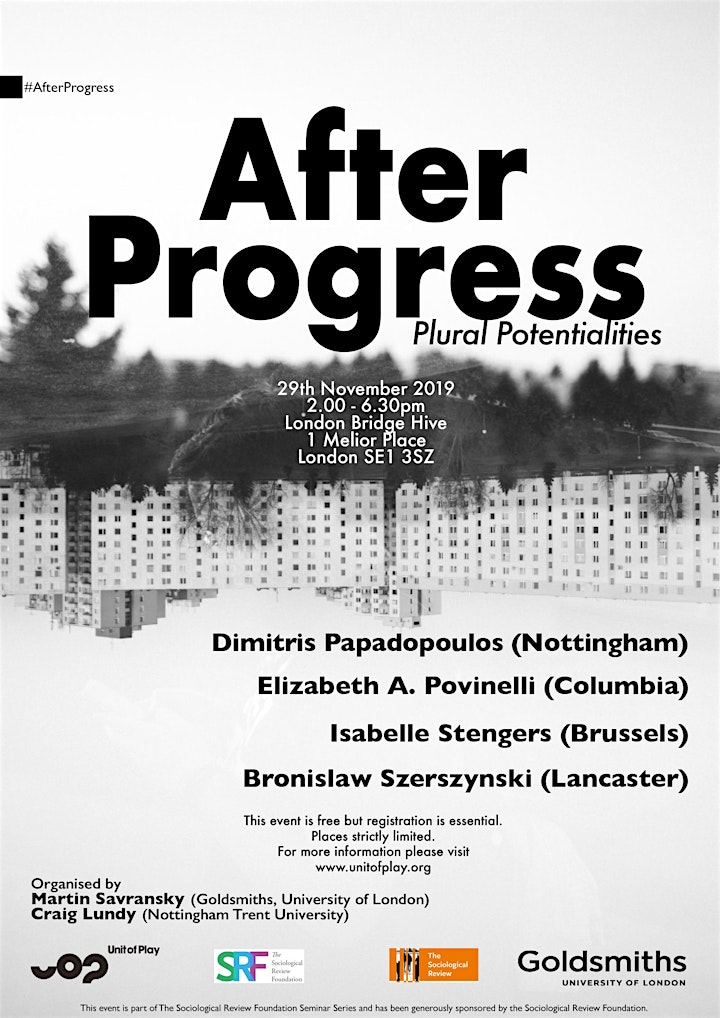 After Progress: Plural Potentialities
In the course of the first two After Progress symposia it has become apparent that, rather than an idea to be criticised, "progress" names instead an entire array of capitalist, colonial and extractivist operations. It is a world-ploughing machine that suffuses the very modern mode of evaluation from which the values of global development, infinite growth, technological innovation, and salvage accumulation are derived. And it is one which simultaneously infuses and animates well-meaning dreams of cosmopolitan redemption, and stories of innocence and reconciliation. Yet, despite its poisonous, ecocidal effects, we have also learned that its ruins are nevertheless teeming with divergent collective experiments whose practices upend the modern dream of progress, cultivating plural and divergent value-ecologies of living with others on Earth. Immanently, such experiments make present that other ways of making life worth living, and of making death worth living for, are not only possible but underway. Thus, in this third session of the series we seek to collectively hold out a trusting hand to a whole series of interstices and undercurrents, to a plurality of minor stories, earthly experiments, speculative propositions, and insistent possibilities, that intensify the political potentials of cultivating pluralistic value-ecologies otherwise – in the ruins of progress.
Speakers include:
Dimitris Papadopoulos (Nottingham)
Elizabeth A. Povinelli (Columbia)
Isabelle Stengers (Brussels)
Bronislaw Szerszynski (Lancaster)
The event is free, but registration is required due to limited capacity. A small number of BURSARIES for unfunded PhD students/ECRs are available (places will be reserved for these, even if the registration list fills up). Deadline for applications is November 6th 2019. For further details on the eligibility criteria and the application process please go here.
This symposium is the second of the After Progress symposium series. The After Progress symposium series co-organised by Dr Martin Savransky (Goldsmiths, University of London) and Dr Craig Lundy (Nottingham Trent University). It is part of the Sociological Review Seminar Series and it is generously funded by The Sociological Review Foundation.
The room that the event will take place in is FULLY ACCESSIBLE.
Travel Directions:
The London Bridge Hive (1 Melior Place) is located to the immediate south of London Bridge Station, less than 5min walk.
PLEASE TWEET ABOUT THIS EVENT BY USING #AfterProgress

Organiser of After Progress | Plural Potentialities