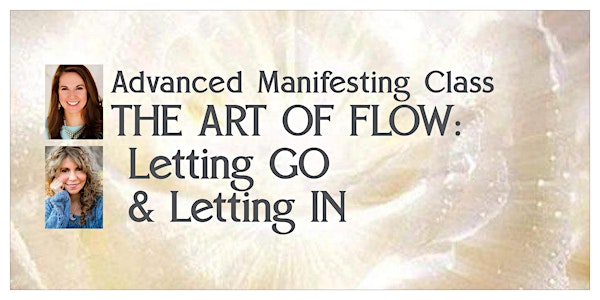 Advanced Manifesting Class – THE ART OF FLOW
When and where
Location
Healing Essence Center 96 Commonwealth Avenue Concord, MA 01742
Description
ADVANCED MANIFESTING CLASS – THE ART OF FLOW: LETTING GO AND LETTING IN
with Luminary Leader and Coach, Kimberly Napier
and International Psychic and Spiritual Teacher, Katherine Glass
If you have tried manifesting rituals on your own and are learning to deepen your practice or have not had the success you desire then this class is for you.
In our time together you will experience deep experiential healing and learn:
- To deepen your trust in yourself (your inner knowing) and your ability to surrender to the universe for co-creation.
- Be more mindful of the synchronicities and signs that indicate you are supported – learn how to look for them.
- How to tap into flow and more ease even when you feel disconnected and life feels hard.
- A process to help you dissect and pinpoint your specific blockage at any point in time to open you up to manifest more quickly with intention.
- How to clear any soul contracts or old wounds that are taking up space from allowing you to receive – including an ancient burning ceremony of letting go what no longer serves you.
- Daily rituals and meditations to keep you in continuous flow and at an elevated vibration.
Secure your spot early, as attendance is limited.
With Love,
Katherine and Kimberly
Katherine Glass is an international gifted psychic, medium, energy healerand spiritual teacher. She was listed in The 50 Top Psychics and Mediums in the US 2016 book by Jennifer Diamond and was awarded Psychic of the Year 2013 by Shay Parker's Best American Psychics. Katherine is the co-founder of the Healing Essence Center in Concord, MA. where she specializes in spirit communication, psychic intuitive readings and teaching. Katherine is featured on OmTimes Radio every week on Angel Talk Tuesday and hosts the tv series 6TH Sense and Beyond, "Opening the Spiritual world to the world." Episodes can be viewed on YouTube worldwide at www.katherineglass.com.
Kimberly (MBA, CPCC, PCC, CiPP) is a professional life coach, speaker and intuitive. Working with exceptional women to help them courageously write their next life chapter and elevate their life on their terms, her mission is to empower others to live 100% authentically in their own fulfillment. Her DAREChangeTM process, rooted in the science of positive psychology, coupled with the art of manifesting, will lead you on a path of self-discovery and equip you with pragmatic tools to create the life YOU want. Through her workshops and private coaching, Kimberly helps women come home to themselves to unleash their powerhouse spirit. Learn more at www.kimberlynapier.com.