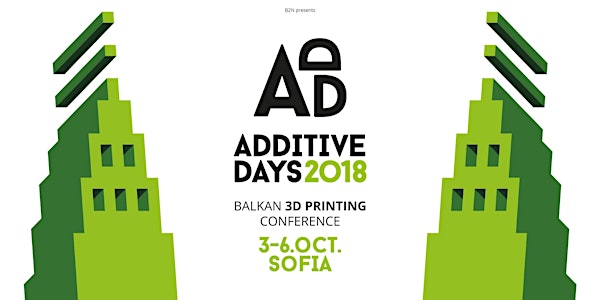 ADDITIVE DAYS in Sofia
When and where
Location
Sofia Tech Park 1784 Sofia Bulgaria
Description
Additive Days is a new four-day show organized by B2N in Sofia.

The program includes:
CONFERENCE (4,5 october)– hear about the latest trends and technologies alongside practical case studies.
WORKSHOPS (3,4,5,6 october)– choose from several one-day workshops created especially for the event by experts from the Balkan region.
DEMO SPACES (4,5 october) – See and experiment how the latest 3D printing innovations are changing the way we work. The demo space covers everything from design and prototyping to manufacturing. This is the best place to launch and promote products, meet, show and sell products.
And more: exhibitions, kids workshops, opening party, solutions panel, lounge area.
The Balkan region still has a long journey ahead when it comes to the adoption of innovative technologies such as additive manufacturing as a means to more profitable businesses. We at B2N are well aware of the difficulties and challenges the local business leaders meet. We also know that sometimes the reason for these difficulties is simply lack of information.
Additive Days aims to challenge this by giving local communities the chance to explore the current state and capabilities of additive manufacturing. Through various talks, workshops and exhibitions Additive Days aims to overcome the invisible mental barrier of "this is too difficult / not for me", replacing it instead with a productive can-do mindset. We believe shifting the local communities' point of view is the key to faster and smoother adoption of innovative technologies in all business sectors and Additive Days is the best way to achieve our goal.
More information and the full agenda on additivedays.com