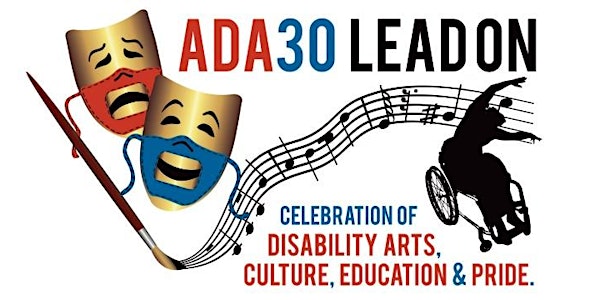 Celebration of Disability Art, Culture, Education & Pride
About this event
Learn about the five titles of the ADA through the disability lens of entertainment.
Join Tony Award winner for Ali Stroker (OKLAHOMA); emcee Danny Woodburn (SEINFELD); with performances by Maysoon Zayid (GENERAL HOSPITAL); RJ Mitte (BREAKING BAD); singer/songwriter Emmanuel Kelly performing his hit song NEVER ALONE; Alice Sheppard (Kinetic Light) performing her dance DESCENT; Heidi Latsky Dance; KripHop Nation's Leroy Moore & Keith Jones performing their MY ADA STORY; Anita Hollander performing her song THE BODY OF A FIGHTER; Jeff Moyer performing his song ADA ANTHEM; Elaine Kolb performing her songs WE WILL RIDE and NOT DEAD YET; Maria R. Palacios reading her poem CRIP WORDS OF ADVICE TO THE YOUNGER GENERATION; Johnny Crescendo performing his song PRIDE, photos by Tom Olin and more.
With messages by Senator Tom Harkin; NCD Chair Neil Romano; Tony Coelho; Judy Heumann; Governor Tom Ridge; Marlee Matlin; Jim LeBrecht (CRIP CAMP); CJ Jones (AVARTAR); Kelly Buckland, NCIL; Maria Town, AAPD; Jim Weisman, United Spinal; Diane Coleman, Not Dead Yet; Shawn Castle, Paralyzed Veterans of America and more
Lead sponsor AT&T, with additional sponsors The Ability Center; Bus Door Films; Deraney PR; Easterseals Disability Film Challenge; EIN SOF Communications; Exceptional Minds; Foundation for Global Sports Development and Sidewinder Films; Kessler Foundation; Lights! Camera! Access!; Mid-Atlantic ADA Center/TransCen; Mitsubishi Electric America Foundation; Mulberry Tree Group; Point 360; The Sign Language Company; Wells Fargo and Woman of Her Word.
Banner image description: Two gold comedy and tragedy masks with red and blue accessible (lip readable) PPE face masks showing the smile of comedy and the frown of tragedy, next to a paint brush that is painting a musical staff that ends with a dancer using a wheelchair. The words ADA30 LEAD ON at the top, with Celebration of Disability Arts, Culture, Education & Pride appear underneath.