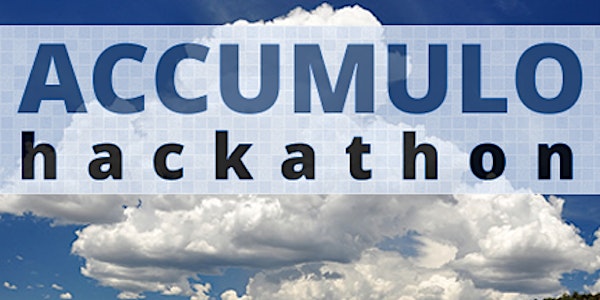 Accumulo Hackathon @ Accumulo Summit 2016
Location
College Park Marriott Hotel & Conference Center
3501 University Blvd E
Hyattsville, MD 20783
Description
Accumulo Hackathon
at Accumulo Summit 2016
CODE, DATA, PIZZA!
Join us on October 11th, 2016 after Accumulo Summit 2016 to hack on Apache Accumulo.
So You Like Big Data...
If you have a technical prowess for tackling data by the terabyte, we're looking for you! Show off your ability to use Apache Accumulo, have fun among peers, and earn prizes at the Accumulo Hackathon.
The Accumulo Hackathon naturally centers on the Apache Accumulo project. Join us to get started, sharpen your skills, connect with the leading Accumulo users and developers, get involved and give back to the Apache Accumulo project.
This event is targeting coders who have basic experience (or more!) in Big Data, Apache Hadoop and Java Software development interested in applying their skills to develop and improve Apache Accumulo.
When & Where is the Hackathon?
The Accumulo Hackathon will take place after the Accumulo Summit 2016 on October 11th, 2016 from 6:00 PM until 11:00 PM at the Accumulo Summit venue, the College Park Marriott Hotel & Conference Center in College Park, MD.
Request an Invite
Participation for the Accumulo Hackathon is free.
Clearedge IT Solutions has generously provided 10 free passes to the Accumulo Summit available for those that register for the Hackathon. If you register for one of the free passes, the organizers will follow up with you by Monday October 10th with your free pass info. Limit one free pass per registrant, please.
What We Provide
Materials to help you get started
Power and Wifi
Food and drinks
What You Provide
A laptop loaded with your favorite development environment
Other Stuff
In the past years the Accumulo Hackathon has been an organic event that evolves baed on the desires of the folks that show up. This year, there's been talk about having a key signing party or a walkthrough of the Apache Fluo tour. Other ideas? Use the contact the organizer link below to share them!

Fine Print
Apache Accumulo, Accumulo and Apache are either registered trademarks or trademarks of the Apache Software Foundation in the United States and/or other countries, and are used with permission. The Apache Software Foundation has no affiliation with and does not endorse, or review the materials provided at this event, which is managed by Clearedge IT Solutions LLC.