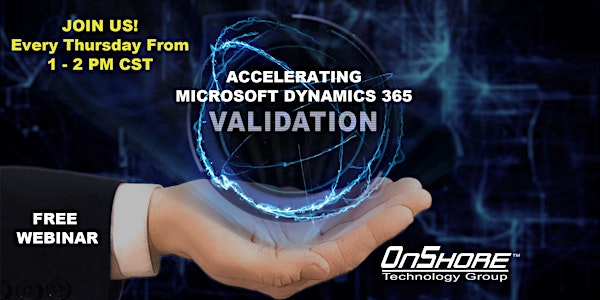 Accelerating Microsoft Dynamics 365 Validation
Join us for a practical discussion on managing Microsoft's cadence releases with the CloudMaster 365 Validation Accelerator.
About this event
Microsoft Dynamics 365's cadence releases may present challenges for life sciences companies that must keep up with routine updates in Lifecycle Services. Rapid adoption and continuous maintenance of the cloud environment is imperative for global life sciences companies.
Today's forward-thinking companies recognize that automation is no longer a luxury, but a necessity. Join our webinar today to learn how CloudMaster 365 helps accelerate technology adoption and the overall validation process. CloudMaster delivers a full set of documentation and an Enterprise Validation Management system known as ValidationMaster to help you succeed.
IF YOU ARE A MICROSOFT DYNAMICS 365 USER, YOU WILL NOT WANT TO MISS THIS IMPORTANT EVENT!
REGISTER TODAY!