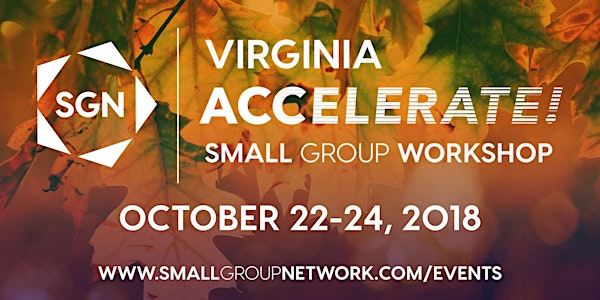 ACCELERATE! Virginia
When and where
Location
Park Valley Church 4500 Waverly Farm Dr Haymarket, VA 20169
Description
Brought to you by the Small Group Network, "Accelerate! Virginia" is a 3-day strategic workshop for small group ministry point people and their leadership teams. You and your team will take a 360-degree view of your small group ministry as you develop a comprehensive strategic action plan for 2018 - 2019. This workshop not only gives you stimulating ideas, but you'll leave with a plan that you can implement immediately. Attendance is limited to give you more interaction with other participants.

Check-in is from 1:45pm – 2:30pm on Monday, October 22nd at:

Park Valley Church

4500 Waverly Farm Dr.
Haymarket, VA 20169

Sessions will run from 2:30pm - 5:30pm on Monday, 8:30am to 5:30pm on Tuesday, and from 8:30am-12:30pm on Wednesday.
Registration includes two essential books on small group ministry. One book will be sent to you and must be read prior to attending the workshop. You will receive the second book at the event.

EARLY BIRD REGISTRATION
(July 2, 2018 – August 2, 2018)

Individual Registration - $345.00

Team of 2 Registration (price per person) - $320.00

Team of 3 or more Registration (price per person) - $295.00

REGULAR REGISTRATION

(August 3 – September 11)

Individual Registration - $395.00

Team of 2 Registration (price per person) - $370.00

Team of 3 or more Registration (price per person) - $345.00

LAST MINUTE REGISTRATION

(September 12 – October 12)

Individual Registration - $575.00

Team of 2 Registration (price per person) - $550.00

Team of 3 or more Registration (price per person) - $525.00

You cover your personal travel expenses to and from the workshop, as well as lodging and food. The closest airport is Dulles Intl Airport (Washington DC, DC).

Below is a list of local Hotels:
Hampton Inn
7300 Atlas Walk Way, Gainesville, VA 20155
4.7 miles
Spring Hill Suites
7921 Gateway Promenade Pl, Gainesville, VA 20155
5 miles
Registration ends on Friday, October 12, 2018. Walk-in registrations are not available.

Cancellation Policy: Due to costs we incur when you register, each cancelled registration will be charged a processing fee of $75 per person. Refunds (less the processing fee) will be honored through October 8, 2018 (4:00 pm PST). No refunds after this date and time.

For questions contact: Daniel Thomas, daniel@smallgroupnetwork.com, 423-534-9321