Description
Lead designers and architectural professionals will lead a walking tour of SOM projects that lend themselves to this year's "Secret City" them. All projects on the tour are located in the Financial District. Although, the tour will primarily be a flat, easy walk, it is recommended to wear closed, comfortable walking shoes. Light refreshments and a short presentation which will provide more background information to the projects along with little-known anecdotes, urban context and design insights.
**Note: this no longer starts at SOM, One Front Street; new starting point: One Maritime (Alcoa Building)**
---





2017 Architecture and the City Festival Poster

Add to your cart when checking out and receive a $5 refund on your ticket purchase!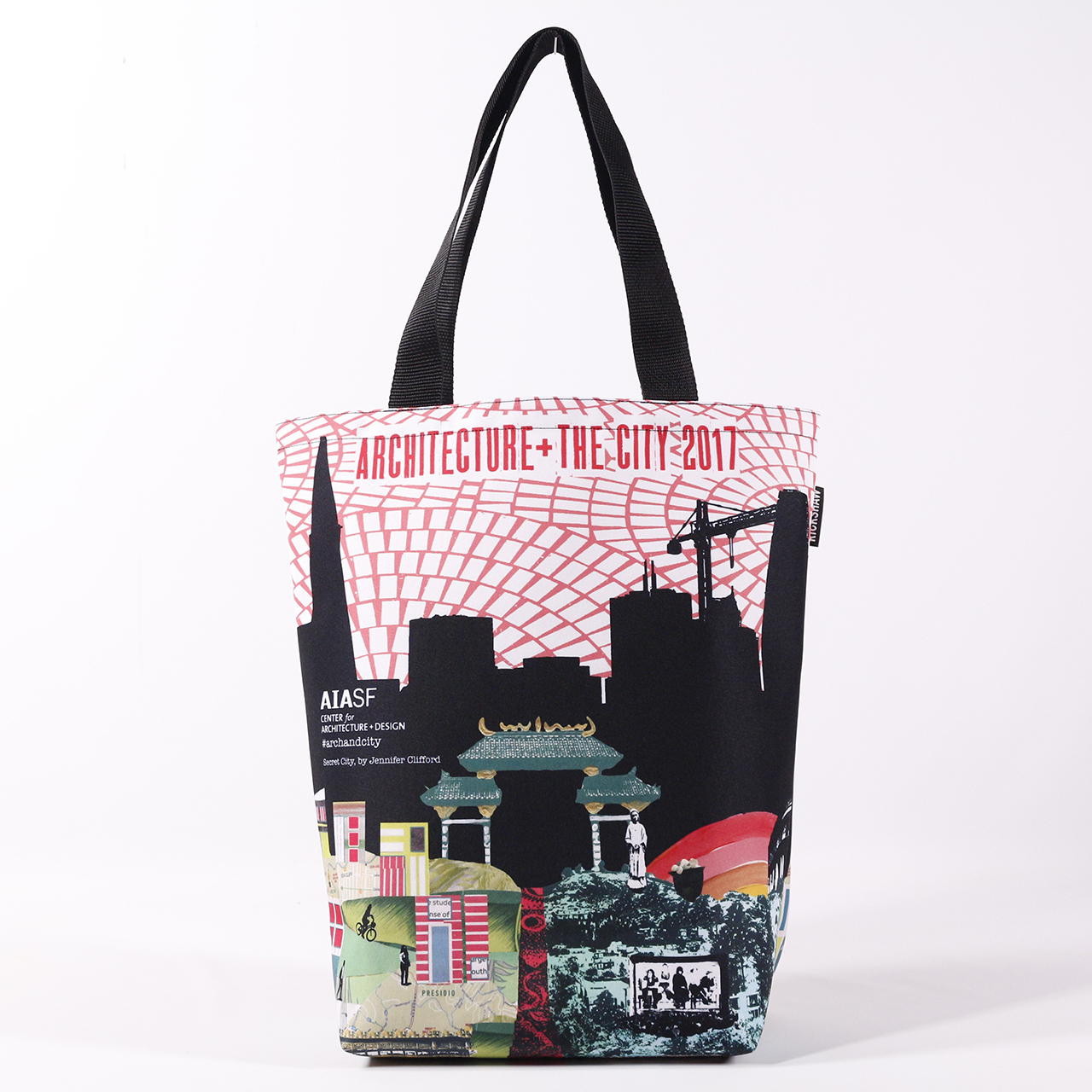 2017 Architecture and the City Festival Tote Bag

Add to your cart when checking out and receive a $5 refund on your ticket purchase!
AIA San Francisco and the Center for Architecture + Design commissioned celebrated local artist Jennifer Clifford to create artwork embodying the Festival's theme and spirit of imagination and discovery across the design industries.
About the Artist
Jennifer Clifford was an interior designer for 10 years before deciding to pursue a full time art career. She has always been drawn to texture, the juxtaposition of pattern and bold color. In college, she developed a passion for collage art. Today, her work is a reflection of that passion, melded with the vibrant textiles and wallpapers she loved and used while practicing interior design. You can find Jenny and her work at art fairs and events around the Bay Area and her wholesale line of art prints are sold in stores throughout San Francisco including Terminals 2 and 3 at the San Francisco International Airport. In collaboration with Rickshaw Bagworks, Jennifer has a complete collection of her art featured on their locally-made tote bags that can be found online (www.jenniferclifford.net) and in various shops throughout the city.
Artist's Statement
The general concept behind the image created for the 14th Architecture + the City festival poster, is an attempt to reveal the many hidden layers of San Francisco. San Francisco is filled with many people and walks of life who each have their own perspective of the city, while other parts of the city remain unseen from the casual observer - the secret city. The upward movement of the image created follows a path, "the secret stairs", which serves as the gateway to connect the hidden details of San Francisco (found in the festival program), to the present urban community, to empower a more conscious and sustainable future.
Date and Time
Location
Note: new starting point: One Maritime (Alcoa Building)**
1 Maritime
San Francisco, CA 94111