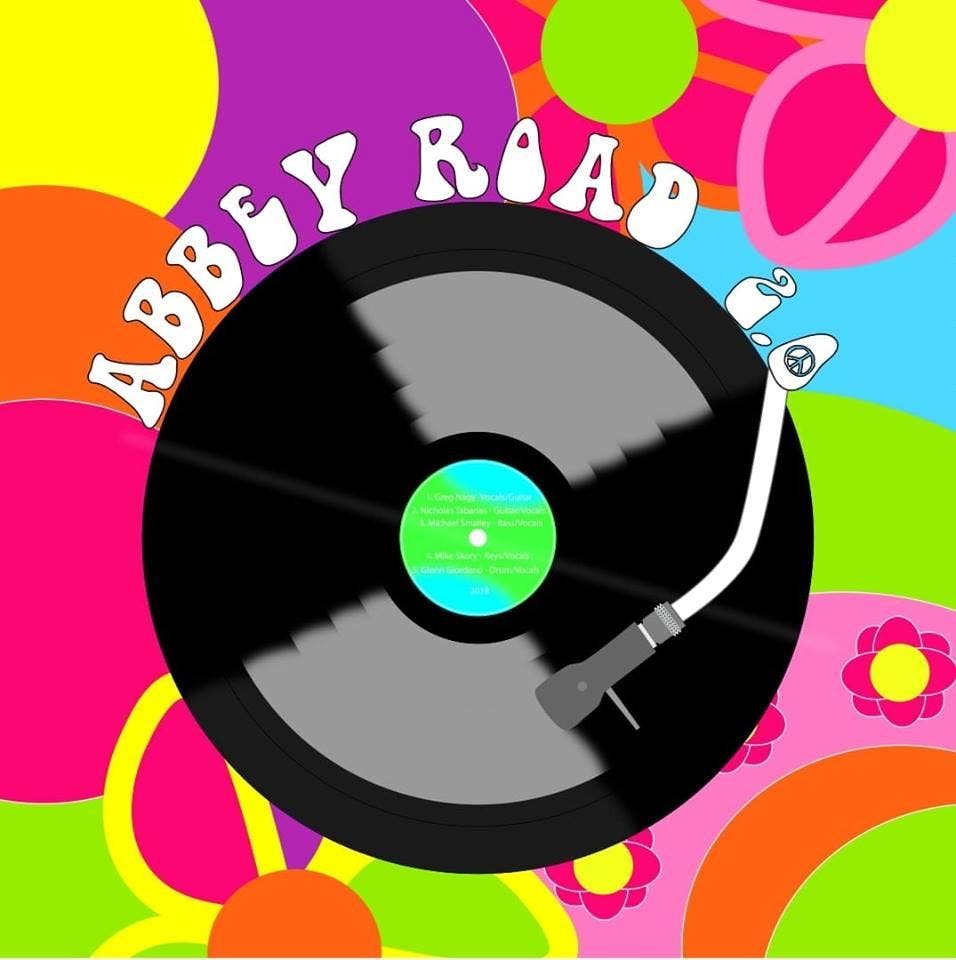 About this Event
Abbey Road 2.0
Friday, September 27th
7PM Doors
8PM Show
Tickets
$15/20
$30 Reserved VIP Seating
"Celebrating the 50th Anniversary of The Beatles Abbey Road Album"
Abbey Road is the eleventh studio album by English rock band the Beatles, released on 26 September 1969 by Apple Records. The recording sessions for the album were the last in which all four Beatles participated. Although Let It Be was the final album that the Beatles completed before the band's dissolution in April 1970, most of the album had been recorded before the Abbey Road sessions began.[1] A two-sided hit single from the album, "Something" backed with "Come Together", released in October, topped the Billboard Hot 100 chart in the US.
Abbey Road is a rock album that incorporates genres such as blues, pop, and progressive rock,[2] and it makes prominent use of the Moog synthesizer and the Leslie speaker. Side two contains a medley of song fragments edited together to form a single piece. The album was recorded amid a more enjoyable atmosphere than the Get Back/Let It Be sessions earlier in the year, but there were still frequent disagreements within the band. John Lennon had privately left the group by the time the album was released and McCartney publicly quit the following year.
Glenn Giordano: Drums and Music Director
Glenn had a vision. To get a bunch of his favorites musicians together to perform a benefit for Hurricane Katrina victims and for The American Red Cross. The show in Ann Arbor MI was standing room only and a band was born, Abbey Road 2.0.  
As a drummer, Glenn has recorded and performed with rock-n-roll icons like Mark Farner (Grand Funk), Dick Wagner (Alice Cooper), Drew Abbott (Bob Seger), and international roots stars such as Matt Guitar Murphy, Greg Nagy, and Thornetta Davis. 
Glenn is an in demand session musician, teacher, and touring musician. A world class musician in all senses of the term. 
Greg Nagy: Vocals and Guitar
An internationally acclaimed eclectic roots and blues artist, Greg Nagy's releases have been heard around the world.  
His powerfully soulful voice and his guitar playing have earned kudos from all corners of the music industry.  Down Beat writes "...Pure Gold!" Sing Out Magazine writes "...Recalls Boz Skaggs at his most soulful!"  
A phenomenal singer, guitarist, writer, producer, and arranger Greg's bag runs river deep. 
If interested in learning more please visit: gregnagy.com
Nicholas Taborias: Vocals and Guitar
As a side man for the Grammy nominated artist Ronnie Earl, and with his own projects, Nicholas has earned the respect and admiration of the blues world and beyond.  
A tremendously tasteful guitarist and a powerfully compelling singer his art and craft is always in service of the song.  
He is, as they say in the blues world (and beyond) "the real deal!" 
Mike Skory: Vocals and Guitar
Mike is a multi-faceted keyboardist, singer, and entertainer who connects on every level.  
A Michigan legend and icon of sorts, (formerly of Blue Money and Root Doctor) he has performed to audiences ranging from thousands to true blue back yard BBQs. And regardless of the venue, the verdict is always the same, 
he's got the goods!  
Michael Smalley: Vocals and Bass
A bit of musical necromancer, Michael sings and plays with an authority, personality, and heart that stands out in a crowd and that cannot be denied.  
He's amazing! 
An in demand musician, Michael has toured and performed with countless national acts. He is also a wonderful entertainer.  
He's the full package!