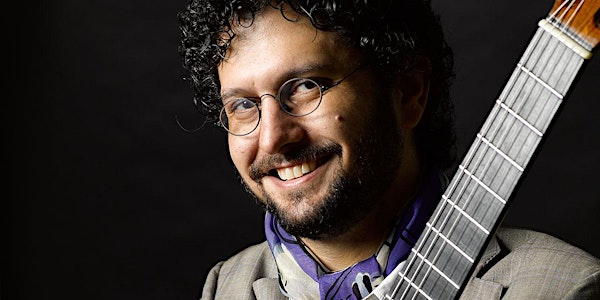 Aaron Larget-Caplan
Aaron Larget-Caplan, Guitar Virtuoso
When and where
Location
Los Altos United Methodist Church 655 Magdalena Avenue Los Altos, CA 94024
Refund Policy
Contact the organizer to request a refund.
Eventbrite's fee is nonrefundable.
About this event
Proof of Covid vaccination will be required at entry for all festival attendees (vaccination card or electronic validation). Vaccination status will be checked at the door.
No children under 5 will be admitted.
Mask wearing is required at all times inside the venue. N95 or KN95 masks are advised.
Social distancing between groups will be enabled by the fact that we will only sell concert tickets to 60% capacity.
"Aaron is a unique talent not to be missed"
– Washington Post
Acclaimed international recording and touring guitarist Aaron Larget-Caplan is an exciting and innovative leader in classical music. Noted for his "astounding technical proficiency and artistic delicacy" by the Boston Musical Intelligencer, Larget-Caplan is an international touring and recording artist, who has performed solo and chamber music in Europe, Russia, Taiwan, and across the United States including El Palacio de Linares in Madrid, Spain, Sheremetev Palace in Russia, and Palazzo del Te & Ducale in Mantova, Italy. At 16 he made his debut at the Tabor Opera House, and has since premiered over 80 solo and chamber compositions, soloed with orchestras, directed concert series, created commissioning endeavors, curated and published two anthologies of scores, arranged over 35 solo and chamber works, and brought classical music into schools and communities. A gifted performer and speaker, he is sought for his deft programming of new and standard repertoire, while connecting with audiences with a Bernstein-esque ease. In 2019 Aaron received a medal from the Société Académique Arts-Sciences-Lettres of Paris, France for his trailblazing work in music, and in 2020 was Musician in Residence at the Banff Centre for the Arts and Creativity.
Mr. Larget-Caplan has seven critically acclaimed solo albums: Drifting (2021), A Guitar Holiday (2021), Nights Transfigured (2020), John. Cage. Guitar. (2018), The Legend of Hagoromo (2015), New Lullaby (2010), Tracing a wheel on water (2006), and he is featured four others as a soloist and chamber music for record labels Albany, Navona, and the American Composers Alliance. The recordings have received critical acclaim from Audiophile, Fanfare, American Record Guide, Guitar Magazine and many more with such response as "stunningly played" (Fanfare), "eclectic and endlessly rewarding release" (Classical Guitar), "A Significant Recording" (Classical Guitar UK). He became the first American artist on the UK label Stone Records in 2015.
Aaron is the founder of numerous commissioning and performance endeavors, including the New Lullaby Project, which bridges the chasm of fear audiences towards contemporary music and composers to writing for guitar, for who's afraid of a lullaby?! Since 2007 Aaron has premiered 65 new lullabies by 60 different composers from ten countries. In January 2021, Mr. Larget-Caplan in partnership with the American Composers Alliance began publishing a multi-volume anthology featuring scores of the New Lullaby Project. Volume 1 'Nights Transfigured' features 15 solos and volume 2 'Hushed' features 16.
Aaron is collaborating with composer Vineet Shende of Bowdoin College for 12 Carnatic Preludes, After J.S. Bach, a re-imagining of Bach preludes from the Well-Tempered Clavier as if Bach were from South India (Carnatic music).
Aaron is also the founder of the ensemble ¡Con Fuego! (With Fire!), a passionate cross-fertilization of flamenco dance and Spanish classical music featuring acclaimed dancer La Conja and Gabriela Granados, the trio has performed throughout the Northeast, New Mexico, Oregon, and Colorado.
From 2010-2014 Aaron directed Greater Boston House Concerts presenting 23 international artists, and his latest endeavor, "Now Musique – Exploring the New & Neglected" debuted in 2019 and will continue in 2022.
His groundbreaking 2 volumes of arrangements of John Cage are exclusively published by Edition Peters and are the first officially sanctioned arrangements of Cage for guitar. The American Record Guide called his transcription of Cage's 'Bacchanale' for two prepared guitar "marvelous". The Guitar Foundation of America wrote: "I would strongly advocate these [Cage] compositions to be performed by young guitarists before they start working on any other contemporary composers". Larget-Caplan also performs his own arrangements of Bach, Scarlatti, Rodrigo, and many Spanish composers. Larget-Caplan recently received exclusive permission from the estate of Reynaldo Hahn and Édition Musicales Alphonse Leduc to perform his arrangements of Hahn's "Mélodies" for voice and guitar. Upcoming publications include music of Cage, Alan Hovhaness, Hahn, Mario Castelnuovo-Tedesco, and Pascual Marquina.
Larget-Caplan's published articles include: "Have Guitar, Will Travel – To Russia With Love", The Triangle of Mu Phi Epsilon, and "Meet the Luthier with Sicilian Builder Franco Marino", Boston Classical Guitar Society Quarterly. Interviews of Aaron include "Building a career through talent and savvy", The Triangle, and "On the Trail with Lullaby Hunter, Aaron Larget-Caplan", Fanfare Magazine where he was noted for his "enthusiasm and virtuosity". He has given lectures Being an Artist Entrepreneur in the 21st Century, John Cage Guitar, Writing for Guitar, and Creating Commissioning Projects at universities as well as the Guitar Foundation of America, the 21st Century Guitar Conference, New Music Gathering, and for the international music fraternity ΜΦΕ. His John Cage Guitar and Legend of Hagoromo lectures were accepted to the IGRC in 2019 in Hong Kong. Aaron has appeared on numerous radio and television stations across the US including Conducting Conversations, and Classical Guitar Alive, and held online roundtables on Composing for Guitar.
Mr. Larget-Caplan has received awards and grants from the Société Académique Arts–Sciences–Lettres of France, American Composers Forum, New England Foundation for the Arts, American Composers Alliance, New England Conservatory, D'Addario Foundation, Mu Phi Epsilon Foundation, numerous Local Arts Councils, he was awarded as an I.D. LOTT – Identifying Future Leaders of Today and Tomorrow for his artistic and community work in Dorchester, and he was named an ACME Honoree as a distinguished Artist and Educator by the international music fraternity Mu Phi Epsilon. A proponent of live classical music in society and arts in education, he gives enrichment programs and artist residencies alongside formal concerts throughout the country and internationally.
Aaron is currently on faculty at the University of Massachusetts Boston and formerly at the Boston Conservatory. He gives artist residencies, masterclasses, workshops and lectures across the country, including in Canada, Italy and Russia, for the Guitar Foundation of America, the International Music Fraternity Mu Phi Epsilon, and the Banff Centre for the Creative Arts. He is a graduate of the New England Conservatory, and his principal teacher was Dmitry Goryachev. Larget-Caplan performs on a guitar by the French master luthier Olivier Fanton d'Andon and plays on Hannabach strings exclusively. He lives in Boston where he enjoys espresso with his wife, healer, and muse, Catherine.