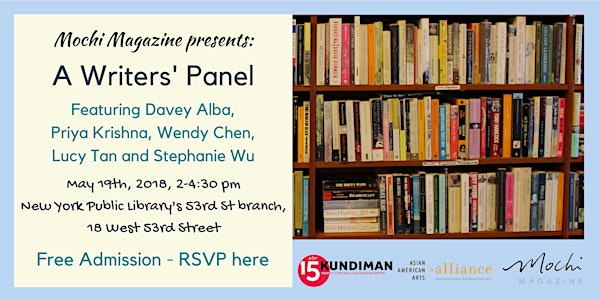 A Writers' Panel
When and where
Location
53rd Street Library 18 West 53rd Street Community Room B New York, NY 10019
Description
Mochi Magazine is pleased to host A Writers' Panel, a talk with 4 talented young Asian American writers, on Saturday May 19th. We invite you to hear about their academic journey in writing, writing career, and the impact that they are making on the literary world. The panel will last an hour, followed by 30 minutes of Q&A, and an hour of book signing/mingling.
This event is free and open to the public. Please secure your tickets and RSVP on Eventbrite.
Featured Panelists
Davey Alba is currently a senior reporter for BuzzFeed News' technology desk, where she covers artificial intelligence — how it intersects with privacy and surveillance, the hidden international workforces who train and power it, and all the ways in general that it's becoming an ever more embedded technology in our lives. Previously, she was a staff writer for Wired Magazine, and an editor for Popular Mechanics. She grew up in Manila, Philippines, moved to the US when she was 22, and has a master's in science journalism from Columbia University.
Wendy Chen is the author of Unearthings (Tavern Books). Her work has appeared in Crazyhorse, Rattle, Hayden's Ferry Review, and elsewhere. She is the recipient of the Academy of American Poets Most Promising Young Poet Prize, and fellowships from the Kimmel Harding Nelson Center and the Barbara Deming Memorial Fund. She earned her MFA in poetry from Syracuse University. Currently, she is co-founder and editor of Figure 1.
Priya Krishna is a food writer who contributes to The New York Times, Bon Appetit, The New Yorker, and others. She is the author of Indianish,out in April 2019, as well as the college-centric cookbook Ultimate Dining Hall Hacks. Follow her on Twitter and Instagram @PKgourmet.
Lucy Tan is author of the debut novel, What We Were Promised (Little, Brown), currently available for pre-order and in stores July 2018. She holds an MFA in creative writing from the University of Wisconsin-Madison, where she was winner of the August Derleth Prize. Her stories have appeared in journals such as Asia Literary Review, Sixfold, and Ploughshares, and she is the recipient of fellowships from Kundiman and the Wisconsin Institute for Creative Writing. A New Jersey native, Lucy currently splits her time between New York and Shanghai. She can be found at www.lucyrtan.com.
Moderator
Stephanie Wu is an editorial director at Mic, a digital news startup based in New York City. She oversees the lifestyle sections: Out of Office (covering food and travel) and Payoff (covering work and money). Previously, she was an editor at Travel + Leisure and Town & Country. She's the author of The Roommates: True Tales of Friendship, Rivalry, Romance, and Disturbingly Close Quarters. Stephanie is also the cofounder and editor-in-chief of MochiMag.com, an online publication for young Asian Americans. She graduated from NYU with degrees in journalism, East Asian studies, and gender studies. She was raised in Taipei, Taiwan, and now lives in New York City.