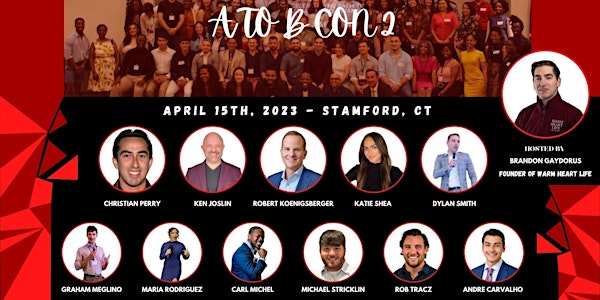 A to B Con 2
An event focused around helping attendees accelerate the path to get what they want personally, professionally, and financially in life.
When and where
Location
University of Connecticut-Stamford Campus 1 University Pl Stamford, CT 06901
Refund Policy
Contact the organizer to request a refund.
Eventbrite's fee is nonrefundable.
About this event
5 hours 30 minutes

Mobile eTicket
The 2nd Annual A to B Conference will take place in Stamford, CT and go from about Noon to 5:30 PM with a Dinner and Cocktail Hour to follow!
There will be a mix of speakers from all walks of life touching on various aspects of Health, Wealth, Relationships, and Mindset.
What you can expect...
A room full of like-minded people that want to see you succeed
Hands-on activities to help grow your network and get you thinking big
A combination of entertainment, personal development, and growth all in one afternoon
Event Speakers...
Brandon Gaydorus, Founder of Warm Heart Life & Conference Host (Stamford, CT)
Brandon is a 4x author and founded Warm Heart Life in 2019. On the day-to-day, he focuses on helping individuals execute on personal, professional, and financial goals. Brandon has been passionate about bringing personal development to Stamford through events like the A to B Conference (May 2022), Map Your Way to Financial Freedom (October 2021), and multiple Speaker Schools.
Robert Koenigsberger, Founder & Chief Investment Officer of Gramercy (Greenwich, CT)
Robert founded Gramercy in 1998 with a vision for the firm to become a global, institutional investment management firm focused on emerging markets. He has 35 years of investment experience dedicated to emerging markets with a specialization in distressed opportunistic credit strategies. His firm currently has about 5.5 Billion Assets Under Management.
Ken Joslin, CEO of the Ken Joslin Team & GROW STACK DRIVE Brand (Birmingham, AL)
Ken is a pastor turned Coach and real estate powerhouse. Ken hosts CREATE, the #1 Entrepreneur Conference in the Southeast, and the As The Leader Grows podcast. He has shared stages with people like John Maxwell, Ed Mylett, Jesse Itzler & Grant Cardone. His GSD Elite Mastermind is an exclusive community of exceptional performers and top earners. Ken Joslin is a driven leader who has closed over $250mm in real estate transactions and is the author of the best-selling book, "As The Leader Grows." Ken is the go-to coach for entrepreneurs to Build Confidence, Gain Clarity & Create Community.
Katie Shea, Sales & Performance Coach (Chicago, IL)
Katie is an influential leader on the rise. Her research and experience in sales and performance psychology, along with partnerships with Grant Cardone and Richard Dolan have allowed her to impact thousands through her social media and coaching programs.
Michael Stricklin, Real Estate Investor & Developer (Zachary, LA)
Michael is the Co-Founder of Stricklin & Porter Land and Stricklin & Porter Construction. He is a community man, father, and has a strong desire to give back to the masses. Michael has been personally mentored by Real Estate Mastermind Grant Cardone over the last year, and you may even find him on some TV Shows in the near future.
Dylan Smith, Founder of D is for Dyslexia & Conference Co-Host (Danbury, CT)
Dylan has made it his mission in life to motivate, inspire, and positively influence others to defy all odds. He spends no time allowing his diagnosis with Dyslexia to slow down the impact he can have on this world and uses his speaking gift to help others reach their potential in life.
Christian Perry, The Real Estate Choreographer & Conference Co-Host (Greenwich, CT)
Christian is deeply entrenched in Greenwich and the local real estate marketplace in both Connecticut and New York. As an active member of the community and award-winning professional coach and consultant, Christian takes great pride in making the home buying and selling process efficient and exciting.
Leading up to real estate, Christian worked in the financial sector with Merrill Lynch and prior to that became a Jitterbug champion. He is recognized as an award-winning film and television choreographer, and ballroom dancer featured on the American television series, Dancing with the Stars. Christian was also appointed to the directors' peer group for the Emmys Television Academy, owned and sold a chain of ballroom studios in Los Angeles, is a pilot, boat captain, and avid equine enthusiast with his Gypsian horse Versailles.
Carl Michel, Best Selling Author, Speaker, & Conference Co-Host (New York, NY)
Carl is one of the top motivational speakers in the NYC School system and has become the best-selling author of "365 Hip-Hop: Daily Motivational Quotes," a mentor, philanthropist, and executive producer of The Youth Empowerment Show. He effectively uses his life experiences and positive aspects of music to impact lives all over the globe.
Maria Rodriguez, Motivational Speaker & Women's Transformational Coach (San Antonio, TX)
Maria is a highly-rated motivational speaker with 3+ years of experience as a women's fitness and nutrition coach. She works with women, groups, and organizations to amplify their authenticity and empower them to become a better version of themselves through health, wellness, and mindset.
Rob Tracz, Founder of TAPS Training (Stamford, CT)
Rob has become a powerful speaker across the northeastern states and through popular demand, we are excited to bring him back to speak at this year's A to B Con. He's formerly known as the unofficial mayor of Stamford, CT and enjoys collaborating with others to make this world a better place.
Graham Meglino, Sales Account Executive & Educator (Saratoga Springs, NY)
Graham is a speaker on the rise in the northeast and a massive advocate of personal development. The subject of healthy eating struck a chord with Graham early on in his personal development journey, and he has been following a solely plant-based diet for the last 4+ years. Graham believes the future of eating is plant-based and his goal is simple - "to make plant-based eating as accessible as possible to as many people as possible."
For Graham, speaking in front of large groups of people not only excites him, but it allows him to serve a greater number of people with his messages in a shorter amount of time.
Andre Carvalho, Co-Founder & COO of UncommonREI (Stamford, CT)
Andre is an entrepreneur, operations professional, and integrator with a passion for investing. By studying and deliberately utilizing the laws of the universe, such as, the law of attraction, the law of initiative, and the law of proximity, Andre was able to grow from a dishwasher at a local Brazilian restaurant to the operations manager of a $50 million dollar non-for-profit organization by the age of 23 with no college degree.
Today, Andre is focused on growing the UncommonREI acquisitions business to $50 million in revenue. He is researching and implementing greater laws of the universe in his personal life and business, all while building a personal brand that can inspire and teach immigrants, and kids without fathers.
Please reach out to Brandon directly at (607) 348-6136 or bgaydorus@gmail.com with any questions.