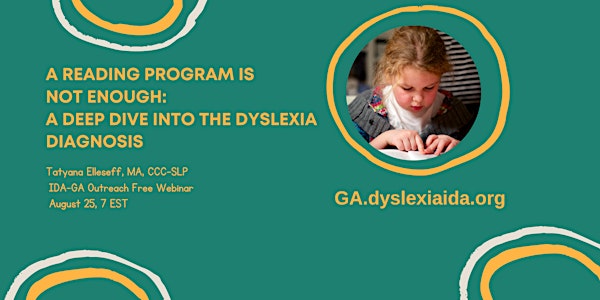 A Reading Program is NOT Enough: A Deep Dive into the Dyslexia Diagnosis
This webinar will discuss the importance appropriate language and literacy testing plays in the remediation of reading-based disabilities.
About this event
This is a free outreach webinar offered by IDA-GA. Our guest speaker will be Tatyana Elleseff, MA, CCC-SLP.
When you register for this IDA-GA webinar, you will receive a link unique to you. This helps to ensure the safety of attendees and allows us to verify your attendance for COA's. Attendees will receive a link to the Request for Certificate of Attendance within 24 hours after the webinar. ASHA CEU's will be available through Lavi Institute for those needing that specific documentation.
We understand that lives are busy! If you cannot attend the live event, you can still register to receive the link to the recording as soon as it becomes available.  In addition, registrants will receive the IDA-GA monthly news that includes notifications of future upcoming events. (You may unsubscribe at any time.)
Presentation Description:
This webinar will discuss the importance appropriate language and literacy testing plays in the remediation of reading-based disabilities.
It will review current controversies with respect to the dyslexia diagnosis, as well as describe the role of language as a contributing factor to reading and writing deficits.
The limitations of popularly recommended reading approaches/programs (e.g., Orton-Gillingham, Wilson, Lindamood-Bell, Barton, etc.) will be discussed with respect to exclusivity of use.
Finally, the process leading up to the appropriate treatment goal recommendations will be outlined.
At the end of this presentation, learners will be able to
-Discuss the connection between language and literacy
-Summarize current debates as pertaining to the dyslexia diagnosis
-Discuss strengths and limitations of popular reading programs and approaches
-Describe appropriate goal target selection with respect to the remediation of reading deficits
Tatyana Elleseff, MA, CCC-SLP is a bilingual SLP, specializing in issues of multicultural, internationally & domestically adopted, at-risk children with language and literacy disorders in school and private practice settings. She has been published in a variety of journals as well as presented for a number of medical, academic and non-profit organizations and speech-language-hearing associations. She is a clinical instructor at the RWJ Medical School Dept. of Psychiatry & a clinical supervisor at Rutgers Day School.
_____________________________________________________________________________________________
A NOTE ON REGISTRATION: After registering, you will receive a confirmation email. If you do not see that email, please check your junk mailbox.  You might want to save the confirmation email. The email includes a "View the Event" button. When you click on that button, you will be asked to "Sign up or Log In."  Create an Eventbrite account (username and password) or click on "Continue with Facebook" or "Continue with Apple."  This extra layer of protection for our attendees and will allow you access to the registrant-only event page.