Description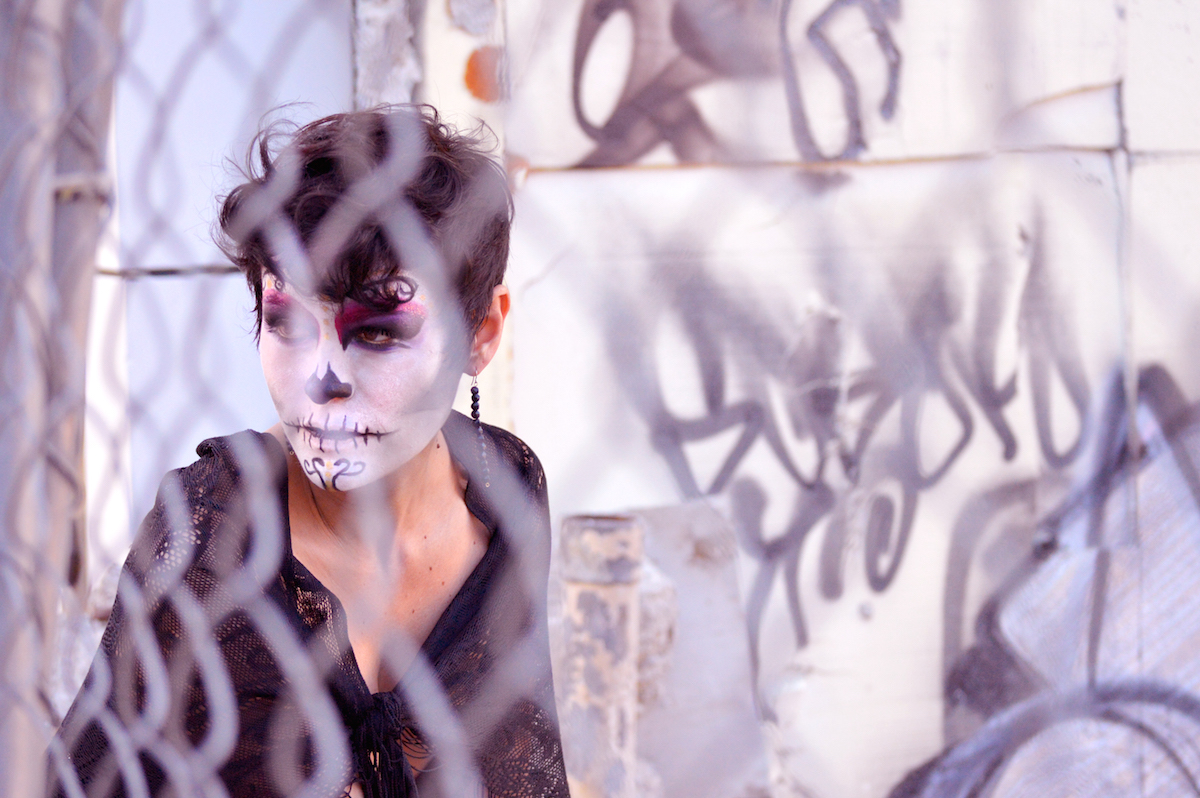 Now in its 17th year, the annual Day of the Dead exhibition at SOMArts Cultural Center offers one of the most internationally diverse Día de los Muertos celebrations in the United States. Merging traditional Mexican altars with contemporary art installations, the exhibition presents a superabundant array of perspectives remembering, honoring, and celebrating the dead.
Chosen by father and son curators René & Rio Yañez, this year's theme, A Promise Not to Forget is a call to remember our ancestors and honor especially those whose lives have been unnecessarily lost due to violence. A Promise Not to Forget is dedicated to San Francisco poet, musician and activist Silvia Parra, known to many as Mamacoatl, and to Cynthia Wallis, departed partner of curator René Yañez. An artist in her own right, Wallis was well known as a photographer and Bay Area theater director. The third dedication to Martha Rodriguez honors the noted San Francisco visual artist who participated in SOMArts' Day of the Dead exhibitions for several years.
A Promise Not to Forget will honor the victims of the tragedy at Pulse Nightclub in Orlando with several altars and interactive installations. Paying tribute to the queer, Latinx victims of violence at Pulse, A Promise Not to Forget will invite audience members to reflect on the possibility of a future without violence.
The exhibition unveiling and Día de los Muertos inspired artist market, Friday, October 7, 6–9pm, $12–15 sliding scale admission, features live music by Puerto Rican funk, rock and reggae band Manicato and comedy and spoken word by Baruch Porras-Hernandez. The opening reception festivities will be hosted by Melorra Green. Advance tickets are strongly encouraged.
RELATED EVENTS
A Promise Not to Forget: Día de los Muertos Exhibition
On view Friday, October 7–Saturday, November 5, 2016
Extended gallery hours: Tuesday–Friday 12–7pm, Saturday 11am–5pm & Sunday 11am–3pm
somarts.org/promise
Interactive Drawing Circle
Friday, October 21, 7–9:30pm
$10, no one turned away for lack of funds
promisedrawing.eventbrite.com
Experience the exhibition by creating artwork of your own in this interactive drawing circle facilitated by curator René Yañez.

Closing Event
Saturday, November 5, 6–9pm
$7–10 sliding scale admission
promisecloses.eventbrite.com
The final opportunity to view and interact with the altars features live music and interactive installations.
Exhibiting artists:
Adrian Arias
Aisha Hamilton
Aixaves
Alicia Cruz Hunt
Allison DeLauer
Alisson Gothz
Ana Bedolla
Andrea Suess
Ayana Ivery
Aydasara Ortega and Ruben Rivera Matos
Beth Haas
Brenda Rasmussen
Candi Farlice
Carla Caletti
Carla Oden
Carlos Poot
Chip Lord
Choppy Oshiro
CJ Grossman
Cris Matos and Cynthia Tom
Daniel Galvez
David Tafolla
E. "Oscar" Maynard
Elaine Katzenberger
Elena–Maria Bey and Miranda Evans
Eliana Cetto and Mayra Guadalupe Lopez
Elizabeth Addison and Pamela Blotner
Guillermo Gomez-Peña
Gustavo Vazquez
Isabel Fuentes
Jess Balitronica
Joan Miro
Joan Osato
Jos Sances
Jose Iniguez
Josephine Torio, Denise Sullivan, & Kate Rosenberger
Juliet & Dean Flower MacCannell
Julio Salgado
Katynka Martinez, Mia Gonzalez, Ann Golden, Fuzz Grant, & Ana Lisa Escobedo
Kirk Maxson and Geof Teague
Lara Gallardo
Lia Tealdi, John Latham & Alberto Gutierrez
Liz Lerma
Mara Hernandez
Martinez, Martinez
Mary Molly Mullaney
Monique Lopez
Mujer Muralista (Laura Salazar for our own reference)
Nancy Hom
Patricia A. Montgomery and Michael Ross
René Yañez
Ricardo De Anda
Rick Darnell and Jeff Marshall
Rio Yañez
Rosario Sotelo
Rosie De Anda
Ryse Center
Sarah Guerra
Shizue Seigel
Shylah Pacheco Hamilton
Solis
Susan Matthews
Tim Keefe
Tricia Jameson-Tutwiler and Dominique Tutwiler
Vero D. Orozco
Victor–Mario Zaballa
Victoria Canby and Andrew Samuels
Ytaelena Lopez
ABOUT THE CURATORS
Rene Yáñez, founder and former Artistic Director of San Francisco's Galería de la Raza in San Francisco's Mission District, was one of the first curators to introduce the contemporary concept of Mexico's Day of the Dead to the United States with a 1972 exhibition at the Galería. Each subsequent year he curated a Day of the Dead exhibition either at the Galería or at the Mission Cultural Center for Latino Arts. Then, in 1994 and 1998, he curated Rooms for the Dead and Labyrinth for the Dead at the Yerba Buena Center for the Arts. His first year curating a Day of the Dead exhibit at SOMArts Cultural Center was 1993.
Active as both a visual and performing arts curator and artist, as well as an outspoken activist, Yáñez co-founded the successful Chicano performance trio Culture Clash. In 1998, he received the "Special Trustees Award in Cultural Leadership" from The San Francisco Foundation for his long-standing contribution to the cultural life of the Bay Area.
Yáñez has curated numerous exhibitions including Chicano Visions (2001–2007), an exhibition hosted by museums such as the de Young Museum (in San Francisco), El Paso Museum of Art, and the Smithsonian Institution.
Notable recent projects include programming produced for the de Young Museum's Picasso: Masterpieces from the Musée National and The Fashion World of Jean Paul Gaultier: From the Sidewalk to the Catwalk. This programming featured Yáñez' interpretations of the works of Pablo Picasso in anaglyph 3D, as well as a fashion runway show Viva Frida: From the Blue House to the Catwalk.
In 2009, 2011, and 2012, Yáñez created a living altar for the San Francisco Symphony's Day of the Dead concert featuring a large cast, crew, and suite of musicians, curated Four Juan Five, an exhibition about the San Francisco Mission District at Alley Cat Books, and performed in Guillermo Gomez-Peña's Corpo Illicito at the New Performance Gallery in San Francisco.
In 2014 Yáñez printed a popular zine, Zine a la Mode over a Pot of Coffee, with a circulation of over 800 copies. His recent work includes a collaboration with artist Patrick Piazza for an installation on the De-Appropriation wall on Valencia street, an exhibit with the S.F. Print Collective about displacement, and Las Chicas de Esta Noche, a drag queen review show at the de Young Museum in collaboration with comedian Marga Gomez. With his collective The Great Tortilla Conspiracy he has participated in art events benefitting the San Francisco Coalition on Homelessness and the St. Peters Dining Hall.
Rio Yañez, born and raised in San Francisco, is a curator, photographer, activist and graphic artist. As an artist he has exhibited his work from San Francisco to Tokyo and created artwork installations for Jean Paul Gaultier's touring exhibit The Fashion World of Jean Paul Gaultier: From the Sidewalk to the Catwalk. His Bay Area solo exhibitions include Pocho Adventure Club at Galería de la Raza in San Francisco, Cholas to Picasso: The 3D Artworks of Rio Yañez at Asterisk Gallery, Bubblegum Crisis at Ginger Rubio Salon and Pochos & Pixels at the University of California, Santa Barbara's Multicultural Center.
Yañez is a curator of more than 10 exhibitions. As with his curatorial work, a part of Yañez' visual art practice is dedicated to exploring how Chicano and Asian Youth have used social media to exchange aesthetics and language. In addition to creating graphic art, Yañez is a founding member of The Great Tortilla Conspiracy, the world's first and only tortilla art collective. As a tortilla artist he silkscreens art and political graphics onto tortillas using edible inks and serves them to eat to the public as interventionist performance art. Yañez' recent projects include self-publishing board games designed around Chicano pop culture icons and a collaborative series of portraits with activist and performer April Flores.