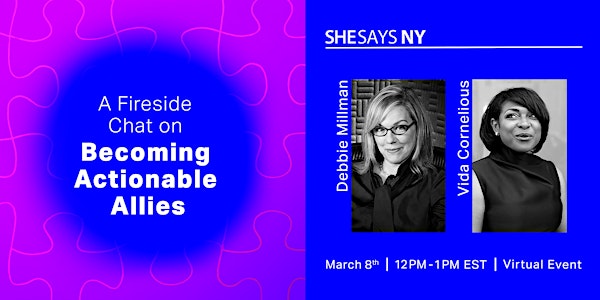 A Fireside Chat on Becoming Actionable Allies
Uncover how to navigate tough conversations while being a great ally and think of immediate actions to take in your work and personal lives.
About this event
A good ally regularly listens to those around, adapts their thinking, reworks their beliefs to be correct and becomes comfortable with being a little uncomfortable.
It can be a unique and challenging journey and we're here to learn together how to be better allies. 
Join us in this fireside chat moderated by NYC SheSays Ambassador, Lalita Salgaokar, as we talk to:
Vida Cornelious - Executive Creative Director, T Brand Studio at The New York Times
Vida's 25+ year career has seen her hold key positions at various agencies. Named one of Advertising Age's "Women to Watch," Vida has led teams, won business pitches and garnered several awards along the way. 
Debbie Millman - Designer, Author, Illustrator, Educator, Brand Consultant, Host of the award-winning podcast 'Design Matters'
Fast Company called Debbie "one of the most creative people in business" and Graphic Design USA, deemed her  "one of the most influential designers working today". Debbie is an author, educator, strategist and host of the podcast Design Matters which is the first and longest running podcast about design. 
**This FREE event is open to all, globally. Reserve your ticket today—before we reach maximum capacity.**
If you find out after registering that you are unable to attend, please release your spot so that someone on the waitlist can participate.
Hope you can join us for this event on International Women's Day. Together we'll uncover how you can navigate tough conversations while being a great ally. We'll discover immediate actions you can take in your work and personal lives.
SheSays Global
[Image above by Kim Weiner]