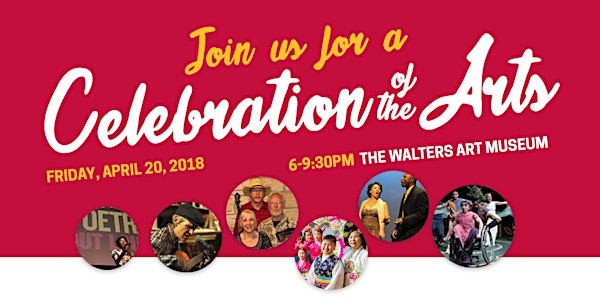 A Celebration of the Arts & Maryland State Arts Council's 50th Anniversary
Location
The Walters Art Museum
600 N Charles St
Baltimore, MD 21201
Description
Please Join the Maryland State Arts Council
for a Celebration of the Arts
Friday, April 20, 2018 6:00-9:30pm at The Walters Art Gallery
Heart pounding music, foot stomping dance, soulful poetry and electrifying digital and visual art – the Maryland State Arts Council supports it all.
We regret to inform you that we are sold out, but please register for the waitlist and we will release any tickets that become available.
Come celebrate MSAC's 50th Anniversary with a reception featuring traditional hands-on artist demonstrations and gorgeous artworks by past individual artist award winners. During the program, you will enjoy the thunderous dancing of the Barnstormers and RockCandy Cloggers accompanied by the music of legendary Slim Harrison, visually stunning performances by the Peace Mission Dance Company, Sankofa Dance Theatre, and Flamenco Aparicio with Ricardo Marlow, guitarist.
During this celebration of Maryland's past and future, the creativity of Marylanders will shine through the amazing talent of young Poetry Out Loud winners, the theatrical abilities of Imagination Stage and Maryland playwrights, the music of Sombarkin' and the World Music of Jonathan Stone.

Thank you to our major sponsors, The Cordish Family Foundation Inc., Comcast Communications, Total Wine & More, The Abell Foundation, Story Farm, and MICA.
Invitation Art/Photo credits: Christine Sajecki, 2016 Individual Artist Award grantee; 2016 Poetry Out Loud Maryland Stage Champion Sharese Acheempong, photo by Edwin Remsberg Photographs; Jonathan Stone, photo by Joe Heimbach; Slim Harrison and the Barnstormers, photo provided by the Rockcandy Cloggers; FY 2017 Maryland Traditions Apprenticeship Award recipient Joung Sook Park of Montgomery County taught Korean drumming techniques to apprentice Simon Kim; Sombarkin' photo provided by Karen Somerville; Imagination Stage Pegasus Ensemble, photo provided by Imagination Stage.