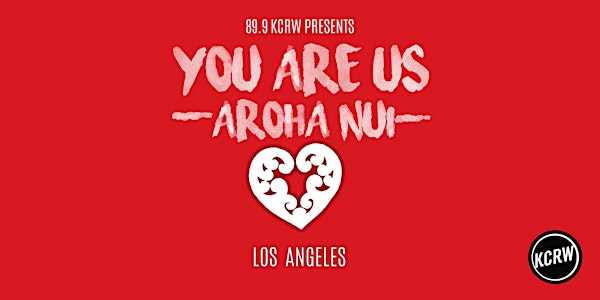 89.9 KCRW Presents YOU ARE US - AROHA NUI - Los Angeles Concert for Christchurch, New Zealand
When and where
Location
Wilshire Ebell Theatre 4401 West 8th Street Los Angeles, CA 90005
Description
Nga Anahera Maori - Haka and a Karakia opening ceremony.
The New Zealand national anthem sung by Marla Kavanaugh.
Performances by: Brooke Fraser, Chelsea Jade, Eden Iris, FreQ Nasty, Gin Wigmore, Jackie Bristow, The Naked & Famous and Unknown Mortal Orchestra.
House band - Nick Gaffaney and friends
MC: Jake Johannsen
On March 15th, 2019 the world listened in horror as the news spread of the terrorist attack on the two Mosques in Christchurch, New Zealand. Kiwis and their friends from all corners of the earth were devastated by what happened that day.
Here's a way we can respond together:
This Los Angeles concert at the Ebell Theatre is part of four concerts "YOU ARE US / AROHA NUI" happening in April to raise funds and donate all proceeds from sales to Our People, Our City Fund, which was set up by the Christchurch Foundation to specifically help those affected by the terror attacks.
New Zealand musicians, performers and others will take to stages in two shows in NZ, and two shows in the US, alongside performers and speakers of cultural diversity, all standing together to honor those who lost their lives and family members on March 15th.
The performers - and you the ticket buyers - will be stepping up together to help the devastated families - and you will also help show our support alongside and in fellowship with our Los Angeles area friends.
Music helps bring us together.
Christchurch Mayor Lianne Dalziel said: "The impact on our Muslim communities has been huge and they are going to need ongoing support for a very long time. The response has been magnificent and we are all grateful for the significance of this contribution to the Muslim community's long term recovery."
Note the Wilshire Ebell Theatre offers free and easy parking at the venue.
All ages event.