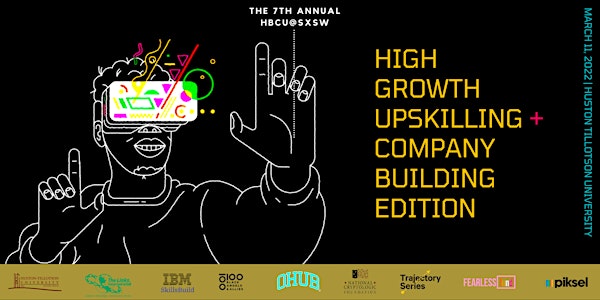 7th HBCU@SXSW
OHUB returns to SXSW for its 7th HBCU@SXSW, Fri, Mar 11th, 10A - 3P ET @ Huston-Tillotson University. SXSW is March 11-20, 2022.
When and where
Location
Huston-Tillotson University 900 Chicon Street Austin, TX 78702
About this event
Opportunity Hub is returning to SXSW for its 7th annual HBCU@SXSW on Friday, March 11th, 2022, 10A - 3P CT at Huston-Tillotson University. Powered by IBM's Skillsbuild and National Cryptologic Foundation, participants will experience the following:
10.00A - 12.00P: High Growth Upskilling and Company Building Masterclass with Kieran Blanks, Head of Growth & Development, OHUB Futures College; and David Parker, Founder, Trajectory Series & Investment Partner, Fearless Fund.
12.00P - 01.00P: Buffet Lunch & Presentation w/ National Cryptologic Foundation
01.00P - 02:00P: High Growth Company Building Certificate Demo Day with VC Judges
02:00P - 04:00P: #TechTheYard Day Party w/ DJ Ricoveli
While participating in events held or sponsored by Opportunity Hub ("OHUB") and its affiliates, Huston-Tillotson University, Trajectory Series, Fearless Fund, and the National Cryptologic Foundation, consistent with CDC guidelines, participants are encouraged to practice hand hygiene, "social distancing" and wear face coverings to reduce the risks of exposure to COVID-19. Because COVID-19 is extremely contagious and is spread mainly from person-to-person contact, OHUB has put in place preventative measures to reduce the spread of COVID-19. However, OHUB cannot guarantee that its participants, volunteers, partners, or others in attendance will not become infected with COVID-19.
Proof of vaccine or negative COVID-19 test within 48 hours required for entry.
BY ATTENDING AND/OR PARTICIPATING IN THE ACTIVITY, YOU ARE DEEMED TO HAVE GIVEN A FULL RELEASE OF LIABILITY TO THE RELEASED PARTIES TO THE FULLEST EXTENT PERMITTED BY LAW.
Speakers and Demo Day Judges