Event Information
Location
Milpitas Library Auditorium
160 North Main Street
Milpitas, CA 95035
United States
Description
Taiwanese Film Hou Hsiao-Hsien's "Dust in the Wind" Free Screening (a Mandarin event, film with English & Chinese Subtitles)see more English info below.

電影《戀戀風塵》【鄉城·寶島】2 (九份、十分/大稻埕、中華商場、裏台北驛/金門/宜蘭)
「大師經典」大師中的大師:侯孝賢導演,吳念真、朱天文編劇,陳明章、許景淳音樂,李屏賓攝影,廖慶松剪接。
青春舊情、滄桑人世只能從數位修復回味,一起來分享每個人心中的戀戀風塵。
映前除了由矽谷電影及文學俱樂部的創始人 Henry Chang 導讀之外,我們很榮幸請到幾位特約嘉賓參加映後講座就所長發表論點:Ji Leon Yang,Henry Chang (映前導讀 introducer),Frank Leu,Peter Lee,Cecil Coe (座談主持 moderator) 。所以在這部經典大片放映結束後請留步,講座討論與心得分享精彩可期。
【地點】Milpitas Library Auditorium
Address: 160 North Main Street, Milpitas, CA 95035
Parking 停車: see map, 圖書館的停車場有四層, main entrance is on the first floor.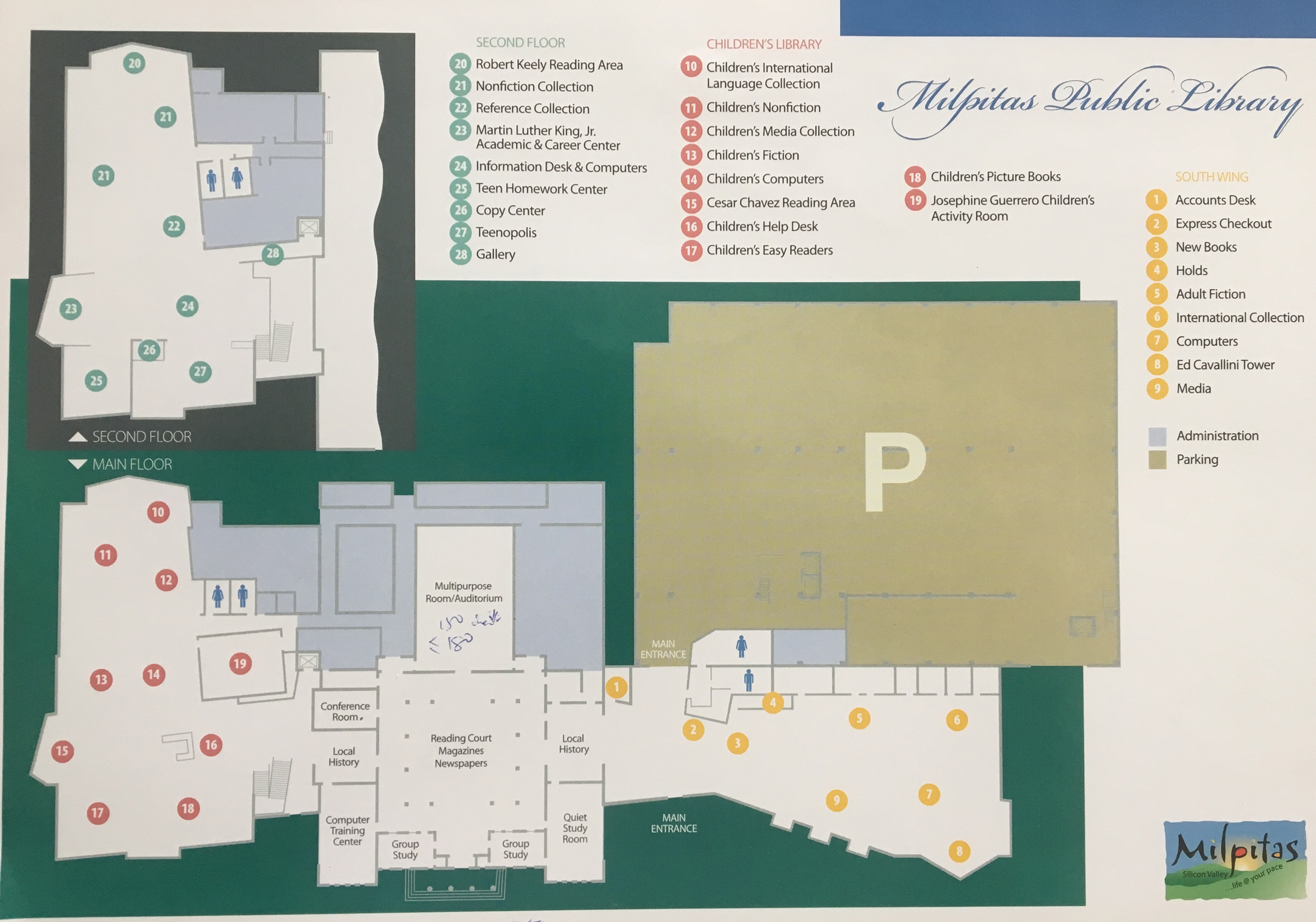 【時間】
8/18/2019 Sunday 週日下午
【活動大綱】(Agenda)
1:00pm Door open 開放入場,音樂+預告片
1:30pm Intro 開場+導讀
2:00pm Screening 本片開始
3:50pm Panel Discussion (Mandarin) 座談開始
4:45pm Social and cleanup 交誼+清場
【Trailer 預告片 HD】https://youtu.be/120pw9Hvzeg
【Soundtrack 原聲帶】https://www.cmcmusic.com.tw/
【語言】Taiwanese/Mandarin/Cantonese 台語/國語/粵語; with English and Chinese subtitles. The event is conducted in Mandarin Chinese(本場以中文主導, English translations available if needed)
【報名】RSVP at https://ditw2019.eventbrite.com
請預先在Eventbrite免費報名確保座位,額滿截止。可留下E-mail,以便收到E-mail提醒,並幫助我們估備座位, thanks! It's optional to provide your e-mail address so you will get reminders and be included to our mail list to receive future event motices. If you choose not to disclose your e-mail, please enter "a@b.com" so we know you are coming and save the number of seat(s) you request.

本次活動恕不提供塑膠瓶裝水。歡迎自備杯具,圖書館有飲水供應。
【主辦單位】駐舊金山臺北經濟文化辦事處 Taipei Economic and Cultural Office in San Francisco (TECOSF),矽谷電影與文學俱樂部 Silicon Valley Movie & Literature Club (SVMLC),雙向影藝會社 Two-Way Theater (TWT)
【協辦單位】北加州交大校友會(CTUAA)
【特約嘉賓及簡介】座談 Panelists short bio's of the speakers

Ji Leon Yang
我喜歡寫東西。思考以後的東西。電影也不例外。希望是平常在網上不常看到的東西。最好是我以前寫過,可是寫得不好的東西,希望有幾會再來過。更好的是你看過以後, 會罵我,叫我學到新的東西的東西。
Henry Chang(映前導讀 introducer)
矽谷電影與文學俱樂部 (Silicon Valley Movie & Literature Club) 會長, 俱樂部成立於2006年。也是五個讀書俱樂部的會員。我總是對各種藝術形式著迷, 並且想知道它們之間是否存在聯繫。電影和文學是學習之旅的開始。
Frank Leu
我是個很喜歡看電影的影痴,有過好幾次一天看6部電影的記錄。選了些關於電影的書來看,搭配著頻繁的觀看電影,訓練自己的感想感觸。喜歡用 "純" 看電影的方式來看電影,不論誰導誰演,不論誰編誰剪,就盯著一個框框一段時間來接受一個故事一些人物。特別喜歡導演除了説故事之外,還能夠或者願意透過鏡頭語言來傳遞更多刻意安排的訊息。電影可以擴充的經驗,擴大同理心:讓我們自問若是碰到劇中人的處境時我們會如何處理;讓我們對於故事的結果投以同情憐憫或是憤怒譴責。當我們關心電影裏的人物時,我們就會有所投入,和他們一起度過一段人生,從而豐富了我們的生命生活。很樂意和所有愛好電影的人分享討論看電影的心得。
Peter Lee
我中學便開始喜歡看電影,主要是非主流的,同時也接觸一些電影史的讀物,更是看得入迷。那時並不認識志同道合的發燒影友,但比較有系統的看了一些大師的作品,進而被作者論影響。平時愛讀影評,可以學怎樣分析和評價作品。但不管多努力,要看而未看的佳作實在太多了。
Cecil Coe(座談主持 moderator)
在台灣南部海邊長大的雙魚座,長期經歷形形色色的文化衝突,學會用音樂詮釋現實,也養成對電影配樂的強烈興趣。配樂可以明確帶動電影的"節奏感",樂器聲源及音色的選擇,不僅提供觀眾大量劇情暗示,更能強化各種場景氛圍。即使是音樂的"停頓休止",也能創造"無聲勝有聲"意境,給觀眾思考空間,帶來迷人的電影效果。(很難想像當初沒有任何配樂的默片,是如何能深刻感動人的。)總之,不妨試想電影語言如果沒有音樂元素,會單調乏味得多可怕。
【內容簡介】 由台灣電影工具箱提供,Google for more
《戀戀風塵》Dust in the Wind
1986∣109min∣彩色∣劇情片∣國、台語∣中、英、法、日字幕∣DVD
阿遠與阿雲是青梅竹馬,成長於山城九份,每日一起上下學,感情清淺又深摯。九份礦業沒落,不時爆發礦災與罷工,讓山城前途晦暗。國中畢業之後,阿遠離鄉至台北,一邊在小印刷廠做學徒、一邊唸夜校。阿雲次年畢業,也到台北一家裁縫店工作。在台北工作與生活,辛勞困頓,阿遠、阿雲、以及在戲院繪製電影海報的同鄉友人,都吃了不少苦。甚至,阿遠的摩托車也在一次上街買鞋途中,遭人竊走。收到兵單後,阿遠到金門服役;阿雲花了近一個月薪水,買妥1,096個信封,貼好郵票、寫好地址,讓他天天寫信給她。二年後,阿雲卻愛上每天送信的郵差,二人公證結婚 。阿遠遭逢兵變打擊,幾近崩潰。......阿遠退伍那日,回鄉返家,在屋後田地遇見正在翻土的阿公;阿公談起了颱風和地瓜的收成,大自然的法則,流變偶然,世事無常。
本片開首及結尾,已是台灣電影史的經典。一列火車迤邐於山城鐵道,山景掩映、光影交錯,伴隨輪軌聲響,駛出了隧道,柳暗花明地揭開了全片序幕。這是侯孝賢日後鍾愛的鐵道意象,也遙指了電影的「影院/洞穴」隱喻。片末,阿遠回返家鄉,前現代的山城、鄉村、農事、山嵐雲影,以及阿公叨唸著大自然的無常法則,撫慰 、療癒 了他在城市的創傷。本片改編自台灣新電影運動重要編 劇之一吳念真的初戀故事,清新而純真,侯孝賢以其顯 影成 形之作 者語言:長鏡頭、景深構圖、段落剪接、自然光、現場攝影、 非職業演員等 ,講述了一個淺淡得近乎「無故事」的青春戀情。 即使侯孝賢早年學徒時期的幾部瓊瑤愛情電影十分賣座,但本片遠不止於男女戀愛, 此一戀愛故事的軌跡,被放置於「鄉下人進城」的「創傷敘事」之中:阿遠和阿雲,離鄉入城、情斷分手,城市實乃幕後的、結構性的原因 。城市與鄉村、現代化與前現代、今與昔之間的對立,瀰漫全片;對於山城聚落、 傳統家庭、出外人同鄉的親切互動與真摯情感,侯孝賢始終充滿了鄉 愁。侯孝賢對失落的前現代生活與價值的懷舊、眷戀,亦是對於八〇年代台灣急劇現代化、工業化、都市化的委婉批判,這也顯示了侯孝賢對於政經結構困境中「 底層勞動者 」(無論是山城礦工或都市學徒 )所抱持的同情或認同。李天祿飾演的阿公,在片末述說 颱風破壞農作物後所揭櫫的大自然殘酷法則,其實也呼應了現代資本主義社會的不仁。
【獲獎】
參展紀錄:
1987 南特影展最佳攝影獎、最佳配樂獎 
1987 葡萄牙特羅伊亞影展最佳導演獎 
1987 雪梨影展 
1987 東京影展 
1987? 學苑金像獎最佳導演獎
1990 日本電影旬報最佳外語片導演獎
【導演】Wikipedia
侯孝賢(1947年4月8日-)是台灣電影導演,其電影在國內外各大重要影展獲得重大獎項,國家文藝獎得主,為台灣電影代表人物之一。曾榮獲三屆金馬獎最佳導演獎,1989年的《悲情城市》獲得金獅獎,1993年憑藉《戲夢人生》獲得第46屆坎城電影節評審團獎。2015年以《刺客聶隱娘》獲得坎城影展及第52屆金馬獎最佳導演獎與金馬獎最佳劇情片獎。其喜愛使用長鏡頭、空鏡頭與固定鏡位,讓人物直接在鏡頭中說故事,是他電影的一大特色。目前是臺灣電影文化協會榮譽理事長。

【演員】Actors: Shufen Xin (辛樹芬), Chien-Wen Wang (王晶文), Tian-Lu Li(李天祿), Shu-Fang Chen(陳淑芳) ~

【主辦及協辦網頁】
歡迎搜尋參觀主辦及協辦單位網頁:
駐舊金山臺北經濟文化辦事處 Taipei Economic and Cultural Office in San Francisco (TECOSF)
矽谷電影與文學俱樂部 Silicon Valley Movie & Literature Club (SVMLC)
雙向影藝會社(TWT)歡迎加入fb群組,關心最新台灣影片放映行動! https://www.facebook.com/groups/TWtheater/
北加州交通大學校友會
https://www.facebook.com/CTUAA/
【Intro in English】
Dust in the Wind
Director HOU Hsiao-Hsien
1986∣109min∣Color∣Fiction∣Mandarin, Taiwanese∣Subtitles: Chinese, English,French, Japanese∣DVD
Ah-yuan and Ah-yun grow up together in a small mining town of Jiu fen. The mining
industry is in decline, and there's no hope for the new generation. Thus, after
graduating from junior high school, Ah-yuan leaves for Taipei
to earn more money for his family
. During daytime, he works as an apprentice in a printing house. At night, he
attends a night school. Ah-yun also leaves for Taipei the following year to work
as an assistant-seamstress in a tailor's shop. However, living in a big city is difficult for
both of them. Soon afterwards,
Ah-yuan is drafted into military service. On the eve of
his departure, Ah-yun gives him a special gift—1,096 self-addressed and stamped
envelopes, wishing that he would write her every day during the three-year military
service period. Ah-yuan does write her every day, in fact, yet Ah-yuan
falls in love with the postman
who visits her daily. Upon hearing of Ah-yun and the postman's
wedding, Ah-yuan collapses at the army camp. On the day when he is finally
discharged, Ah-yuan returns home in Jiu-fen. He sees grandpa plowing the field in the
backyard. To greet and comfort Ah-yuan, grandpa talks about typhoons and harvest,
and about the Law of Nature—that is, everything is the world is transient and
constantly changing, including human relationships.
Since its release, the opening and concluding scenes of this film have become classic
in Taiwan's film history. The film opens with a train winding on the mountain rail.
The train then goes through a tunnel. This opening scene invokes the metaphor of the
"movie theater as a cave," and later becomes a motif in many of Hou's works. In the
final sequence of the film, the frustrated and exhausted Ah-yuan arrives at his
hometown. He is comforted by the natural landscape of his hometown, and by as
grandpa's soothing words. The film is adapted from the real love story of Nien-Jen
Wu, an important screenwriter of Taiwan New Cinema. With his emerging
"signatory" style of using long-takes, composition-in-depth, natural lighting, location
shooting, and non-professional performers, Hou tells the audience a romance with no
dramatic events. It is even a romance without a complete story. Though Hou's early
Qiong Yao movies are successful, this film is far more than just a romantic story. In
fact, it is a classic narrative of "country folks go to the city," and a "trauma narrative".
Ah-yuan and Ah-yun's leaving home for Taipei, and their separation as a result, are
both caused by the social and economic divide between the country and the city.
Indeed, the film is imbued with binary oppositions placed between the city and the
country, the modern and the pre-modern, and the present and the past in narrative
terms. Clearly, Hou is nostalgic for a "pre-modern" society, in which traditional
families, old-fashioned male bonding, and platonic love are significant features. Hou's
affection for the lost past is in fact an implicit critique on contemporary Taiwan (that
is, the 1980s) in which modernization, industrialization and urbanization transformed
the structure of Taiwan society dramatically. This trauma narrative also manifests
Hous' concerns for subalterns and laborers, including miners, migrant laborers, and so
on. As for the grandpa's wise words on "natural law" in the final scene of the film:
they can be seen as referring to the social inequality caused by capitalism; the
inequality that has plagued Ah-yuan and Ah-yun's life.


Director
Hou Hsiao-Hsien
https://en.wikipedia.org/wiki/Hou_Hsiao-hsien

(born 8 April 1947) is a Taiwanese film director, screenwriter, producer and actor. He is a leading figure in world cinema and in Taiwan's New Wave cinema movement, an auteur. He won the Golden Lion at the Venice Film Festival in 1989 for his film A City of Sadness (1989), and the Best Director award at the Cannes Film Festival in 2015 for The Assassin (2015). Other highly regarded works of his include The Puppetmaster (1993) and Flowers of Shanghai (1998). Hou was voted "Director of the Decade" for the 1990s in a poll of American and international critics put together by The Village Voice and Film Comment. In a 1998 New York Film Festival worldwide critics' poll, Hou was named "one of the three directors most crucial to the future of cinema." A City of Sadness ranked 117th in the British Film Institute's 2012 Sight & Sound critics' poll of the greatest films ever made.
紙版海報,歡迎張貼佈告:
for the best quality please download pdf files
https://drive.google.com/open?id=1pKgrldFvmdUsR9PA-j1U34-fXjRbhdZw

https://drive.google.com/open?id=1fiW4JJ_V3Q5TldZLrYYG2Hu9JP3MdsUz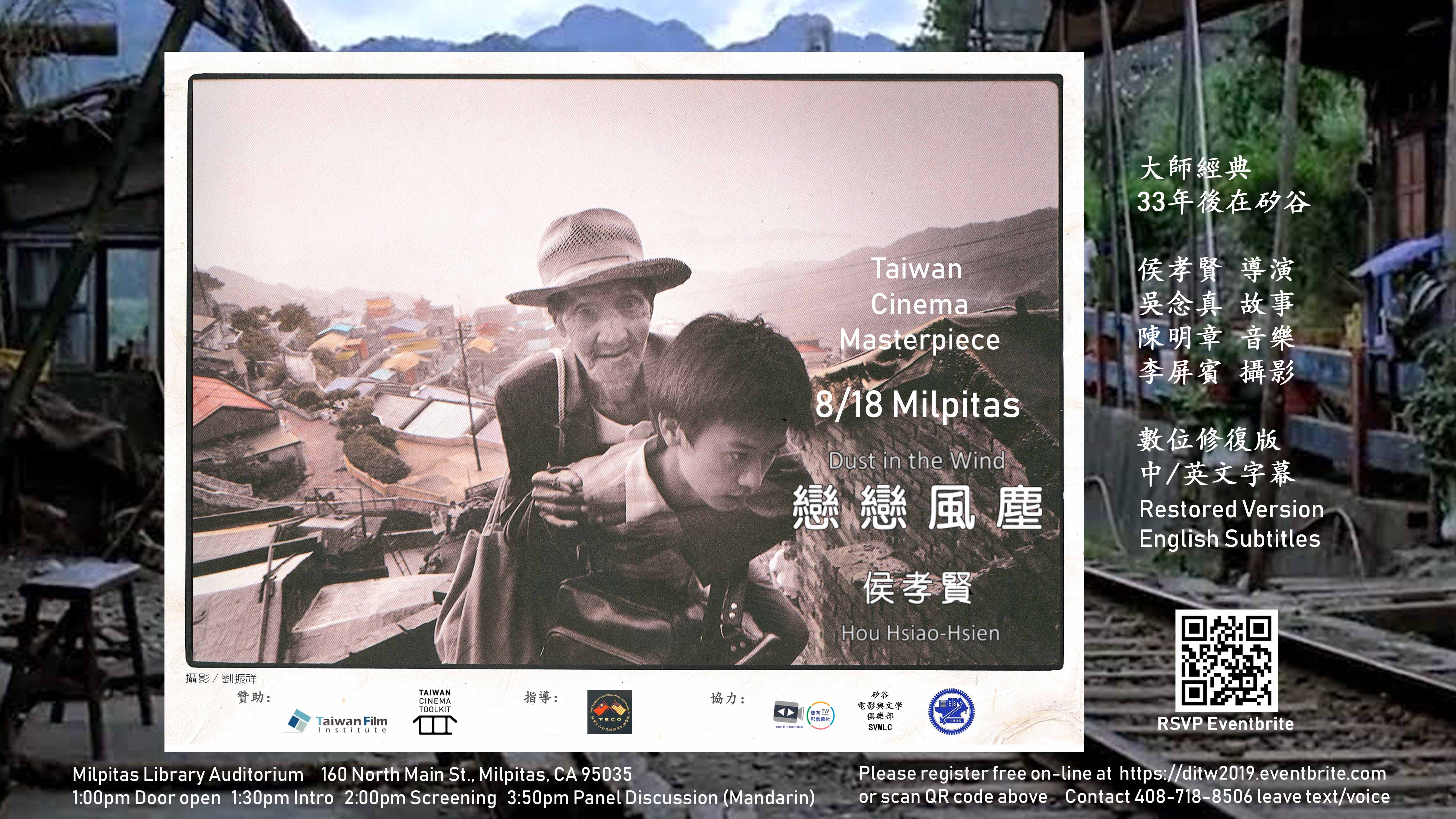 Date and Time
Location
Milpitas Library Auditorium
160 North Main Street
Milpitas, CA 95035
United States