About this Event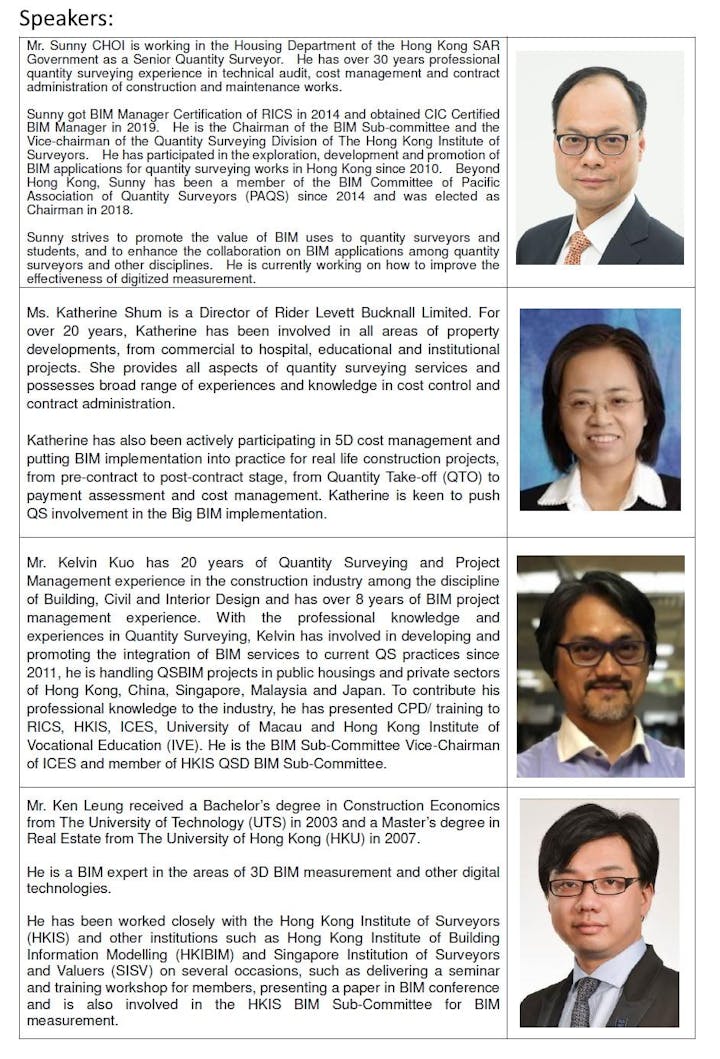 5D BIM is a burden? A model can allow QTO is a model purposely built for QS? QS request too much?
Misconception! It's time to deconstruct.
The "I" in BIM models appeals to quantity surveyors as the object information contains material, dimension and quantity which are the basis for measurement and cost management purposes. The idea of setting up standard approach of modelling or model information requirements has been promulgated to the local construction industry since 2012. The main objective is to have better quality of model information for sharing among project team members.
5D BIM is the integration of quantities (3D) in BIM models, construction programme (the 4th D) and cost (the 5th D) to provide estimates, valuations or cost advices by quantity surveyors to design team, helping the team design to budget. In parallel, a living cost plan can be maintained for instantly reporting to the client for strategic decision making. The quality of cost estimate and budgeting is directly linked to the quality of model data provided upfront. An effective process is not just a down-flowing of information but is a collaboration of all project team members right from the outset to agree on how CORRECT, CONSISTENT and COMPLETE information be provided in BIM models.
5D BIM is a Benefit, not a Burden.
CPD: 2 hours
Medium: Cantonese
Organizer: AIAB, HKIBIM
Supporting Organization: CoE, HKIES, RICS