Frontiers International - Plainfield presents the 46th Annual Dr MLK Jr Memorial Celebration with Guest Speaker, Rev. Dr. Danielle Brown
About this event
PLAINFIELD, NJ (01.17.22) – Frontiers International Plainfield Area Club will host its 46th Annual Dr. Martin Luther King Jr. Memorial Celebration on Monday, January 17, 2022 at 10:00 AM Live on Facebook and YouTube @PlainfieldFrontiersClub. The guest speaker will be Reverend Dr. Danielle Brown, Pastor of Shiloh Baptist Church, Plainfield, NJ.
The Memorial Celebration, the longest-running tribute to Dr. King in New Jersey, will honor the civil rights icon and the many contributions he has made throughout his lifetime.
The theme derives from Dr. King's quote, "Cowardice asks the question, 'Is it safe?' Expediency asks the question, 'Is it politic?' Vanity asks the question, 'Is it popular?' But, conscience asks the question, 'Is it right?' And there comes a time when one must take a position that is neither safe, nor politic, nor popular, but one must take it because one's conscience tells one that it is right."
Each year, Frontiers International Plainfield Area Club, through its scholarship and educational programs, helps provide opportunities to local young people who wish to further their educational attainment beyond high school. The Plainfield Frontiers also host free seminars and workshops to help educate and empower community members in key areas including Black American History, financial literacy, and wellness.
To enhance the lives of the most vulnerable among us, the Frontiers also provide key mentorship programs for young men throughout the region. The Frontiers work alongside community members to fight for social and economic justice and equal human rights.
Proceeds from the MLK Memorial Celebration will provide scholarships to help deserving high schoolers pursue a college degree.
The event will begin with a virtual reception where guests will hear from our community leaders and enjoy riveting performances from local students. The reception will be followed by the distribution of this year's scholarship awards to rising scholars graduating from Plainfield's high schools, a special keynote address from our guest speaker, and more!
Community Service Awards will be given to special honorees who have been instrumental in making Plainfield and surrounding communities a better place to live and raise families.
Frontiers International Plainfield Area Club strives to advance the African American Community through Leadership, Fellowship, and Service.
46th Annual MLK Memorial Celebration
Frontiers International Plainfield Area Club
For more information, call (908) 868-8704 or email plainfieldfrontiers@gmail.com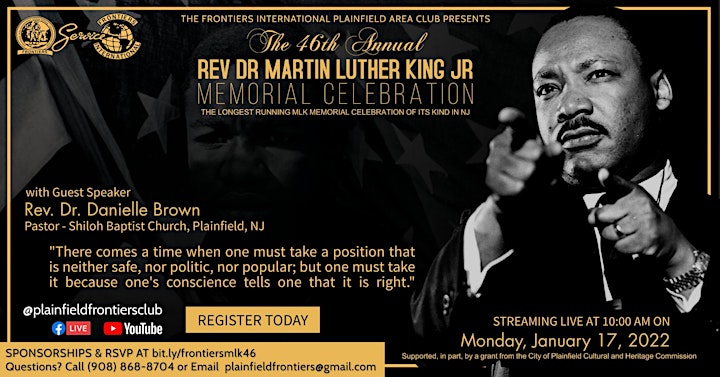 Date and time
Location
Refund policy
Organizer of 46TH ANNUAL DR MLK JR MEMORIAL CELEBRATION