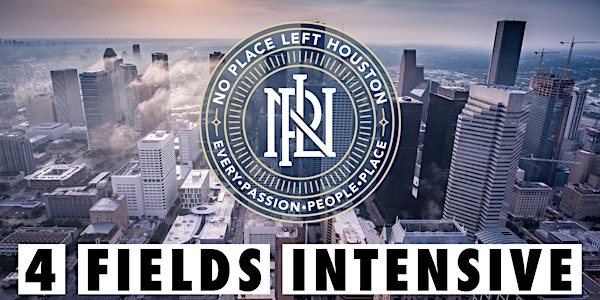 4 Fields Intensive - Part 2
Biblical principles and best practices to multiply and grow simple churches from start to maturity until there's #NoPlaceLeft.
When and where
Location
11811 North Fwy 11811 North Freeway Houston, TX 77060 United States
About this event
The 4 Fields Intensive will equip any disciple of Jesus with the Biblical principles and best practices to multiply and grow simple churches from start to maturity until there's #NoPlaceLeft. We will experience a hands-on training including guided Bible discovery, instruction from people currently in the work, and practice simple ways to get started. Everyone will leave with a clear vision and plan for reaching their family, community, city, or beyond.
PART 2 focusses on identifying as church, growing to health, and a pathway toward maturity.
Cost: FREE
LIMITED SPACE! REGISTER EARLY.
Schedule
FRIDAY...6:30pm - 9:30pm
SATURDAY...9:00am - 6:00pm
Meals are included (Friday dinner, Saturday breakfast and lunch).
Training Preparation
Please complete these assignments before the first day of the training. Bring your notes and learnings with you. If you cannot complete this work, don't let that keep you from coming. However, a committed effort to do the work is expected from all participants.
1. 7+ personal Gospel shares during the month leading up to the training.
2. Train at least one person in the Commands of Christ during the months leading up to the training.
3. Read 1 Corinthians and complete the Timothy Tool worksheet (https://drive.google.com/file/d/1b_vb53yVTaE1vWvaNoclpoT0z_65NFCg/view?usp=sharing)
FAQ
Will food be provided?
* Dinner Friday, breakfast & lunch Saturday, coffee, water & snacks will be provided each day.
Will there be childcare?
* We are pleased to be able to offer on site childcare for the training. Please select the number of children when registering and email the name and age of each child to clynch2414@gmail.com.
What should I bring?
* Bible, pen, notepad
Can I come for only part of the training?
* Please do not plan to attend if you cannot commit to the entire training. We understand and appreciate that you have many responsibilities and commitments. But we also believe that multiplying disciples and churches requires a commitment that will ask much more of you than this one weekend. Consider the sacrifice of these 12 hours as a part of counting the cost to obey what God is calling you to.
Is it really free?
* Yes and no. We have worked with some amazing partners to sponsor the costs of the training, but we expect you to give your time and effort in preparation for the training and being present for the whole training.
Questions?
clynch2414@gmail.com