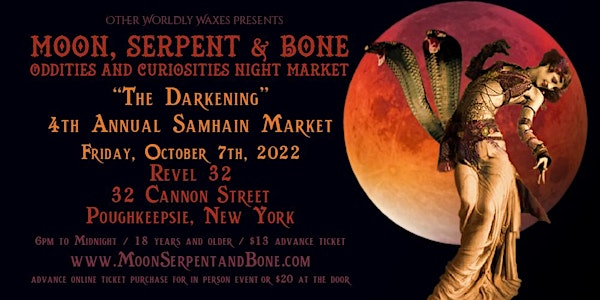 4th Annual Samhain Night Market - The Darkening
We invite you to experience all of the hidden dark treasures of our live entertainment, unique crafters, magick makers & soothsayers...
When and where
Location
Revel 32 32 Cannon Street Poughkeepsie, NY 12601
About this event
🌛​ 4th ANNUAL SAMHAIN ODDITIES & CURIOSITIES NIGHT MARKET 🌜
"THE DARKENING"
🌛LIVE SHOW!🌜
:: FEATURING ::
Featuring Live Performances of the Original Production by Diiiotima Arts
​"Fairest Shadows: A Journey Through Grimm's"
Friday, October 7th, 2022
6pm to Midnight
Revel 32
32 Cannon Street
Poughkeepsie New York
for more info visit
​www.MoonSerpentandBone.com
Advanced Online Tickets - $13 per person
$20 cash at the door
​​>>> MUNICIPAL PARKING AVAILABLE <<<
🌛LIVE PERFORMANCES🌜
Featuring DIOTIMA Performing Arts Original Production
​"Fairest Shadows: A Journey Through Grimm's"
40 minute show for each Time Slot!
Time slots available:
6pm to 8:45pm
9pm to Midnight
🌛Come one, come all!🌜
Celebrate the season of darkness at Revel 32 in the City of Poughkeepsie. Three floors are mayhem and witchery to delight the inner demon inside.
Take in the wonder and experience all the excitement and allure of our one-of-a-kind Oddities and Curiosity Market. Discover the hidden dark treasures of our unique crafters, magick makers, skilled artists, taxidermists, psychics, and all other delightfully unusual as they display their wares and talents for one unforgettable night.
••••••
Show off your own unique creativity! Costumes, theme related garb and lit up attire welcomed!
••••••
Tickets will be sold by time slot to maintain a safe and magickal experience for all that visit!
Time slots available:
Time Slot 1: 6pm to 8:45pm
Time Slot 2: 9pm to Midnight
👉👉 PLEASE NOTE: There will be a 15 minute change over period built in between time slots for attendees to exit the event safely. Staff will be ushering attendees out of the venue during the last 15 minutes of their designated time slot. Thank you in advance for your understanding and cooperation.
Sadly, the venue only has stairs. However there is a chair lift available to visitors who may require it.
_______
Assorted food, snacks and beverages will be available for purchase.
Visitors 21 years and older with proper identification can purchase alcoholic beverages at this event. Please drink responsibly.
_______
👉👉LIMTED ACCESS FOR DISABLED PERSONS👈👈
Revel 32 has limited access to disabled persons. A stair chair lift is provided for this 3 floor venue, however there is NO elevator on premises.
_______
👉👉18 YEARS OR OLDER ADVISED👈👈
Some subject matter may not be suitable for persons under the age of 18 years.
_______
👉👉NO PETS ALLOWED👈👈
_______
👉👉ALL ATTENDEES MUST FOLLOW CDC GUIDELINES WHILE ATTENDING IN PERSON MARKET👈👈
As we navigate the pandemic, Moon, Serpent and Bone honors your right to choose with the understanding we must put social responsibility first. When booking our events with venues, we honor the venue's right to choose how they want to proceed with safety of their staff, as well as our staff, visitors and vendors. We ask that you please do the same.
For the most up to date information please visit https://www.moonserpentandbone.com/cdc-regulations.html
_______
👉👉SPECIAL NOTE👈👈
****Please be sure to be mindful of your Ticketed Time Slot.****
Arrive 30 minutes before ticket time to ensure you ​are able to enjoy the complete Live Show and market experience.
No ​time slot exchanges can be made. Please arrive ​for at your selected time ​slot. ​We are unable to adjust or extend time slots if you arrive earlier or late. Doors will open promptly at the beginning of each time slot. The last 15 minutes of your time slot will be used for exiting the venue.
_______
​>>> MUNICIPAL PARKING AVAILABLE <<<
Please be courteous to ​your fellow visitors.
🌛Interested in vending at one of our markets?🌜
Visit https://www.moonserpentandbone.com/vendor-call.html for details