Location
Enlightened Living Center
125 East State Street
Burlington, WI 53105
Refund policy
Contact the organizer to request a refund.
Eventbrite's fee is nonrefundable.
Teacher | Student Mindfulness and Yoga
About this event
This day takes you, the teacher, on an active journey to increase health and wellbeing in your personal and professional life. Mindfulness and yoga can also give you the tools to help your students deal with everyday stress, anger, and exhaustion.
Mindfulness and Yoga are gaining popularity in schools across the nation, especially with recent uncertain world situations that we have all been experiencing. Teachers of all levels will learn how to include simple, safe yoga poses and mindfulness techniques in everyday school activities. Teachers will gain tools to manage stress in and out of the classroom. Teachers will become more confident and self directed.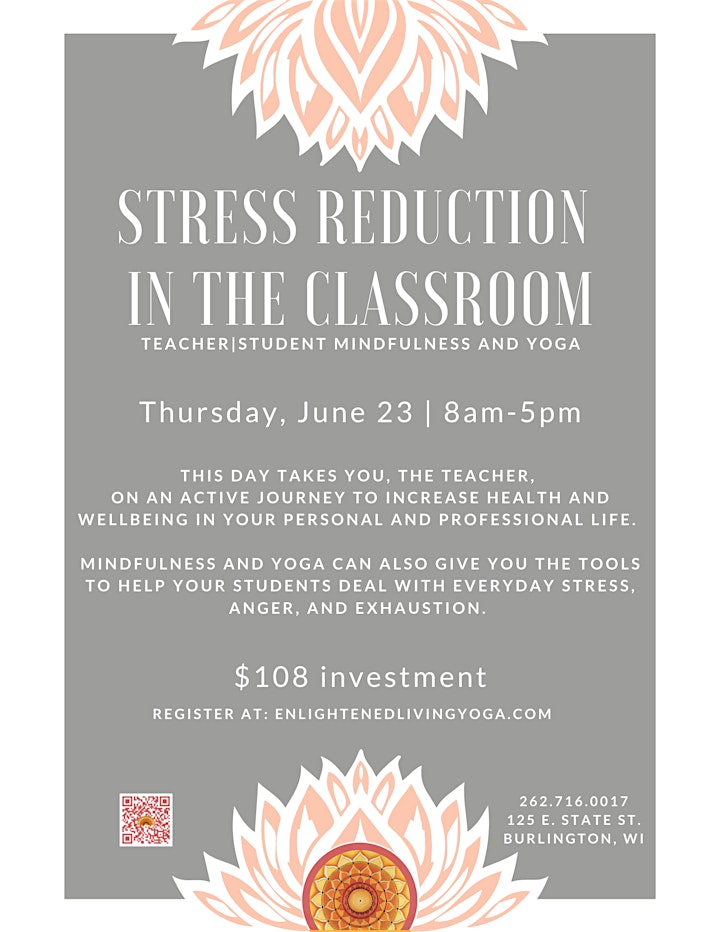 Interested but want to know what is going to happen? Check out the schedule for the day:
Start with caring for yourself with everything from TWO restorative yoga classes, mindfulness, Tapping (EFT), and then learning how to connect this to your students wellbeing too.
Schedule:
7:45 am Registration
8:00 am Welcome and Introductions
8:15 am Calming Meditation/Centering
8:30 am What is Stress? Cause of Stress in Adults, Children, and Teens
10:00 am Gentle morning yoga class
11:00 am Quality of Life Survey, Psychological Effects of Anger, Breathing
12:00 pm Nourishing Lunch Available for Purchase ($12)
1:00 pm What is Mindfulness?
2:00 pm Fun Yoga Kids Class
3:00 pm Affirmations, Mood Boosters, Tapping for Happiness
4:00 pm Restorative Yoga Experience
4:45 pm Final Thoughts, Closing Mirror Exercise
5:00 pm Hugs and Namaste