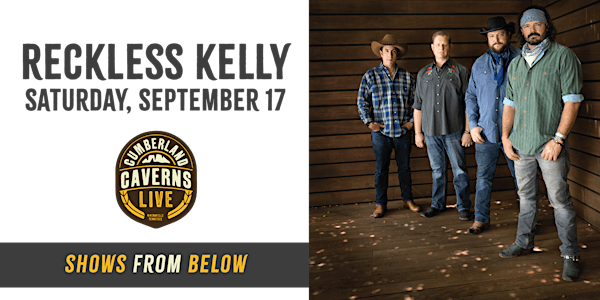 Reckless Kelly at Cumberland Caverns Live - McMinnville TN - 9/17
Event Information
Performers
Location
Cumberland Caverns Live
1437 Cumberland Caverns Rd
McMinnville, TN 37110
Join Reckless Kelly for a one-of-a-kind concert experience 333 feet underground in the spectacular Volcano Room! #showsfrombelow
About this event
Welcome to Tennessee's largest show cave. Conveniently located between Nashville, Chattanooga, and Gatlinburg, Cumberland Caverns Live offers a one-of-a-kind concert experience!
Located 333 feet below ground, concerts are hosted in The Volcano Room, a natural amphitheater. Here water and time entwined many years ago to create one of the most acoustically pure natural spaces on earth. No man-made sound reaches the Volcano Room and the living rock hued amid the eons is jagged and uneven, providing limited echo. The primordial silence and perpetual darkness give way to the sounds of the finest music on earth. Regardless of outside temperature, the Volcano Room is a constant 56 degrees with 99% humidity.
We recommend wearing athletic-style shoes best-suited for walking or hiking (no sandals/flip flops). Some guests feel cool immediately upon entering the cave but warm up after a few minutes of moving around. Once you are seated for your concert it can feel quite cool, you may want to bring a thin, long sleeve shirt or jacket. The walk from the parking lot to the mouth of the cave is a little under 1/4 mile, and then once inside the cave another ~1/4 mile to The Volcano Room.
Please note: The cave, and the concert venue in the cave, are not handicap accessible due to the uneven pathways, stairs, steep uphill and downhill slopes, and there are some areas that do not have handrails. Strollers, walkers, wheelchairs, etc., will not make it through the cave and we cannot shuttle guests to or from the cave. We strive to keep the cave as natural as possible, but make it safe for our guests to enjoy.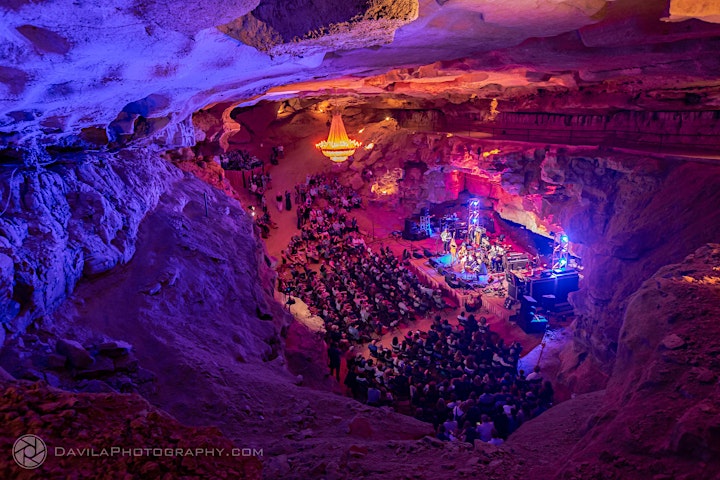 Cumberland Caverns Live is a seated General Admission venue with three entry tiers.
Premium Access - $65 per ticket
Enjoy access to The Volcano Room 75 minutes prior to showtime.
Early Entry - $55 per ticket
Enjoy access to The Volcano Room 65 minutes prior to showtime.
General Admission - $45 per ticket
Enjoy access to The Volcano Room 55 minutes prior to showtime.
Pre-Show Cave Tour - $16 per ticket
Want to explore Cumberland Caverns beyond the Volcano Room? Add the 333 Exploration Tour Package and come early for this hour-long pre-show tour that will take you to seven different parts of Cumberland Caverns. You will also be treated to a birds-eye view of the world-famous Volcano Room stage from high atop the balcony. Make the most of your time with us and explore our beautiful cavern on a concert day! $26.95 value!
*333 Exploration Tour Ticket does not act as a concert ticket. Cumberland Caverns will not allow access into The Volcano Room during the concert unless you have a separate ticket for that show*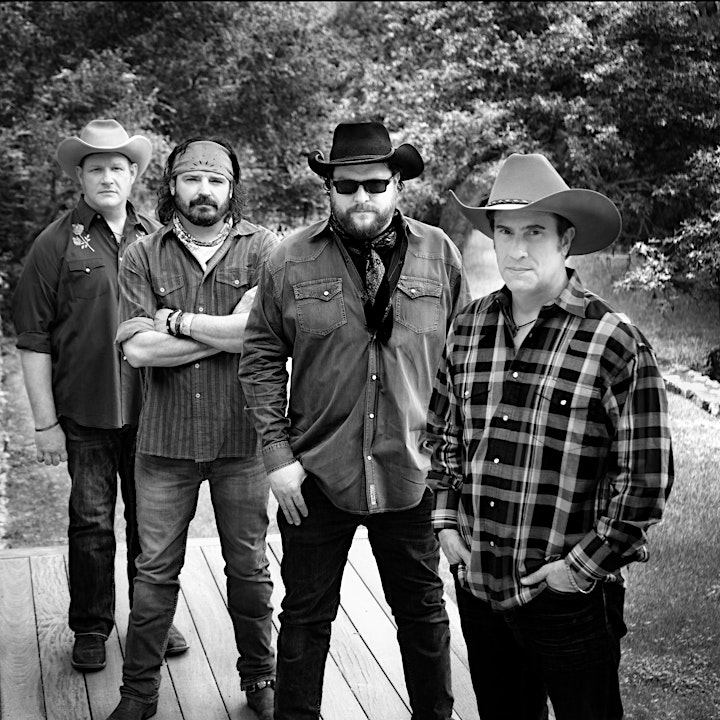 For nearly 25 years, Reckless Kelly has graced the musical landscape with a high-powered form of Americana, equally rooted in raw passion, refined musicianship, and gritty authenticity. With the dual release of two new albums—American Jackpot and American Girls—the Idaho-bred band presents a beautifully detailed portrait of their beloved country, turning their nuanced songwriting to its many glories and tragedies. While one batch of songs centers on slice-of-life storytelling and the other explores the complexities of human connection, the collective body of work unfolds with profound and often eye-opening attention to the subtleties of American life. Although Reckless Kelly initially intended to make just one album, the project took on a life of its own once they headed into the studio. "I wanted to produce this one by myself, just to try that out, and I made sure to book plenty of studio time to get it done right," says Willy. "We ended up moving along really fast, so I pulled out a few more songs and figured we'd end up using them down the road. Before we knew it, we had enough material for two really good records." The follow-up to their acclaimed 2016 album Sunset Motel, American Jackpot and American Girls em-body a wonderfully eclectic sonic palette, achieved with the help of V.I.P. guest musicians like Gary Clark Jr. and Charlie Sexton, along with several members of their own legendary family (including Uncle Gary Braun on chromatic harmonica and their father Muzzie Braun on lead and harmony vocals). Recorded at Arlyn Studios in their adopted hometown of Austin, both albums abound with an unbridled vitality—an element that has much to do with the band's deliberate decision to keep pre-production to a minimum in order to harness the magic of in-studio spontaneity. "There's something incredible about the first time you play a song really well together, and we don't ever want to waste that take on the rehearsal room," Willy notes. One of many songs penned with Idaho-born singer/songwriter Jeff Crosby, "I Only See You With My Eyes Closed" provides one of American Girls most haunting moments, its intensity heightened by Sexton's ethereal guitar work. But on "Lost Inside The Groove," American Girls turns impossibly jubilant, bringing swinging rhythms and a fiery guitar solo to the song's expression of lovestruck ado-ration. "Shawn Sahm sent me that song idea, so we worked it out and had him come down and play guitar and Vox Continental organ," explains Willy, referring to the son of Sir Douglas Quintet/Texas Tornados founder Doug Sahm. Though the two brothers first forged their musical partnership back in Idaho, they later decamped to Bend, Oregon, where they quickly linked up with Jay Nazz. Soon after forming Reckless Kelly (whose name nods to the legend of Australian highwayman Ned Kelly), the three musicians relocated to Austin and rounded out the lineup with bassist Joe Miller and guitarist David Abeyta (who exited the band after the release of Sunset Motel). Over the years, they've delivered a string of critically lauded albums, including 2011's Grammy-nominated Good Luck & True Love and 2013's Grammy-winning Long Night Moon. With the release of American Jackpot and American Girls, Reckless Kelly hopes to lead listeners to thoughtful reflection on their own experience of living in America and possibly invite a certain purposeful nostalgia. Mostly I just hope these songs remind them of all the different aspects of growing up in America and feeling so lucky to live here," says Willy Braun.
Performers
Date and time
Location
Cumberland Caverns Live
1437 Cumberland Caverns Rd
McMinnville, TN 37110
Refund policy