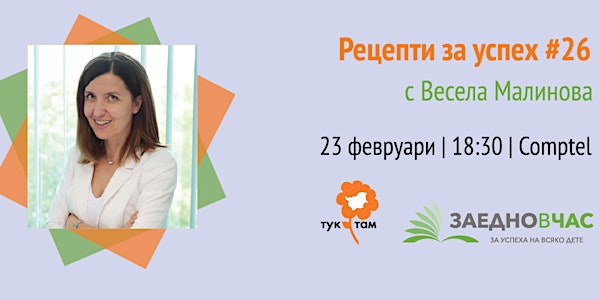 Рецепти за успех с Весела Малинова
By Сдружение "Тук-Там" и фондация "Заедно в час"
Date and time
Thursday, February 23, 2017 · 6:30 - 9pm EET
Location
Comptel Corporation 9 Shipchenski prohod blvd, floor 1 Sofia 1111 Bulgaria
Description
Сдружение "Тук-Там" и фондация "Заедно в час" представят съвместна инициатива, която се състои в поредица от срещи с вдъхновяващи лектори, които ще споделят своите Рецепти за Успех.

В това издание наш гост ще бъде Весела Малинова, управляващ директор на Comptel Bulgaria.
Весела е химик по образование, завършила е Софийския университет "Св. Климент Охридски".
Професионалният й път започва като преподавател по химия във Втора английска гимназия. По думите й, това е и първият й досег с човешките ресурси, защото един учител трябва да бъде освен добър психолог, и ефективен мениджър на ръководения от него екип – в случая на екипа от ученици. Преподавателската дейност дава добър старт на Весела и тя започва работа в Българската академия на науките. Печели стипендия и заминава по програма на Организацията на Обединените Нации по въпросите на образованието, науката и културата (ЮНЕСКО) в Прага, Чехия. Там прекарва около година и се прехвърля в Техническия университет в Лозана, Швейцария. Паралелно с подготовката на дисертацията, там тя се занимава и с преподаване.
След завършването си Весела се завръща в България със съпруга си след 7 години в чужбина. Започва работа на асистентска позиция в Siemens, впоследствие поема поста HR мениджър на новото обединение Nokia Siemens Networks. Сертифицира се към The Chartered Institute of Personnel and Development (CIPD) по програмата Personal Practice и продължава да учи в тази сфера. В момента е изпълнителен директор в България на международната софтуерна компания Comptel, която разработва софтуер и интегрира софтуерни решения за клиенти от телекомуникационния сектор по цял свят.
Събитието е безплатно, но със задължителна предварителна регистрация на: https://recipesforsuccess26.eventbrite.com

P.S. Не разпечатвайте билета! Ако не можете да дойдете, пишете ни на hey@tuk-tam.bg, за да може друг да ползва Вашето място. Благодарим за разбирането!
About the organizer
http://www.tuk-tam.bg/
http://www.zaednovchas.bg/