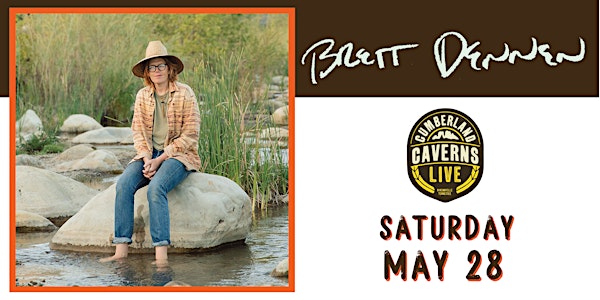 Brett Dennen (Acoustic) at Cumberland Caverns Live - McMinnville TN - 5/28
Event Information
Performers
Location
Cumberland Caverns Live
1437 Cumberland Caverns Rd
McMinnville, TN 37110
Join Brett Dennen for a one-of-a-kind acoustic concert experience 333 feet underground in the spectacular Volcano Room!
About this event
Welcome to Tennessee's largest show cave. Conveniently located between Nashville, Chattanooga, and Gatlinburg, Cumberland Caverns Live offers a one-of-a-kind concert experience!
Located 333 feet below ground, concerts are hosted in The Volcano Room, a natural amphitheater. Here water and time entwined many years ago to create one of the most acoustically pure natural spaces on earth. No man-made sound reaches the Volcano Room and the living rock hued amid the eons is jagged and uneven, providing limited echo. The primordial silence and perpetual darkness give way to the sounds of the finest music on earth. Regardless of outside temperature, the Volcano Room is a constant 56 degrees with 99% humidity.
We recommend wearing athletic-style shoes best-suited for walking or hiking (no sandals/flip flops). Some guests feel cool immediately upon entering the cave but warm up after a few minutes of moving around. Once you are seated for your concert it can feel quite cool, you may want to bring a thin, long sleeve shirt or jacket. The walk from the parking lot to the mouth of the cave is a little under 1/4 mile, and then once inside the cave another ~1/4 mile to The Volcano Room.
Please note: The cave, and the concert venue in the cave, are not handicap accessible due to the uneven pathways, stairs, steep uphill and downhill slopes, and there are some areas that do not have handrails. Strollers, walkers, wheelchairs, etc., will not make it through the cave and we cannot shuttle guests to or from the cave. We strive to keep the cave as natural as possible, but make it safe for our guests to enjoy.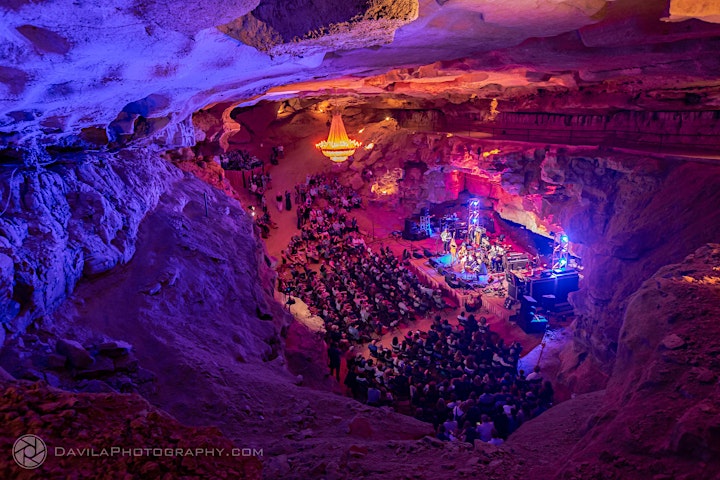 Cumberland Caverns Live is a seated General Admission venue with three entry tiers.
Premium Access - $60 per ticket
Enjoy access to The Volcano Room 75 minutes prior to showtime.
Early Entry - $50 per ticket
Enjoy access to The Volcano Room 65 minutes prior to showtime.
General Admission - $40 per ticket
Enjoy access to The Volcano Room 55 minutes prior to showtime.
Pre-Show 333 Exploration Tour - $16 per ticket
Want to explore Cumberland Caverns beyond the Volcano Room? Add the 333 Exploration Tour Package and come early for this hour-long pre-show tour that will take you to seven different parts of Cumberland Caverns. You will also be treated to a birds-eye view of the world-famous Volcano Room stage from high atop the balcony. Make the most of your time with us and explore our beautiful cavern on a concert day! $26.95 value!
*333 Exploration Tour Ticket does not act as a concert ticket. Cumberland Caverns will not allow access into The Volcano Room during the concert unless you have a separate ticket for that show*

Brett Dennen See the World (Mick Music) Brett Dennen is telling us to get out and see the world at a time when we need it more than ever. Flame-haired, six-foot-five, and with a singular gift for meditating on life's most meaningful subjects with equal parts innocence and razor-sharp wit, you know Dennen from his decade-plus career as a singer/songwriter. With a successful string of albums and four Top Ten AAA singles like "Make You Crazy," "Wild Child," and 2018's "Already Gone," which achieved his highest chart position yet, Dennen has cemented himself as a fixture in American folk music. What you may not know about Brett is that he did not set out to be a professional musician. It is a surprising revelation for someone who embodies the best of songwriting: singular storytelling, singability, and the unique capacity to hold up a mirror to our lives, our society, and the greater world.
Before all that, he was a painter -- a skilled visual artist with a well-honed perspective and a style very much his own. Perhaps it is not so surprising, then, that his lyrics have always seemed to bloom before one's eyes, somehow both stark and colorful, intricately constructed and sweeping in their scope.
And before all that he was a young, avid outdoorsman who spent his childhood camping with his father in and around the Sierra Nevada Mountains, learning the intricacies of the natural world in his native California. Dennen's greatest passion then and now has perhaps been the earth -- and it was only as a camp counselor, in front of a roaring campfire with the wilderness unfolding in the background, that he fell in love with the idea of playing music. As an adult, he has climbed Mount Kilimanjaro, trekked in Nepal, and is a fierce advocate for environmental protection. He even wrote the new Smokey Bear theme song for Smokey's 75th birthday.
In recent years, Brett Dennen has started to let the world in on his secrets. In 2017, he created the "Lift Series" and "Vacationer Series," two annual tours wherein he combines shows in ski and beach towns with conservation initiatives and education in each locale. An avid skier and surfer as well as a conservationist, Dennen works with local organizations to spearhead beach clean-ups and educate young people to become climate stewards, driving awareness through his music and marrying just a few of his many sides in one effort to help drive positive change. He has also begun to sell some of the hundreds of paintings that accumulate in his California home; he has even let us all in on his artistic process through an Instagram video series called Paint and Play. He recently launched Dennen Goods Co., a lifestyle brand that aims to inspire.
Somewhere in all of that, there is still very much the music. Dennen's next release, See The World, is due out July 23rd on Mick Music. Like the man, himself, the new album is a potpourri of experiences and sometimes seeming contradictions. In the album opener and title track, Dennen sings of "diamond beaches" and "prism streams," and reminds us that "You don't have to be rich to get around / There are mansions growing out of the ground." In the refrain, he urges "Days go by / Get out and see the world with your own eyes."
In "Paul Newman Daytona Rolex," we dive into Dennen's signature witticisms. Over an insistent, light-hearted groove, he opens the song, "I never been accused of being fancy / I'm not stupid with my money honey, I could be stupid for free." The song is ostensibly a love letter to a rare watch, one which Dennen does not, in fact, own. Really it is an irresistible, irreverent meditation on what we value as human beings. As Dennen puts it, "the things you can't put a price on should be the things you value the most... to me, it's all about self-worth and peace of mind."
"Cayamo," a song about the festival-on-a-cruise-ship of the same name is a musing on being overlooked as a musician. He sings, "I ain't your rockabye / Or indie darling guy / Or the train wreck / That makes you feel better / 'Bout your own life." It is funny and biting and self-deprecating but, like all of Dennen's work, it is infused with tremendous heart and an internal call for growth. He sings on, "Everyone has something / That no one else has / They should share it."
Brett Dennen doesn't take his time on his beloved earth for granted. He is intent on exploring the world and exploring himself in the process. Hence, See The World. The album also happens to come at what we hope will be a turning point for all of us -- where we all hope to be doing just what Brett wants for us -- seeing the world. Quite tangible in the title track and the album as a whole is Dennen's newest and greatest pursuit -- that of father to his young son, Van, for whom this song was written. But it is also easy to imagine him writing it for all of us, gently encouraging us to pick up the paintbrush, jump in the ocean, and climb whatever mountain lies in front of us. Peppered in equal parts with shrewd quips and vulnerable admissions, the album is ultimately an exploration of life's deepest meaning. And that is certainly emblematic of Brett Dennen, who spans wide as both an artist and a human being -- sometimes biting and somehow always generous of spirit -- his arms out to meet you where you are. See The World is, in short, reflective of a life well-explored, a life well-pursued, and, we can hope, a life well-lived.
Performers
Date and time
Location
Cumberland Caverns Live
1437 Cumberland Caverns Rd
McMinnville, TN 37110
Refund policy