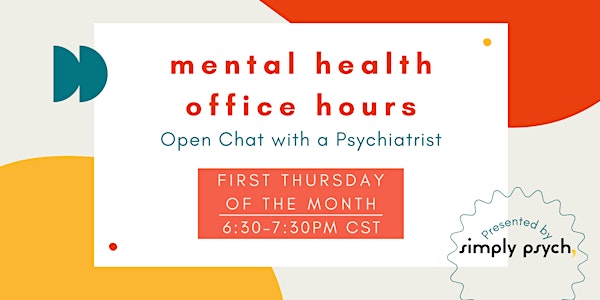 Mental Health Office Hours
Bring any question you have about mental health, especially if you're interested in starting services with any of the Mindful clinicians.
About this event
1) There is no such thing as crazy.
2) There is a lack of quality mental health information on the internet.
Mental Health Office Hours is free access to a psychiatrist – how fun is that!? :D
The event will stream on Vimeo. Click link here, and you can register for the weekly event. (You will get weekly event reminders from Vimeo this way.)
Rules
Sharing of any content, including but not limited to screenshots, video clips, pictures, etc., is NOT allowed. Office Hours are meant to be a safe space.
While Office Hours are staffed by clinical experts, they are not YOUR clinical expert so please reach out to your local resources if needed.
No personal attacks on attendees
No hate-speech/discriminatory language (racism, sexism, LGBTQIA+ phobia, etc.)
No spamming and trolling
No stalking/harassing other attendees
**If you break the above rules you may be banned immediately, and won't be allowed to participate in future Office Hours.**
Etiquette
You can remain anonymous, if you choose to. To do this, please register for this event with a fake name.
You will be able to submit your questions ahead of time, see other people's questions, upvote questions others have asked, or ask your questions in real time during the livestream.
You can leave feedback and interact with each other in the Comments section on the right side of the window, but you're encouraged to submit your questions in the Ask A Question section.
Please keep in mind that we cannot control things outside of this broadcast and that you do not share HIPAA-protected information (we'll politely redirect and edit as needed to protect you and others.)