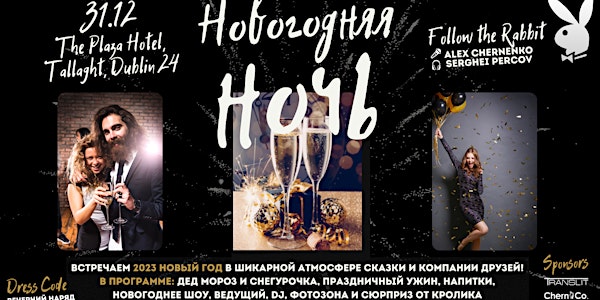 Новогодняя Ночь 2023
Приглашаем Вас отпраздновать 2023 Новогоднюю Ночь
When and where
Location
The Plaza Hotel Belgard Road D24 X2FC Dublin 24 Ireland
Refund Policy
Contact the organiser to request a refund.
About this event
Самая зажигательная вечеринка этого года!
2023 Новогодняя Ночь 🎄🎇🥂🎉 в шикарной атмосфере сказки, праздника и приятной компании!
Приглашаем вас хорошо провести время и встретить наступающий год кролика 🐰🐇 вместе с нами.
Вечер будет незабываемый!
"Как встретишь, так его и проведешь" - есть такая примета.
Это был насыщенный год. Вы заслужили себя немного побаловать:)
💡 В ПРОГРАММЕ:
Новогоднее музыкально-танцевальное шоу, игры, конкурсы, развлечения, призы, ведущий, DJ, фотозона с профессиональным фотографом и декорациями, Дед Мороз 🎅 и Снегурочка ⛄, Белый Мишка 🐻‍❄️, сюрприз от кролика 🎁
🍽️ ПРАЗДНИЧНЫЙ УЖИН:
Welcome drink + элегантные закуски, 4-course dinner (выбор на все вкусы и предпочтения: мясо, птица, рыба или вегетарианское блюдо), десерт, 2 бокала вина, шампанское.
Будет работать бар допоздна.
📍 ЛОКАЦИЯ:
The Plaza Hotel, Tallagh, Dublin 24.
⌚ НАЧАЛО: 19:00-1:30 (late bar, музыка до 2 утра)
🎤 Alex Chernenko
🎧 Serghei Percov
DRESS CODE:
👗 Девушки: вечерний наряд
🤵 Мужчины: business casual, костюм или смокинг (без спортивной одежды, пожалуйста)
👉 ЗАКАЗ БИЛЕТОВ:
Татьяна
0857716371
tatiana@translit.com / book@partypeople.ie
🪙 ОПЛАТА:
Банком или Revolut
Картой, PayPal или Google Pay на сайте Eventbrite:
https://www.eventbrite.com/e/471603908987
💶 СТОИМОСТЬ:
€160 на взрослого и €100 на ребенка (от 7 лет и старше)
Успейте приобрести билеты до 26 числа. Далее будет повышение цен.
> Количество мест ограниченно.
> Вход только по заранее купленным билетам.
> В день мероприятия купить билет не будет возможности!
ОТЕЛЬ:
🛎️Дополнительно, вы можете заказать номер в отеле 🛌
Используйте промокод TRANS чтобы получить скидку при заказе на сайте отеля:
https://www.plazahotel.ie
🎗️ СПОНСОРЫ МЕРОПРИЯТИЯ: бюро переводов - TRANSLIT (www.translit.ie), регистрации бизнеса - Chern & Co (www.registercompany.ie), event агентство - Party People (www.partypeople.ie)
Ссылки на мероприятие:
https://fb.me/e/3aMGpZqho