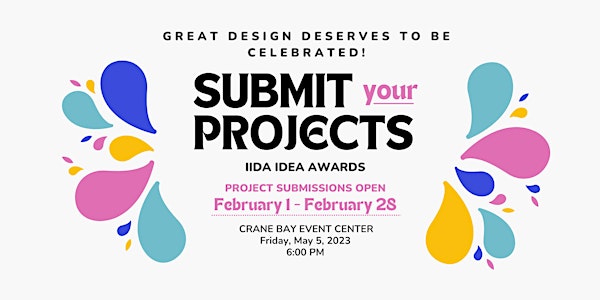 2023 IDEA Awards - Project Submissions
IDEA Awards Submission Form
Location
Crane Bay 551 W Merrill St. Indianapolis, IN 46225
About this event
IDEA Awards Event Submissions are OPEN
The IDEA Awards is a statewide competition open to all new construction and renovation projects by an Indiana-based Interior Design or Architecture firm completed between January 1, 2021 and December 31, 2022. No matter the location!
2023 Award Categories: 
Compact Project - Under 15,000 SF
Corporate/Commercial
Government & Institution
Hospitality
Healthcare & Assisted Living
Higher Education
K-12 Education
Multifamily
Residential
What you will need to complete this submission form:
1. Design Team Member (2 names)
2. Project Name
3. Client Name
4. Project City & State
5. Total Sq Footage
6. New Construction or Remodel
7. Interior Budget (per sq ft, includes walls, substrate, ceiling, MEP, finishes)
8. Total Construction Budget (Including Shell if Applicable)
9. General Contractor
10. Completion Date
11. Supporting Vendors & Companies (up to 5)
12. Photographer
13. Additional project requirements
Within a few days of your submission, we will email you a link to the Google Doc Folder for you to upload the images & PDFs:
1. Floor Plan(s) of project – These must be in PDF Format and named by this method:
2. A minimum of (4) and a maximum of (8) color photographs of the project's interior – These must be in JPEG format and named by this method:
ProjectName_(1)(2)(3) etc.
Please note: images should be high resolutions/1920 x 1080 or larger.
3. Complete the Design Statement Template Sheet – Maximum of 400 words. The design statement will cover client goals and design concept and any challenges that were overcome during the project. You will also have the opportunity to highlight up to five supporting vendors.
Please Note: Project entries do not include tickets to the event.  Tickets to attend the event are not yet on sale.
This information is due: February 28, 2023
Questions:
Hannah Freiherr, freiherrh@businessfurniture.net.
Email follow-up to submissions will be Phil Caito pjcaito@armstrongceilings.com