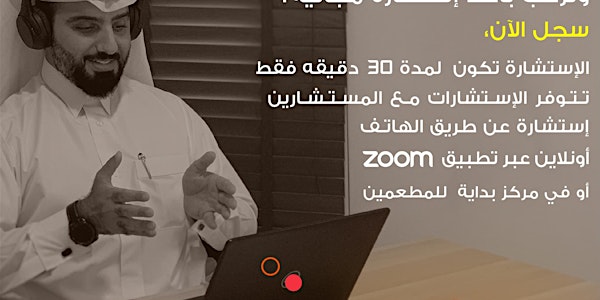 حجز موعد إستشارة 2022
جلسات إستشارية لرواد الأعمال
When and where
Location
Katara Cultural village كتارا مبنى 30 Bedaya center doha Qatar
About this event
لبدء مشروعك المتوسط او الصغير أو حتى  إستشارات و نصائح لمشروعك القائم ..
سجل في الجلسات الإستشارية يوم الأحد و الثلاثاء من كل أسبوع  ، الإستشارة ستكون عبر الهاتف أو أونلاين عن طريق تطبيق زووم
وأيضـا:
- لتقييم فكرة المشروع
- لتقييم المشروع
- لتقييم الخطة التسويقية
- للحصول على معلومات عن الفرص في الأسواق المحلية
و الكثير غيرها !
الإستشارة تكون 30 دقيقه فقط
Do you want to start a Home base or small Startup, Need some advice to Start Join Us Bedaya Center
Register at the open day of consulting, and get free consultation with our Advisors !
-Evaluate the project idea
-SME Evaluation
-Evaluation of the marketing plan
-Access to opportunities in local markets
-And many other benefits!
Advising Sessions are only 30 minutes, First Come First Serviced!
Please you need to be on time for your session