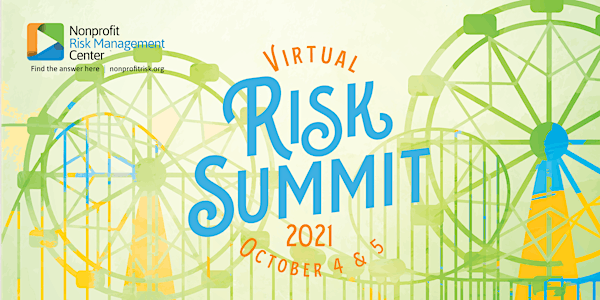 2021 Virtual Risk Summit
Join us at the 2021 Virtual Risk Summit--the premier nonprofit learning and networking event for risk management leaders hosted by NRMC!
About this event
Join us at the 2021 Virtual Risk Summit—the premier nonprofit learning and networking event for risk management leaders hosted by the Nonprofit Risk Management Center. Hear lessons and insights from nonprofit and industry leaders whose valuable experience and expertise will inspire your nonprofit's risk management journey. The 2021 Risk Summit offers 24 workshops that address myriad risk challenges and opportunities facing complex nonprofit organizations. Additionally, you will have the chance to experience compelling video shorts delivered by subject matter experts and a virtual vendor midway featuring innovative risk products and resources relevant to nonprofits.
Attention Affiliate Members: If you'd like to purchase an 'all-in' registration to support the participation of an unlimited number of colleagues from your organization, contact us at 703.777.3504 or info@nonprofitrisk.org. The 'all-in' registration fee is $799.
Frequently Asked Questions
When will the Risk Summit take place? Where is it located?
The 2021 Risk Summit will be a fully virtual conference experience! Attendees will be invited to participate live on Monday, October 4, and Tuesday, October 5, 2021. And all registered attendees will have access to the recorded sessions for 30 days after the conclusion of the final session on October 5th.
I'd like to use the BEST RATE. Am I eligible for the Affiliate Member or Corporate Sponsor rate?
All Affiliate Members of the Nonprofit Risk Management Center, Corporate Sponsors AND their policyholders are eligible for the BEST RATE.
If you have a question about your membership status, please email Katharine@nonprofitrisk.org or call 703.777.3504 or visit the Membership tab in the navigation bar at www.nonprofitrisk.org. Click here to view a listing of our entire Affiliate Member community.
Our 2021 Corporate Sponsors are Great American Insurance Group, 501(c) Agencies Trust, AHT Insurance, Chubb, Munich RE Speciality Insurance, Philadelphia Insurance Companies, Nationwide, and HUB International. 
If you'd like to join our Affiliate Member program and receive the BEST RATE for the 2021 Risk Summit and share with your community full access to a robust webinar vault, invitation to live webinars, and deep discounts on web applications that will fortify your mission, sign up for a membership today!  
Annual Affiliate Membership is $900 per year for nonprofit organizations and $1,500 per year for for-profit organizations serving 500 or fewer nonprofit clients.
How can my organization become a conference sponsor?
Sponsorship opportunities are limited, so act today. The Corporate Sponsor fee is $7,500. Sponsors receive complimentary registrations, an online company profile, the opportunity to deliver an educational 'video short', and visibility before, during and after the conference. NOTE: NRMC does not offer an exhibit-space only option. To apply for corporate sponsor status, please contact Kay@nonprofitrisk.org.
How can I reserve space in a workshop?
You are not required to pre-register for conference sessions. However, NRMC does ask that you pre-register for our networking sessions.
I am a presenter. Is there a PowerPoint template I should be using?
If you are selected to present at the 2021 Virtual Risk Summit you will receive a Welcome Kit from our team. The kit will include instructions and deadlines for handouts and audio-video presentations. 
I just want to attend one session. Is that possible to do without registering for the conference?
We do not offer a single-session rate. We encourage you to consider a full conference registration to maximize your learning at the Virtual Risk Summit. You must be registered to participate in any Risk Summit event. 
How can I receive a list of participants or attendees?
The final attendee list will be shared with all registered attendees on the morning of October 4th. 
Do you offer CEU credit?
We are able to provide a letter with workshop titles, time of instruction, and session dates to support your application for CEU or CLE credit. Questions? Contact Kay@nonprofitrisk.org.
My question is not listed here. How can I contact the organizer with additional questions?
Questions? Call the Nonprofit Risk Management Center at 703.777.3504 or email us at info@nonprofitrisk.org.
What is the refund policy?
We are not able to provide refunds, however, we can accommodate transfers up to five business days prior to the conference.
If you wish to pay by check, we must receive your payment in full by Monday, September 20, 2021. Mail your check payable to the Nonprofit Risk Management Center, 204 South King Street, Leesburg, VA 20175. If payment has not been received by this date, your registration will be canceled.