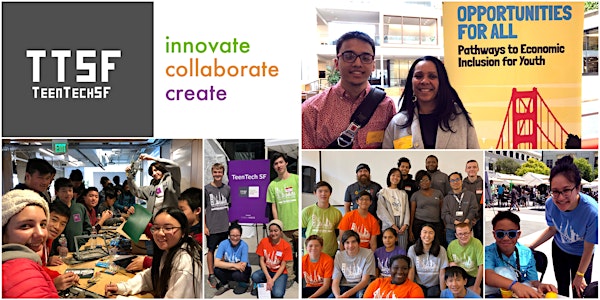 2021 TeenTechSF Civic Hackathon
Join us for the 2021 TeenTechSF Civic Hackathon, fully online!! Saturday Oct 9-10th AND Sunday Oct 10, 9:30 am - 4:00 pm
Refund Policy
Refunds up to 1 day before event
Eventbrite's fee is nonrefundable.
About this event
Join us for the 2021 TeenTechSF Civic Hackathon [Online]!
Tech for COVID Recovery
Saturday Oct 9, 9:30 am - 5:00 pm
AND Sunday Oct 10, 10:00 am - 3:50 pm 
REGISTER NOW -- SPACE IS LIMITED!
2 days, 14 hours, 100 teens generating thousands of ideas for tech solutions and amazing innovations to solve world problems and help communities recover from the global pandemic.
Like all our events, the TeenTechSF Civic Hackathon is free, beginner-friendly, and open to all teens. New hackers are highly encouraged to participate. We'll have a special award category for first-time hackers and female hackers and $1000 worth of PRIZES and GIVEAWAYS throughout the two-day long event! Workshops will be available on design thinking, app and website design, coding with Python, MIT App Inventor, and more. 
This year, we're inviting special panelists like Luis Valentin-Alvarado (Lawrence Hall of Science) and Julia (Mission Neighborhood Health Center) to speak about the first-hand impacts on COVID-19, their journey, and how you can get involved to make a change in our community! Students and parents are welcome.
Mentors from TeenTechSF and others will help teens turn their big ideas into reality! The teams with the best projects will win bragging rights, prizes like tech kits and t-shirts, some great swag, and the chance to participate in the TeenTech Civic Hackathon World Pitch in December with teams from as far away as Greece or China!
Rules and Guidelines:
This year's civic hackathon will focus on the opportunity to use technology to solve the problems facing our world today! Specific prompts will be provided on the day of the hackathon. Be sure to have you and your friends register!
The project must be original and new. Previously developed projects cannot be submitted.
Hackathon teams are made up of 2-5 students who must be 11-18 yrs old. Each student must register individually. Don't have a partner yet? No problem – we'll help you find one!
Run for and by teens, like all of our events: Event is free, but if you are able, please make a $5 or more donation to cover food and other event costs.
DISCLAIMER: TeenTechSF will be live-streaming and recording this event and reserves the right to use all videos/photos from the event.
Schedule (PST)
Saturday
9:30 AM - Opening Ceremony
10:30 AM - Design Thinking
11:00 AM - COVID Impacts Panel
11:30 AM - Break/ Lunch
12:30 AM - Tech Panels
1:00 - 4:30 PM - Optional workshops OR project work time
Workshops: Web Dev, App Design with Figma, Python Basics, Web Scraping, EchoAR, App Dev with Dart & Flutter
Sunday
10:00 AM - Pitch Development
11:30 AM - Break/ Lunch
1:00 - 3:10 PM - Judge intros and Pitch Presentations
3:10 - 3:25 PM - Kahoot while judges deliberate
3:25 - 3:45 PM - Award Ceremony
FAQs about the online event: TeenTechSF FAQs
THANKS TO OUR PARTNERS & SPONSORS:
About TeenTechSF:
TeenTechSF's mission is to empower the next generation of tech innovators and civic entrepreneurs through equal access to tech for all teens. Run by and for teens, all our events are free!
Please share this event with your friends and classmates!