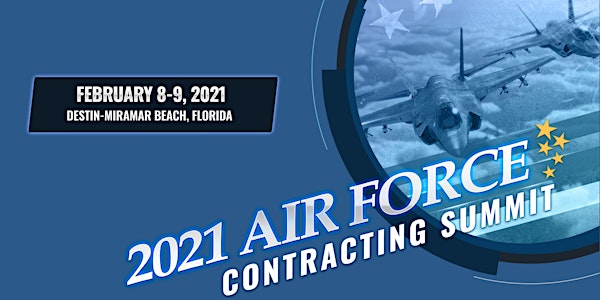 2021 Air Force Contracting Summit
You are invited to attend the 2021 Air Force Contracting Summit, scheduled for February 8-9, 2021 in Destin-Miramar Beach, Florida.
When and where
Location
Hilton Sandestin Beach Golf Resort & Spa 4000 Sandestin Boulevard South Destin-Miramar Beach, FL 32550
About this event
In its 8th year, the Summit brings together Members of Congress, Pentagon Officials, Air Force Base Commanders, Contracting Officers, Contracting Experts, and Business Leaders nationwide. More than 650 prime contractors, subcontractors, military officials, contracting officials, financing experts, and defense agencies from throughout the country registered for the 2020 Air Force Contracting Summit in Florida.
View the Previous Year's 2020 Summit Agenda here: Event Agenda
The 2021 Air Force Contracting Summit will provide defense contractors, subcontractors, and small businesses nationwide with the latest information on:
Air Force 2021 and 2022 Budgets
New Pentagon and Air Force Systems and Strategies to Respond to Cyber Attacks
Details on Space Defense and Space Force
OTA's & other Innovative Acquisition Strategies & Programs
New Air Force MILCON Contracts, including Tyndall AFB Reconstruction
New Air Force Installation Resiliency Contracts
Air Force and Department of Defense Contracting Priorities
Air Force Mission Priorities for Aircraft, Weapons, Facilities, Technology, Energy, and more
Public and Private Financing Sources
New Contracting Opportunities for Prime Defense Contractors
New Contracting Opportunities and Teaming Arrangements for Defense Subcontractors
Details on specific new military contracts in all areas of procurement, including but not limited to: facilities & infrastructure modernization, aircraft, missiles & ammunition, vehicles, information & communications systems, cybersecurity & information warfare, innovative defense technologies, R&D, energy, space defense, and much more.

Please note that your credit card payment is being processed by Ultimate Events, LLC, the events management firm for the Defense Leadership Forum.

The 2021 Air Force Contracting Summit is designed as a hybrid event for in-person and virtual attendance. All attendees will have the opportunity to view the LIVE Summit on their PC, Laptop, or Mobile Device. All registered attendees will be able to set-up an attendee profile which will allow you to: View the Summit Agenda, View the Speaker Presentations, Ask Questions during Q&A, Participate in Virtual Meetups, Answer Polls, and Connect with other In-Person and Virtual Attendees/Exhibitors/Sponsors using the application, Whova. Access will be available for three months following the Summit.
We look forward to exploring and experiencing the new virtual ways of doing business! If you have any questions regarding the hybrid format, contact us at info@defenseleadershipforum.org for more information.


Hilton Sandestin Beach Golf Resort & Spa
4000 Sandestin Boulevard South
Destin-Miramar Beach, Florida 32550
Phone: (850) 267-9500
Special Rate Details: $100 USD/Night
Group Name: 2021 Air Force Contracting Summit
Start Date & End Date: February 6, 2021 - February 10, 2021
Last Day to Book: January 25, 2021
Special Rate Link: Hilton Sandestin Beach Golf Resort & Spa
Website: www.hiltonsandestinbeach.com

If you have any general questions regarding the 2021 Air Force Contracting Summit, please call our Customer Support Center at (202) 552-0179 or email us at info@defenseleadershipforum.org.
If you would like more information on the various registration options, please contact our Marketing and Sales Department at marketing@defenseleadershipforum.org.
For details on Sponsorship & Exhibiting Opportunities, please visit our website at www.usdlf.org. Select discounts may be available on Sponsorship Packages valid towards new registrations.
Thank you and we look forward to hearing from you!
Defense Leadership Forum