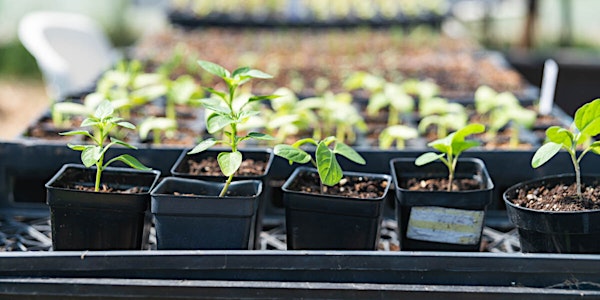 When and where
Location
Common Good City Farm 300 V Street Northwest Washington, DC 20001
Description
Our new plant of the month CSA is a great opportunity to turn your thumb green! Great for both experienced and new growers, members will receive three seedlings per month to grow at home. Plants will be a combination of houseplants, herbs, flowers, and vegetables fit for a variety of types of sun exposure. As a member of the club, you get exclusive access to care information, including access to our expert farm manager's plant care expertise. Along with an info sheet each month on care, history, and recipes for your plant, you'll have the opportunity to attend members-only plant care clinics or mini-workshops at least 2 times per year. We will plan to host plant clinics on Wednesday, April 8 and Wednesday, July 29 from 3-7 pm.
Along with your membership, you have first-dibs on extra plants each month. We'll always grow an excess, so if you love something you'll have an opportunity to buy extra.
Worried that you don't have enough sunny space in your house, or that your patio won't be big enough? We will offer a variety of plants with different light and space needs so you can share your membership with a friend and take turns picking up your plants.
Tentative List of Plants to be Offered (subject to change):
Salad Greens

Stir Fry Greens

Scallions

Cilantro

Kale

Collards

Tomato or Cherry Tomato

Eggplant

Pepper

Basil (Italian, Lemon, Thai, Lime)

Carrots

Sunflowers
Membership has three levels:
DIY - Membership is $120 for the year, and comes with plants in biodegradable jiffy pots
All-inclusive- Membership is $240 for the year, and comes with plants and a decorative pot or planter for your plants
Not a grower, but know someone who is? Plant of the Month Club makes a great holiday gift for the green-thumbed person in your life.
Plant CSA Pick-up Dates:
Wednesday, April 8, 3 - 7 pm and Plant Clinic

Wednesday, April 29, 3 - 7 pm

Wednesday, May 27, 3-7 pm

Wednesday, June 24, 3-7 pm

Wednesday, July 29, 3 - 7 pm and Plant Clinic

Wednesday, August 26, 3-7 pm

Wednesday, September 30, 3-7 pm

Wednesday, October 28, 3-7 pm
All of the Plant CSA pick-ups will be at Common Good City Farm.

Questions? Email us at info@commongoodcityfarm.org.