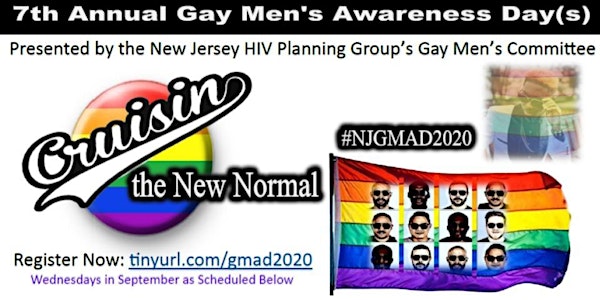 2020 NJ Gay Men's HIV Awareness Month
In recognition of Gay Men's HIV Awareness Day the NJHPG is organizing online conferences all month relating to issues around gay men & HIV!
About this event
The New Jersey HIV Planning Group's (NJHPG) Gay Men's Committee presents the 7th Annual Gay Men's Awareness Day. This year we recognize of National Gay Men's HIV Awareness Day, with a series of tele-conferences. Originally created in 2008 to recognize the disproportionate impact of the epidemic on gay men, the NJHPG has created this event to educate the gay community, as well as the providers who work with them, on unique issues and barriers which impact both HIV care and prevention throughout NJ.
Schedule of Events:
9/2 11:00-2:00pm: History Behind National Gay Men's HIV Awareness Day & COVID-19 and HIV: How it affects the community and timeline
9/9 11:00-1:00pm: Our New 'Normal' with Dr. Tony Ortega
9/16 11:00-1:00pm: Chemsex Amongst Gay & Bisexual Men
9/23 7:00-9:00pm: Event Finale! Guest speaker & entertainment
LOG ON TO EACH WEBINAR AT:
https://rutgers.webex.com/join/geri
To join by phone: 1-650-429-3300
Access Code: 630 469 337
It is not too late to share these events with friends & co-workers! #NJGMAD2020