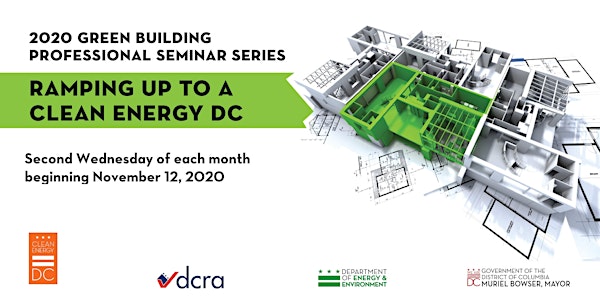 2020-2021 Green Building Professional Seminar Series
DOEE and DCRA are excited to announce this year's Green Building Professional Seminar Series line up.
About this event
Introducing educational events designed to accelerate the implementation of the Clean Energy DC Act and the new building construction codes. The virtual events will be held on the second Wednesday of each month at 1pm.
Getting Ready for the new Building Energy Performance Standards – April 14, 2021
The new performance standards for existing buildings will make a significant impact in the way the District's building industry is thinking about strategic energy management. Learn from several industry practitioners on how they are getting ready for BEPS. Holly Lennihan from Hickock Cole will give an architectural firm's perspective. Sulaiman Harris and Anthony Hubbard from The Impact Group will talk about how their energy services firm is getting ready for the new regulations. And Matthew Borger and Michael Barboza from Borger Management will speak from a property management company's viewpoint.
Past Events:
Kick-off: A New Era of Buildings in the District - Thursday, November 12, 2020
Watch meeting recording: https://www.youtube.com/watch?v=fQ6cYlfhP3Y&feature=youtu.be
A combination of market forces and new local and federal regulations—such as energy performance standards, new building energy codes, and greater deployment of renewable energy, and electric vehicles— are poised to transform the building industry over the next decade, a sector that accounts for 75% of GHG emissions in DC. This kick-off event, in a preview of what's to follow in future sessions, will look at examples of how this transformation is already underway and highlight new resources designed to help the industry reduce their greenhouse gas emissions and energy use.
Net-Zero Energy Codes in the District: DC's Pathway to NZE - December 9, 2020
Watch the meeting recording: https://youtu.be/wv8XmzWJQnk
The Clean Energy DC Plan calls for net-zero energy codes by 2026 and the recently adopted 2017 DC Energy Conservation Code helps put the city on a path towards achieving this goal. This event will highlight the DC Energy Conservation Code's trajectory to net-zero energy and how it fits in the District's key climate mitigation goals. You'll hear directly from local residential and commercial project teams on their experience with NZE projects. Featured projects include a residential single family home and the DC Public Schools renovations for West Education Campus and Banneker High School. Speakers for the event include:
Presentation by Sean O'Donnell and Juan Guarin of Perkins Eastman
Presentation by Robin McGrew, Architect, Cunningham Quill
Presentation by Casey Studhalter, Department of Energy and Environment
Transforming Transportation through Electrification - January 13, 2021
Watch the meeting recording: https://youtu.be/HJtNDuPmKBs
The groundbreaking Clean Energy DC Act calls on the District to transition away from polluting fossil fuel-burning vehicles to clean, zero-emissions cars and buses. The question is no longer if zero-emissions vehicles will dominate the market, but when. This event will look at both the challenges and opportunities of the economy-wide adoption of electric vehicles and the steps leading organizations are taking to get out in front of this transition. Panelists will cover topics including how transportation electrification will change our built environment, its significant impact on the electric grid, new regulations and incentives designed to move the market, and a local initiative demonstrating the promise of electric buses. Our panelists include:
Eric Campbell, Electric Vehicle Program Manager, DOEE
Presentation by Camron Gorguinpour, Director of Mobility Solutions, ENGIE Impact
Presentation by Jennifer Grisham, Principal Program Manager, Smart Grid & Technology, Pepco
Presentation by Erik Belmont, Circulator Program Manager, District Department of Transportation
Here Comes the Sun: The Road to 10% Local Solar Generation & 100% Renewable Electricity - February 10, 2021
Watch the recorded meeting: https://www.youtube.com/watch?v=QOOTUdB8XWQ
The CEDC Act solidified the District as a national leader in clean energy, increasing the Renewable Portfolio Standard to 100% by 2032 and the solar carve-out to 10% by 2041. This event will showcase the city's new Oxon Run Community Solar Project, highlight resources available to District residents, and examine the future of solar in the District (according to a recent report authored by two of our presenters). Our panelists include:
Presentation by Emil King, Oxon Run Community Solar Project Manager, DOEE
Yesenia Rivera, Director of Energy Equity and Inclusion, DC SUN
Presentation by Dr. Erin Camp, Senior Associate, and Ben Havumaki, Associate, Synapse Energy Economics, Inc.
Jay Lurie, Chief Investment Officer, DC Green Bank
Funding Clean Energy DC: Innovative Financing Solutions for Building Retrofits - March 10, 2021
Watch the recorded meeting: https://www.youtube.com/watch?v=8aBYZGPgfcw
The District has taken decisive action to curb greenhouse gas emissions related to building energy use—which accounts for nearly 75% of all citywide GHG emissions—by passing innovative policies like the Building Energy Performance Standards and adopting stringent energy codes. Yet a lot of hard work is still ahead of us. Retrofitting existing buildings to meet the city's climate vision can generate significant cost savings for building owners and tenants, but it can also represent a considerable investment of time and money. It will be particularly important to ensure all sectors, particularly affordable housing and class B and C buildings, have tools and resources to upgrade their facilities. Accessing new funding, leveraging existing sources, and convincing decision makers (internal and external) to invest in energy efficiency projects all play a critical role. Industry experts will discuss new and innovative financing options and highlight examples of successful projects. Speakers include: