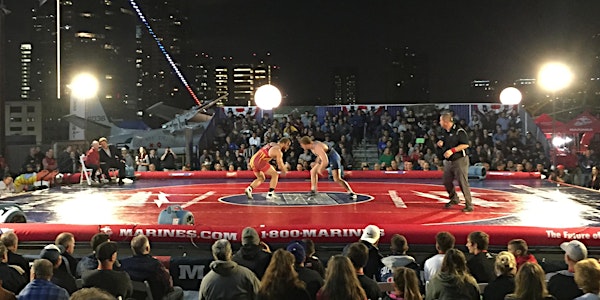 2019 Battle on the Midway Collegiate Wrestling Showcase
When and where
Location
USS Midway Museum 910 North Harbor Drive San Diego, CA 92101
Description
---
---
2019 Battle on the Midway Collegiate Wrestling Showcase
Friday, Nov. 1, 2019 – USS Midway – San Diego, California – 6 p.m. PT
Fresno State University Bulldogs vs. Army West Point
University of Wisconsin Badgers vs. Navy Midshipmen
---
---
The 2019 Battle on the Midway collegiate wrestling event is slated for Friday, Nov. 1, 2019 on the flight deck of the famed aircraft carrier USS Midway.
For the first time in its brief history, the Battle on the Midway will feature twin duals with the Fresno State Bulldogs facing Army West Point in our first dual, followed by the University of Wisconsin Badgers facing the Navy Midshipmen in our second and featured match.
The doors to the USS Midway will open at 6 p.m. The Fresno State-Army match is set to begin at 6:30 p.m. with Wisconsin-Navy to follow immediately thereafter at approximately 8 p.m.
Due to the intimate setting atop the USS Midway, a limited number of seats are available for general sale.
CBS Sports Network will broadcast the Battle on the Midway to a national television audience.
---
---
PLEASE DO NOT CONTACT THE USS MIDWAY MUSEUM FOR QUESTIONS ABOUT
THE BATTLE ON THE MIDWAY
The Battle on the Midway is a private event that is being promoted by
Left Coast Wrestling (www.leftcoastwrestling.com).
Any questions, concerns or comments should be submitted via email through
Eventbrite and a representative of Left Coast Wrestling will respond.
In addition, regular updates regarding this event will be sent via email from the
Left Coast Wrestling Eventbrite portal.
All visitors are subject to a bag check before boarding the Midway.

There are no in out and privileges once aboard the ship.

Navy Pier is a public parking lot for passenger vehicles only and is owned and operated by the Port of San Diego. No RV parking. Parking rates are generally between $10 – $20 subject to change at the discretion of Ace Parking and the Port of San Diego.

Suggested attire: for your safety, comfortable closed-toed shoes are recommended and layered clothing as temperatures can be breezy on the flight deck.

Seating is provided. Guests are not permitted to bring chairs, coolers, food or beverages on board.

Admission to the Battle of the Midway special event does not include admission to the USS Midway Museum.

Please visit www.leftcoastwrestling.com for more information about Battle on the Midway Wrestling event. Please DO NOT call the USS Midway Museum.
---
---
HOST HOTEL - EMBASSY SUITES by HILTON SAN DIEGO BAY DOWNTOWN
To book your room under our Battle on the Midway Room Block, please go to: https://embassysuites.hilton.com/en/es/groups/personalized/S/SANDNES-BMD-20191030/index.jhtml?WT.mc_id=POG and use the booking code BMD. Guests can also book their rooms over the phone by calling the Embassy Suites at 1-800-EMBASSY (362-2779) and providing the booking code: BMD.
If you have any questions or need to adjust your arrival/departure date, please contact (Embassy Suites by Hilton) Jennifer Jackson direct at 619-819-0186 or by email at JENNIFER.JACKSON3@HILTON.COM