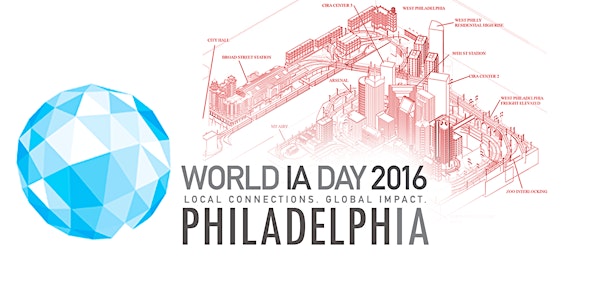 2016 World IA Day: Philadelphia
When and where
Location
University of the Sciences in Philadelphia 723 South 43rd Street McNeil Science and Technology Center Philadelphia, PA 19104
Description

Brought to you by Platinum sponsor:

Register Now
Come celebrate and learn about the world of Information Architecture at Philadelphia's 2016 World IA Day. We will have a day full of speakers, conversation, connecting, and learning about what the state of the art is for IA in Philadelphia and beyond.
University of the Sciences will host this year's event in their state-of-the-art facility at the McNeil Science and Technology Center. Our generous sponsors have allowed us to provide food and coffee breaks for attendees throughout the course of the event. We will also have giveaways and drawings featuring the following items:
Seating is limited, so please register now. We will update the Eventbrite page and our social media feeds as speakers are confirmed.
Information Everywhere, Architects Everywhere
Our world is full of information. Whether we are using the latest mobile app, watching the local news or navigating our way through the post office or grocery store, information is all around us. Because of the ubiquitous nature of information, information architecture is not just practiced by specialists. Instead information is architected by people holding all sorts of titles, coming from all walks of life.
World IA Day focuses on the telling these kinds of stories. Stories of information being architected by everyone from teachers to business owners; technologists to artists; designers to product managers. With representation from 39 countries around the world, we believe that the power of similarity and the beauty of difference between these stories will inspire those who work in information architecture, as well as those who may be new to it."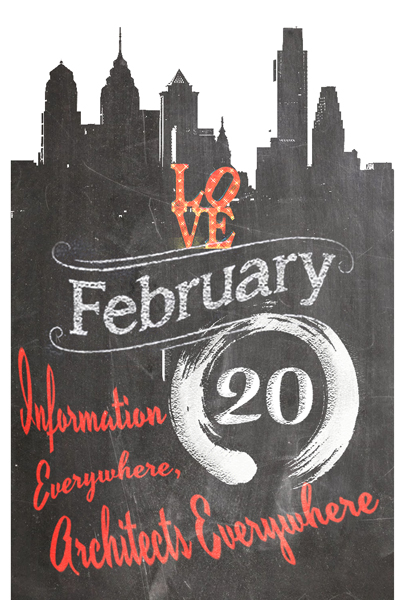 Learn more at the event site http://2016.worldiaday.org/
Program



8:00am-9:00am —

Check-in / Breakfast


9:00am-9:15am —

Opening Remarks


9:15am-10:00am —

What Do User Interfaces Want?


Rob Tannen (@robtannen)
10:00am-10:10am —

Snack Break


10:10am-10:55am —

Powering New Digital Experiences with Content Modeling


Clare Cotugno (@clareco) & Rebecca Deery (@BeccaDeery)
11:00am-11:45am —

The Education of a Designer through Information Architecture: Process, Meaning and Methods


James Pannafino (@JPannafino)
11:50am-12:15pm —

Inside Man: Architecting Internal Experiences for Large Organizations


Gerry Gant (@GeraldGant)
12:15pm-1:30pm —

Lunch


1:30pm-2:15pm —

Important but Invisible: What the Aging Workforce Needs from Design


Michael Carvin (@mcarvin)
2:20pm-2:45pm —

Backstage: How Invisible Architecture Contributes to a Ballerina's Success


Alicia Raciti (@acr523)
2:45pm-3:00pm —

Snack Break


3:00pm-3:45pm —

IA Is a Team Sport: A UXer's Journey to Realization


Michael Gadsby (@gadsbyo3world)
Local Sponsors
PLATINUM SPONSOR


GOLD SPONSORS
SILVER SPONSOR
BRONZE SPONSOR
Co-Sponsorship opportunites still available Contact us by Feb. 14, 2016
New to Information Architecture or just can't get enough?
Follow the Polar Bear: