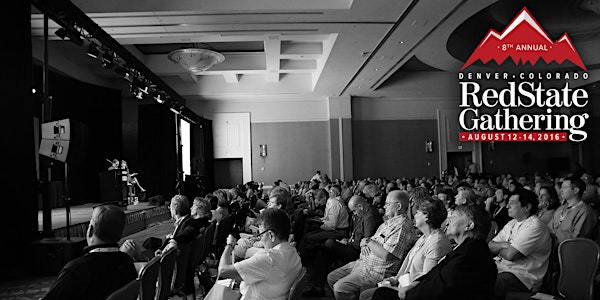 2016 RedState Gathering
When and where
Location
Grand Hyatt Denver 1750 Welton Street Denver, CO 80202
Refund Policy
Contact the organizer to request a refund.
Description
JUST ANNOUNCED! - GLENN BECK TO KEYNOTE RSG16!


We're excited to bring the 2016 RedState Gathering to Denver, Colorado!
Join us, along with hundreds of other grassroots activisits, as we rally 90 days before the most important election of our lifetime. History is ours for the making. For more information, visit redstategathering.com.
Included in Paid Registration:
General access to RedState Gathering speaker & breakout session lineup
Weekend meals: lunch Friday/Saturday & breakfast Saturday/Sunday
Admission to Friday & Saturday evening receptions
Access to RedState Gathering Activism Training
Programming tracks on Criminal Justice Reform and Corporate Cronyism
2016 RedState Gathering Speakers:
Each year, we're honored to have some of the brightest minds and strongest leaders on the Right join us for an informative and energizing weekend. Additional announcements on our speaker lineup will come soon.
Gov. Greg Abbott - CONFIRMED
Townhall.com's Guy Benson - CONFIRMED
Ambassador John Bolton - CONFIRMED
Radio Host Peter Boyles - CONFIRMED
Congressman Jim Bridenstine - CONFIRMED
Congressman Ken Buck - CONFIRMED
Kimberly Corbin - CONFIRMED
Former Attorney General Ken Cuccinelli - CONFIRMED
Radio Host Steve Deace - CONFIRMED
Radio Host Erick Erickson - CONFIRMED
Businesswoman Carly Fiorina - CONFIRMED
Senator Cory Gardner - CONFIRMED
US Senate Candidate for CO Darryl Glenn - CONFIRMED
Governor Nikki Haley - CONFIRMED*
Radio Host Hugh Hewitt - CONFIRMED
GA Secretary of State Brian Kemp - CONFIRMED
HotAir.com's Ed Morrissey - CONFIRMED
HotAir.com Contributor - Larry O'Connor - CONFIRMED
Future Female Leaders Founder Amanda Owens - CONFIRMED
Townhall.com's Katie Pavlich - CONFIRMED
Governor Rick Perry - CONFIRMED
House Speaker Paul Ryan - CONFIRMED*
Senator Ben Sasse - CONFIRMED
ACU Chairman Matt Schlapp - CONFIRMED
Senator Tim Scott
Former Congressman Joe Walsh - CONFIRMED
RedState.com's Leon Wolf - CONFIRMED


*Appearing via video.
Location & Hotel:
All 2016 RedState Gathering events will be held at the Grand Hyatt Hotel - 1750 Welton Street in downtown Denver. RedState Gathering attendees can enjoy a discounted rate by booking early, while rooms remain available.